Moonbase Alpha Carpets
For the Moonbase sets, Keith Wilson used vinyl flooring, which was durable and easy to clean. The problem was that actors wore shoes with big heels, which were noisy when the sound recordist was trying to capture the dialogue. Also, actors could move in their Gaudi chairs, causing scraping sounds. The solution was to add a piece of carpet under their feet, out of sight of the camera. Unfortunately, sometimes it could be seen on camera. Worse, sometimes it was an ugly, frayed piece of brown carpet.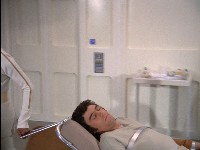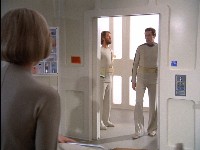 We also glimpse the brown carpet on the floor of the Medical Center, just before Koenig enters.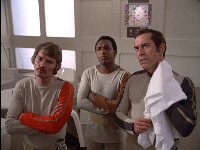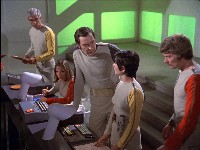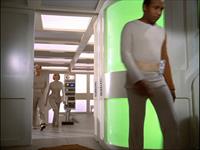 More brown carpet in Collision Course, in the command office (seen under the chair), then in Main Mission behind the desks, after the command conference.
At times, the camera crew knew the floor would be visible and used more subtle carpets.