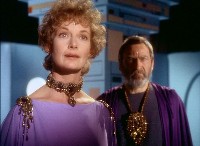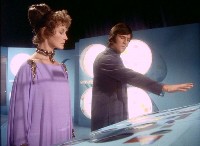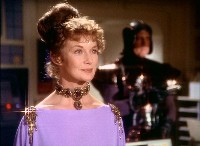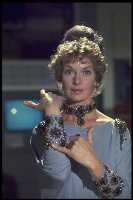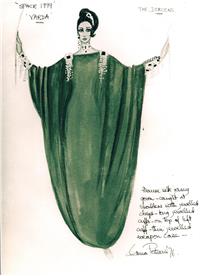 This is the dress worn by Ann Firbank as Consul Varda in The Dorcons. Emma Porteous's description on her design: "Mauve silk jersey gown - caught at shoulders with jewelled clasps - long jewelled cuffs - on top of left cuff - thin jewelled weapon case -".
Pictures and text by Simon Rhodes

The outfit is quite simple and elegant being cut from one huge piece of lilac jersey silk with a collar aperture for the wearer to pop her head. The costume is simply put on over the head and the hands popped through the cuffs with no fastenings or zips. There are no separate arms as such with the only stitching (apart from the bottom hem line and around the collar where it's turned in) running from underneath both cuffs, up under the arm to the armpit and then down to the ground. As a result seams are kept to a bare minimum and those that there are virtually invisible. The cuffs are separate and stitched to the main garment. The shoulder detail is made in a similar way to that on the Maurna/Yesta costume, which is no surprise as they were both stitched together by the same lady seamstress. They comprise of a base of thick felt covered in a thin sparkly material. A large purple/lilac, lozenge shaped "stone" is stitched in the centre and surrounded by a combination of various golden beads. Several strings hang down detailed with similar beads. The cuff detail is stitched straight onto the base material using more rounded, faceted "stones" than on the shoulders but similar golden beads. There are so many bits of beading that the cuffs are amazingly heavy and over the years the stitching between cuff and sleeve has begun to part in places.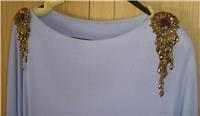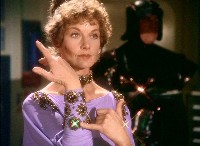 Was the green "mind probe" beam in Varda's cuff a practical effect eg: was there a bulb etc. hidden within the costume? No, it was another one of those effects they did so well in camera.
The costume is in fine condition having been retained by the original maker for most of its life. The garment is unwashed, the collar ringed by a line of makeup worn by Ann Firbank as Varda and as such is in the same condition as when it left the set back in December 1976.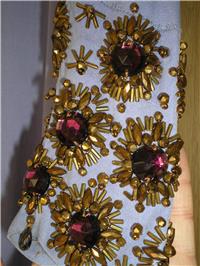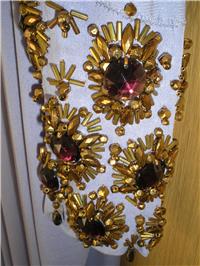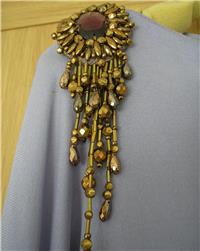 Additional detail photos from 2015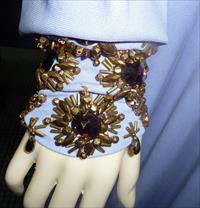 ---
Contents copyright Simon Rhodes, Martin Willey