Selfridges is (since 1909) a large department store in Oxford Street, London, UK. During the Christmas season in 1975 (just after the show had started on TV) it mounted a "Space 1999 at Selfridges" exhibition, to promote the new Space 1999 toys. The exhibition included special effects models, and a Moonbase room with desks and computers. In fact, most of the models and props were from Gerry Anderson's Into Infinity, filmed earlier in the year. Only seen half the episodes of Year One at this point (Into Infinity wasn't shown until December 1976).
These images are thanks to Christopher B. The shot of the moonbase room is possibly from a brochure.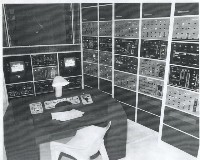 The computer panels were built by Terry Curtis of Space Models for Into Infinity. They are the same dimensions as the Main Mission computer panels, and when they were returned to Pinewood Studios they became part of the Command Center set for Year Two. The desk is very close to the style of the show but doesn't appear in any episodes (it may even be an unused prop). The desk lamp and chair are probably original props. The Big Screen is accurate to the original Main Mission one, but it is a little smaller. It may have been made for filming close-ups of the big screen.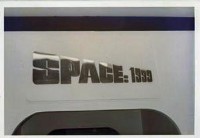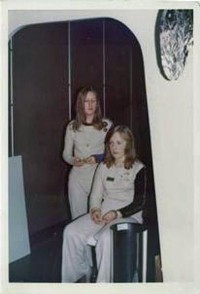 Above: Space 1999 sign and staff, in Alphan uniforms. It's hard to tell if they are original costumes.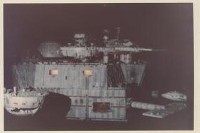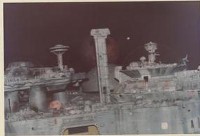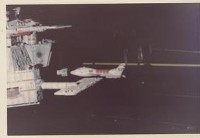 Above: the Delta space station from Into Infinity, and the UN space shuttle docking. Parts of the space station were reused from the Daria spaceship from Mission of the Darians.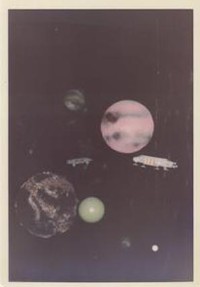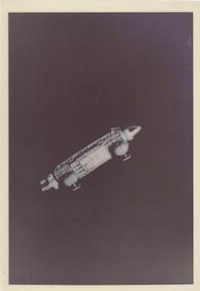 Eagles and planets. The original 44 inch and 22 inch Eagles were not in the exhibition; these may be Airfix models.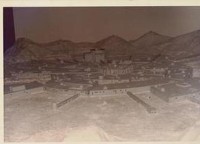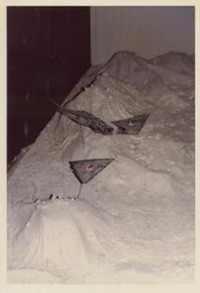 Moonbase and lunar surface. It's not the original moonbase, but a fair representation.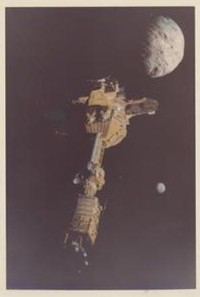 The Deltan spaceship from The Last Enemy, reused in many Space 1999 episodes from it's first appearance in Alpha Child.