Script To Screen
---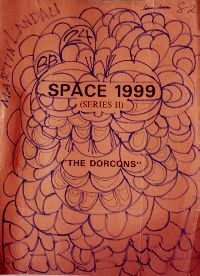 Johnny Byrne's script "The Return Of The Dorcons" was dated 19th October 1976. The revised script dated 17th November 1976 changed the title to The Dorcons. The shooting schedule on 30th November allocated a ten day shoot, from Tuesday 7th December 1976 to Monday 20th December.
Martin Landau's copy of the script for The Dorcons can be seen here, covered in doodles (thanks to Julie).
The Dorcons began filming while Immunity Syndrome was on it's final day of shooting. The filming of the other episode, on stage 'M', took more time than thought, and only half the scenes for The Dorcons that were scheduled were completed; the remaining scenes were carried over to the following day.
GERRY ANDERSON PRODUCTIONS LTD
"SPACE 1999" SERIES II

CALL SHEET No.1

EPISODE: "THE DORCONS"
DATE: Tuesday, 7th December, 1976
DIRECTOR: TOM CLEGG
STAGE: 'L'
UNIT CALL: 8:30 a.m.
---

ARTISTE
CHARACTER
D/R
M/UP
ON SET

---

INT. COMMAND CENTER: SCENES: 4: 6: 8: 10: 14: 17: 19: 21: 23.

MARTIN LANDAU
Koenig
321

From Episode 23

BARBARA BAIN
Helena
322
"
CATHERINE SCHELL
Maya
324
"
TONY ANHOLT
Tony
325
10.00
10.30
NICK TATE
Alan
326

From Episode 23

ALIBE PARSONS
Alibe
327
9.30
10.30
HAMISH PATRICK
Alphan
336
9.30
10.30

NOTE: INSERT ON MONITOR FOR DORZAK TO BE SHOT. SCENE 20 to complete.


STAND INS

Alan Meachem
for Mr. Landau
312
8.00
8.30
Suzanne Heimer
for Miss. Bain
"
"
"
Pat Thompson
for Miss Schell
"
"
"
Bill Hibbert
for Mr. Anholt
"
"
"
Bill Westley
for Mr. Tate
"
"
"


CROWD

2 Women
Alphans
312
8.30
9.00
2 Man
"
"
"
"
2 Men
Medical
"
8.30
9.00
PROPS: As per script to include commlocks, stun guns, clipboards,
badges, medical trolley.
ART DEPT: Logo for big screen. Captions for monitor. Command
Center cards. Corridor cards.
CAMERA: Star filters required.
ELECTRONIC: Command Center & Corridor cards on monitor. Peaking
sine wave on monitor. Irregular heart beat for "Dorzak" insert.
ELECTRICAL: C.S.I. spot. Red alert boxes required. Light effect Sc.17
CATERING: P.M. break for 75 people on 'L' Stage.
LUNCH: 1 - 2 p.m.
RUSHES: Theatre 1 at 1 p.m. ("IMMUNITY SYNDROME")
TRANSPORT
Ray to pick up Miss Bain as arranged.
Doug to pick up Mr. Landau as arranged.
Steve to pick up Miss Schell as arranged.
ROBERT LYNN
Asst. Director
---
Copyright Martin Willey