Morse's Code
Dreamwatch Issue 16, December 1995, p29-30
Steve Eramo also interviewed Morse in 1995 for Starlog issue 221 and had interviewed Nick Tate for Dreamwatch in the August 1995 issue.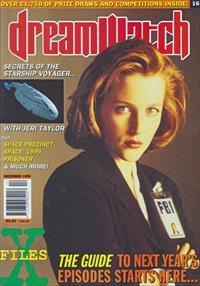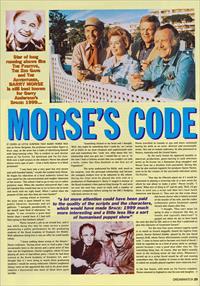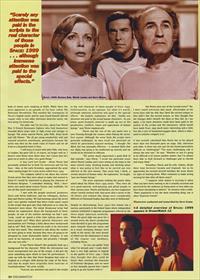 Star of long running shows like The Fugitive, and The Adventurer, Barry Morse is still best known for Gerry Anderson's Space: 1999.
It comes as little surprise that Barry Morse was cast as Victor Bergman, the professor-cum-father figure in Space: 1999, as the actor has a habit of identifying himself with long-running roles. This is evident in such diverse series as The Fugitive, The Adventurer and The Zoo Gang. With over a half-century in the industry Morse has played almost every type of part - from a belly dancer to a black prostitute!
"I was born into a very poor but very secure and well-founded family, " recalls the London-born Morse. He began his education at a local authority school but soon opted for the unconventional and rougher classroom of the streets. "The school I had to go to was run in rather primitive ways. When the teachers discovered that I was left-handed they would beat me to try to force me to write and work with my right hand. When I asked what the purpose of this was they beat me even harder!"
Leaving school at fourteen, the actor took it upon himself to visit public libraries, museums and art galleries. "l managed, paradoxically, to get myself some kind of education," he laughs. "It was certainly a great deal better than I would have if I had still been going to that barbaric school."
Morse secured a job as an errand boy, and it was while doing this that he came across a poster announcing a public performance by the graduating students of the Royal Academy of Dramatic Art (RADA). With admission being free it was an offer he could hardly refuse.
"I knew nothing about acting or the theatre," Morse confesses, "having never seen or read a play. I had occasionally been to the movies and a great actor of that time was the Englishman. Charles Laughton, whom I'd seen playing all sorts of marvellous parts. I knew he had been trained at the Royal Academy of Dramatic Art, and I thought that if I went along to watch these graduating students I would be seeing embryonic Charles Laughtons! Along I went on the appointed day and to my great astonishment I discovered that most of them were quite terrible.
"Something clicked in my head and I thought, 'Well, this might be something that I could do,' so I wrote off to RADA in my most eloquent and sophisticated style and said something like, 'Look 'ere, what about this 'ere scholarship what you give out. I would like to 'ave it.' At the time I had a Cockney accent that you couldn't cut with a knife, rather like Eliza Doolittle in the first act of Pygmalion!"
The actor auditioned for RADA, and, much to his surprise, won the principal scholarship and became the youngest student ever to be admitted to the school. During his final term he played the title role in a production of Shakespeare's Henry V, staged in honour of the Royal Academy's then patron King George VI, and went on over the next four years to work with a number of repertory companies before acting for the BBC's fledgling television service in 1937.
Morse travelled to Canada in 1951 and there continued honing his skills as an actor, director and occasionally writer. Not one to remain sedentary. he also journeyed to Mexico, Australia and the United States.
By the early Sixties he appeared steadily in American productions, guest-starring in such television series as Dr Kildare (as a Rumanian drug smuggler) and Wagon Train (as a drunken Irish journalist). During this time he also worked regularly for producer Quinn Martin, soon to be the creator of the successful television series The Fugitive.
"One day he [Martin) asked me if I would be interested in playing a recurring role in a new series for which he was about to make a pilot," Morse recalls. "I asked, 'What sort of thing is it?' and he said, 'Well, I'll get them to send you a script and then let's have lunch tomorrow and discuss it.' They sent me this script about this heroic doctor who is falsely accused of the murder of his wife, and the rather enthusiastic police lieutenant named Gerard who chases after him.
"l thought, They can't mean I'm going to play a character like this, so totally and typically American?' It turned out when we got to have lunch the next day that he did,and so it was that l undertook to play this character of Lieutenant Gerard."
For the next four years viewers eagerly tuned in to watch as Gerard doggedly chased his fugitive from justice, Doctor Richard Kimble, played by the late David Janssen, whom Morse affectionately recalls working with. "I came to know and to become very fond of David. I think he regarded me as a kind of proxy uncle or, perhaps, parent because I was a good deal older than he. The interesting thing was, of course, that we didn't actually meet in the working sense all that often. Whenever I turned up in a script David would be off and running somewhere else. The number of scenes in the whole series in which we actually played together were relatively few."
In the late Sixties, with work on The Fugitive complete, Morse returned to England to visit his son and daughter, both of whom were studying at RADA. While there the actor appeared in an episode of The Saint called The Reluctant Revolution. This marked the resumption of Morse's English career and he soon found himself offered regular roles in two other television detective the first being The Adventurer.
The other was The Zoo Gang. about four World War II French Resistance fighters who find themselves reunited thirty years later to fight crime and intrigue in Europe. The series starred Morse, John Mills Brian Keith and Lilli Palmer. "We all got along wonderfully well and enjoyed ourselves enormously. particularly because the series was shot on the south coast of France and we all lived in a beautiful hotel in Nice.
"I still keep in touch with John Mills. who lives in London, but poor Lilli is, of course, no longer with us. I haven't seen Brian since those days, but I know that he's gone on to work in other very good things"
It was Lord Lew Grade - whom Morse had previously worked for in both The Adventurer and The Zoo Gang - who, in the early Seventies. approached the actor when casting began for a new series called Space: 1999.
"His company talked to me about this science fiction series that they were about to make and wanted to know if I would be interested in playing the character of Professor Bergman. "I remember thinking 'Well. I don't know very much about science fiction. and. truthfully. I'm not all that much interested in it.'
"I met with the people involved, producers Gerry and Sylvia Anderson. and my colleagues, Barbara Bain and Martin Landau. We had meetings about the series and I very quickly realised that there really wasn't much in the scripts that gave any clear indication as to what the characters were about. The initial Breakaway script had almost no explanation about the background of these people. At one of the earliest meetings we had I said, "Look. could we spend a little time talking about who these people are? What their general characters and personalities are? Perhaps a little about their background and so on?' Well, they seemed not really to be interested in that very much. They wanted to talk about the clothes we were going to wear, because they were all going to be designed by some fashionable ladies' designer. It was none of my business. of course, but privately I thought this was very silly."
It was Morse himself who gradually built up a background for his character. While the information was never incorporated into any of the scripts. it did give the actor something upon which to base his performance. came up with the idea that Victor Bergman had come to England as a refugee child during the reign of the Nazis, and that he might have originally been Austrian or Czechoslovakian. the actor recalls.
"Scarcely any attention was paid in the scripts to the real character of those people in Space: 1999. Unfortunately. in my opinion, for what it's worth. although immense attention was paid to the special effects - the models, explosions, all that - hardly any attention was paid to the actual human characters. As you know, good dramatic material is made up out of the perplexities. conflicts. hopes and aspirations of human beings." says Morse emphatically.
Morse and the rest of the cast spent over a year floating through the cosmos while filming the series' first season. Although the actor feels the scripts were generally inadequate, he does recall one adventure on which he particularly enjoyed working. "I thought The Black Sun was unusually effective - it seemed likely that our Alpha was going to be swallowed up entirely and we would all be destined to oblivion.
"We pretty much improvised a good deal of that episode." says Morse. "I recall one particular scene where Martin Landau and I were sitting on the steps in the main control room. drinking brandy and thinking about what it was going to feel like to be carried out into oblivion in the next minute. That scene had. I think. a certain amount of human value. No explosions." he laughs, "just two human beings" The actor nothing but praise when asked about his fellow Space: 1999 actors. "They were all very good-natured. well-meaning and gifted people in their various ways. Martin and Barbara. my two coagitators whom I mostly worked with, had never shot a series in the UK before and realised that things were considerably different at Pinewood Studios than they were in Hollywood."
Despite its shortcomings, Space: 1999's first season was a success. particularly in the United States where independent stations scheduled it opposite programmes offered by the three major American networks. When the green light was given for a second series the shows production team decided to gear the programme more towards American tastes and as a result sweeping changes were made to the series, the most drastic of which was the elimination of most of the regular cast members, including Morse.
"As you can gather from what I've already said, I really didn't have a very high opinion in regards to the quality of Space: 1999. I think they thought that they could do better than continue the character of Professor Bergman, and we more or less mutually agreed that I wasn't going to go any further with it."
Has Morse seen any of the second series? "No. I don't watch television that much. Aficionados of the series have told me that they liked the second season or they didn't like the second season, or they thought that the changes didn't benefit the show or they did. As I say again, a lot more attention could have been paid to the quality of the scripts and the characters, which would have made Space: 1999 much more interesting and a little less like a sort of humanised puppet show, which is what I used to unfairly compare it to."
It was recently calculated that Morse has so far played more than two thousand parts on stage, film. television and radio. Is there any one part he has found particularly difficult or challenging? "The most challenging role is always the next one," he says. "Whether or not it's going to be difficult is of course another matter, but I've always been able to look forward to challenges and to cherish and enjoy them. "
Nowadays, Morse and his wife, Sydney, divide their time between Canada and England. but as he approaches his seventy-seventh birthday the actor shows no signs of slowing down. What continues to make acting exciting for him after all these years?
"l suppose what makes it exciting is when what you have seeking to do is actually received and perceived by the audience as being more or less what you have been attempting to deliver." he answers with a smile. "Sheer popularity is not the most rewarding is sheer financial reward. "
Interview conducted and transcribed by Steve Eramo.
A detailed overview of Space: 1999 appears in DreamWatch 12. (here)