Martin Landau, Dealer of the Century
by Ian Spelling
Starlog - No. 139, February 1989, p29-31.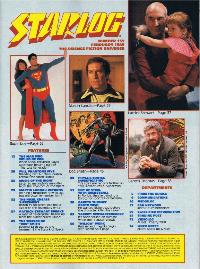 So, Martin Landau could have played Mr. Spock on Star Trek and the face of television history would have been vastly altered. Instead, Landau has endured as a character actor in such acclaimed films as North by Northwest and second-rate fare like Meteor and Alone in the Dark.
He has enjoyed immense success on television, despite passing on the Spock role, appearing in classic episodes of The Twilight Zone and The Outer Limits, and starring with his wife Barbara Bain in Mission: Impossible and Space: 1999 (which he discussed extensively in STARLOG #108).
Now, Landau is basking in the glow of critical praise for his performance as Abe Karatz, the business partner and confidant of Preston Tucker (Jeff Bridges) in Francis Coppola's Tucker: The Man and His Dream. The film, executive produced by George Lucas, tells the true-life story of Tucker, an ambitious car maker who offered the world the Tucker Torpedo in 1948. A state-of-the-art auto, the Torpedo featured seat belts, pop-out safety windows, disc brakes and fuel injection. Such revolutionary and costly innovations threatened the livelihood of the big three automakers, and with the aid of the American government, they quickly squashed Tucker's dream, but not his spirit. While Bridges is unquestionably the film's colourful star, Landau is its gritty heart and soul.
Odd Couplings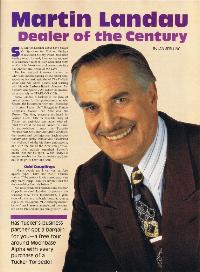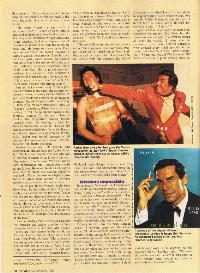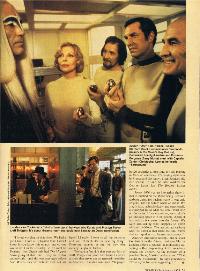 "Many people say I was cast as Abe against type. That's not true," Landau claims. "The bottom line is a good actor can play many things. You just haven't seen me do something like this before."
Not until producer Fred Roos and director Coppola selected Landau to portray the shadowy New York businessman, a grim type who sits in a cafeteria hunched over a cup of coffee - alone. "He certainly doesn't know from Preston's animals and the country where Preston and his family live," Landau explains. "The country is a place to go through very quickly on the way back to the city. Suddenly, Abe is thrust into a new world.
Has Tucker's business partner got a bargain for you- a free tour around Moonbase Alpha with every purchase of a Tucker Torpedo!
"He meets Preston, a guy who's a midwestern WASP, who's up to his hips in kids and animals and lives in the country. There's just no way these two guys are going to get together. And what happens out of this strange union? Abe finds the family he never had. He learns to dream again. Feelings are uncovered he hasn't touched in years. He loves these people. Even his own checkered past, which would have meant nothing to him in the context of his life as it was, suddenly becomes meaningful in a whole other way. He's a proud man and suddenly he's ashamed. Abe becomes a much better human being. I saw it as a kind of love story between these two very different men, between this strange couple."
Just as Tucker stood ready to mass produce Torpedos at his plant, the government clamped down, accusing the automaker of gathering funds for a car he never intended to make. The 46 Torpedos, still roadworthy in 1988 (only 50 were produced), attest to Tucker's foresight and legitimacy, perhaps putting to rest the questions regarding his motives. Karatz, for his part, handed Tucker his resignation shortly before Tucker's trial, not wanting to hurt his friend's chances for acquittal - since an old embezzlement conviction, for which Karatz served time, would come back to haunt him. Still, Tucker was found innocent of all charges. The vindication, however, was bittersweet; the dream was dead.
Karatz apparently felt beaten and disassociated himself from the Tucker family. "The last time anyone ever saw Abe was at the trial in which he sat in the front row. That was it," Landau says. "No one knows what happened to him. I doubt Abe is with us any longer. He would be about a hundred now. His real name was Karson, which he changed to Karatz because of a fight he promoted in which there seemed to be some question as to whether the winner won.
"But no one thinks Preston could have done what he did without Abe. Abe was really a very strong part of the team. Tucker was the guy out there and Abe not only raised money, but he added behind-the-scenes input. He was an odd man, a New York Jewish fellow in a different kind of element. They all became very fond of hiro. He didn't like to be in the spotlight, possibly because of his past."
Landau gladly credits Roos and Coppola for noticing the acting qualities in him necessary to. breathe life into Abe Karatz. "There are many actors in the world, yet Fred and Francis thought of me for it. I got a call from Fred, who said, 'Marty, there is a messenger on his way and he has a script. Read it and look at the part of Abe.' 1 read it and the script just smacked of style and texture and...and stuff" Landau laughs.
"I just loved it. Abe knocked me out. Let's say I'm playing a heavy. Most of the time I'm only using a sliver of what I am, a little piece. Sometimes, the more you embellish that, the worse it can be. The part's just not there. When 1 read Abe, it reached off the page and grabbed me by the throat and pulled me in. I really felt I could do it wonderfully well.
"The possibilities for the role were enormous. The traps were also enormous. People forget that I started out in New York theatre and then came out to California and did movies with fine directors like Alfred Hitchcock and George Stevens. You do some television, and somewhere along the line, people forget you can act. What I do best, what I've always done best, is act."
Rather than give alien bad guys the Vulcan nerve-pinch as Star Trek's Spock, Landau opted to punch them out as Space: 1999's Commander Koenig.
Missions impossible
By no means Tucker-ed out, Landau happily recalls his television efforts, smiling a broad "I told you so" smile as he mentions the revamped Mission: Impossible. "The new series has been recast totally with new people [with the exception of Peter Graves], shot in Australia," Landau says. "I think [series creator] Bruce Geller would be unhappy about the idea of some old scripts being used because he was a member of the Writers Guild before he was a producer."
Delving further into the past, Landau speaks in glowing terms of The Outer Limits. "I did two of them, one with Shirley Knight [whom Landau had taught in an acting workshop], called 'The Man Who Was Never Born.' That was an interesting 'Beauty and the Beast' tale," the actor says. "It was a lovely piece and it turned into a haunting show.' Joe Stefano [STARLOG #104] sent me the script and I thought to myself, 'Shirley Knight would be wonderful as the girl.' I called Joe and said, 'I love it. 1 think it's a poetic, wonderful piece.' I was about to suggest Shirley Knight when he said, 'We just got Shirley Knight to play the girl.' I didn't have to think, never finished my sentence. I said, 'I'll do it.' "
Space: 1999 never proved as popular as its sometime-role model, Star Trek, but the show continues to play to a loyal following all over the world, 13 years after its premiere. "It's funny, Charles Crichton, who directed every third episode of our show, just directed A Fish Called Wanda. He's 78 years old. He did The Lavender Hill Mob. Charlie is a great comedy director, and the only work he could get in the '70s was our show," Landau sighs. "We were thrilled to have him. You're talking about a great director who wound up doing a science-fiction television series.
A veteran of the original Mission: Impossible, Landau is happy that the show he considered ahead of its time has returned to television.
"I loved working on that show. We had a great time. I sort of instigated that. I don't know if you know this or not, but no one would do it in this country, so we went to England. Lew Grade only had The Muppet Show going at that time. Everyone in this country said - and this was two years before Star Wars - 'Science fiction? Get out of here!' Literally. I went to all the networks and said, 'I think it's the next big thing." Everyone laughed at me the way Abe initially laughs at Tucker.
"We have a fan club that puts out lots of stuff. People can quote lines from it and it's a show that never got on network television in America," Landau continues. "It played in 120 countries at one time. It's still playing in 30 or 40 countries. It's playing right now in France and Germany. Brian Johnson did our special FX and he later worked for George Lucas [on The Empire Strikes Back]
Easter: 1999?!? Dr. Helena Russell (Barbara Bain), Commissioner Simmonds (Beauty & the Beast's Roy Dotrice), Command Koenig (Landau) and Professor Bergman (Barry Morse) meet with Captain Zantor (Christopher Lee) as he heads "Earthbound."
"Space: 1999 was an interesting show in that it touched on the Moon being used as a garbage dump for nuclear waste. It was only 25 years into the future when we did it. We are, in fact, technologically and emotionally ill-equipped to do what we were thrust into on the series. If we wanted to, we couldn't go into deep space with 300 people. Again, it was only a few years into the future. We were also asking what happens to Earth without the Moon. The last contact we have with the Earth is that there are tidal waves and earthquakes - an interesting concept."
Another interesting concept, one set even less distant in the future, positions Martin Landau before a podium in Hollywood accepting a Best Supporting Actor Academy Award for Tucker. At the mention of a possible Oscar, Martin Landau grins. "That would be wonderful," he says graciously, "Thank you for even suggesting it."
---