Pages from 1970s store catalogues showing Space: 1999 toys.
---
Mattel 1977 Dealer Catalogue (thanks to Dale): Mattel Eagle ($11.90 each), Flying Eagle ($7.90 each), four figures including "Zython" ($2.90 each), playset ($6.90) and "Moon Base Alpha Team" (the playset and 3 figures, no price).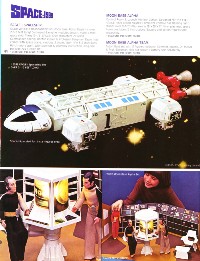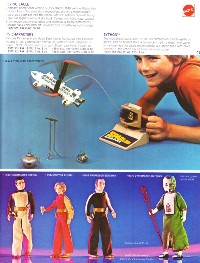 Wards 1976 catalogue (thanks to Gordon Moriguchi): Mattel Eagle, LJN comlocks, Sonic Powered Megaphone and Vanity Fair Wrist Radio.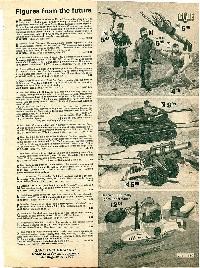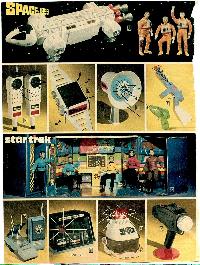 | | |
| --- | --- |
| The Milton Bradley board game (1976 Sears Wishbook, thanks to Gordon Moriguchi). | The Whiting Mammoth Eagle. (1976 Sears Wishbook) |
| The Mattel Eagle. Note the three figures have painted faces and hair- and do not include Helena. (1976 Sears Wishbook) | JC Penny catalog for 1976 (Thanks to Gordon Moriguchi). The Mattel Eagle ("Challenge the Universe" for $13.66), Remco- Burbank Stun Gun ($6.77, with a charming drawing of a little girl firing the gun), LJN comlocks ($18.88), Vanity Fair Wrist Radio ($8.44), Illco Chest Pack Radio ($12.88), figures ($3.33 each) and playset (includes "simulated computer, chair and hassock", $8.99) |
| A True Value page, thanks to Gordon. The Remco- Burbank Stun Gun ($6.99) and Koenig and Helena figures appear. | A Hasbro paint set page, thanks to Gordon. |
| Ahi vehicles, thanks to Gordon. The Alien, Eagle Transporter, Moon Car | Ahi guns (with the Star Trek equivalents), thanks to Gordon. Disc Shooting Stun Gun, Jet Discs and Official Stun Ray Gun. |
| Mattel figures, thanks to Gordon. | Mattel playset and "Moon Base Alpha Team", thanks to Gordon. |
| Mattel Eagle, and the unreleased "Alpha Crew" and "Characters", thanks to Gordon. | Detail of unreleased Alpha Crew and characters. |
| 1976 catalogue showing the Remco- Burbank Stun Gun, thanks to Gordon | 1976 catalogue showing the Remco Utility Belt, thanks to Gordon. Note the "radiation detector" looks like a commlock (upside down and stylized, but recognisable). In the released set it is actually the same as the Bat Walki-Talkie from the Batman Utility Set. |
Copyright Martin Willey. Thanks to Gordon Moriguchi