US 1976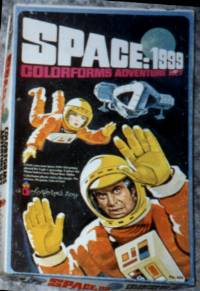 "Colorforms Adventure Set No 609".
"Create your own Space 1999 Adventure aboard the Eagle 1 spaceship. Explore the Moon Surface near Moon Base Alpha. Colorforms plastic sticks like magic. No scissors. No paste. Lots of fun!"
Thick card backing (30.5 x 19.5 cm) with foldable 1.5 cm rim around: portrays crude art of cabin (in cut away) of Eagle on lunar surface.
Two 23 x 8 cm boards hold self sticking vinyl stickers to be placed on backing. Stickers in black & another colour (white, yellow, red, blue), including 2 torsos (one uniformed, one suited) of Helena & Koenig, plus various individual arms, helmets, chest packs, stun guns and pairs of legs.
Box 20.5 x 31.5 x 2.5 cm, art of Koenig & Helena floating in space by Eagle (front view, spine on underside); white series logo.
An 11 x 12 cm (folding out to 55 x 12 cm) colour leaflet shows the cover art plus three illustrations of the stickers in use on scenes from the board. "To the parent. Colorforms' toys have a rare educational value. They help a child develop and improve these seven important skills: Finger dexterity, Sense of spatial relationship, Size matching, Building ability, Color sense, Sense of neatness and order, Use of imagination and storytelling ability."
Original artwork in acrylics for the Colorforms game. Cover art is 13" x 20" (33cm x 51cm), board art 13-1/2" x 19" (34cm x 48cm).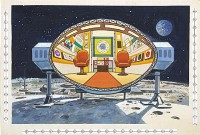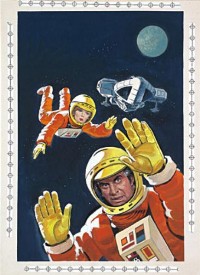 ---

US, UK, Europe 1974
Three 9 cm diameter circular reels (numbers D150 1, D150 2, & D150 3), each with seven stereo pairs of colour photographs, to be viewed in a Gaf Viewmaster viewer. Very short descriptions on reels (photos trace story of "War Games", here titled "The Power Of Fear").
There were four different packaging sets.
Original packaging in the UK was in 20 x 21 cm album. Album folded out into 60 x 21 cm, with three sides describing the story. Each side featured a colour photo and gave a short paragraph for each photo on one reel. Album number ND 150 E. Full details

Later a blister card was issued in the UK. There was no booklet. Versions for various European languages were also issued in this format (including German, Danish, French).

In the US a smaller 10cm x 10cm packet with a booklet was issued. Full details

The "Talking Viewmaster" featured an audio disc providing a narration attached to each picture reel. The box (20 x 21 cm) featured the photo of the Eagle by Earth, with two inset photos bottom right, of the planet surface towers and of Koenig & Helena in the Eagle cockpit. A small booklet (10 x 10cm, 16 pages) with black, white & blue line drawings on most pages was included to explain the story (titled "War Games").
All covers showed photo of Eagle near Earth, with inset photo top right of Koenig & Helena at Eagle control. A yellow banner across top left proclaimed "From the famous TV serial".
Online in the Catacombs
Book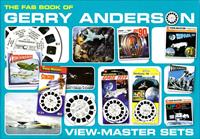 The Fanderson fan club published The FAB Book of Gerry Anderson View-Master Sets in Nov 2011. The Space 1999 View-master sets were covered on pages 36 -45.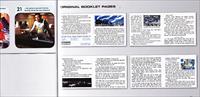 ---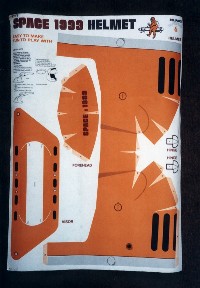 UK 1976. "Paperplay No 6"
A 42 x 89 cm sheet of thin card with an orange helmet to be cut out & folded.
---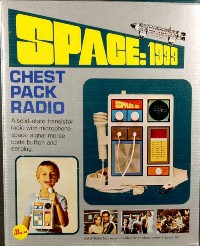 UK,US Made in Hong Kong style no. 37-2070 £10.95, $19.95 1976
15 x 20 x 6 cm chest pack. "A solid-state transistor radio with microphone space signal morse code button and earplug." Features: (as listed on side of pack)
Solid State 5 Transistor A.M. Radio
Sensitive Volume Control
Microphone
Space Signal Morse Code Button
Earphone
Precision Tuning Dial
Microphone Mix Control
"Red Alert" Light
Authentic Space 1999 Chest Pack style
Heavy Duty body straps
Completely portable
Other side: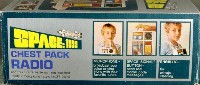 uses 4 C size batteries - not included
MICROPHONE - broadcast your voice or sing along with your favorite tunes
SPACE SIGNAL BUTTON - send real morse code messages
EARPLUG - for private listening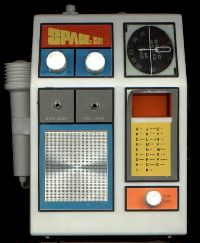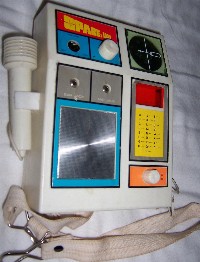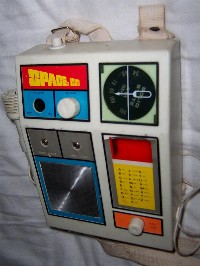 ---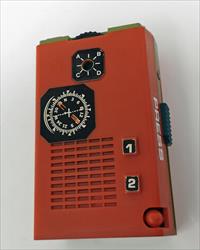 UK 99p 1977. Ref no 5703.
Marx Toys was established by Louis Marx in New York, USA, in 1919. Marx went into sharp decline in the 1960s as Mattel grew dominant. In 1967, the UK brand was sold to a London company, Dunbee-Combex-Marx (DCM); in 1972 Marx US was sold to Quaker Oats, who eventually sold to DCM in 1976. DCM also bought Mattel's UK business in 1973, under the Burbank Toys brand (see Space: 1999 toys) and Hornby in 1972. The company went bankrupt in 1980. Another toy under the Marx brand was a bagatelle.
Red plastic box (6 x 10 x 3.5 cm). Features: "retractable aerial" (6 cm long retractable wire), "ultrasonic space gun" (a rather lethal spring gun set in side of box) firing "laser bullets" (red plastic pellets), an "intergalactic horn" (makes a rasping noise), and "colour code celestial beam" with "multi colour light beam tuner" (a small light with a dial moving colour filters over it).
Uses 1 penlight battery.
Blister pack: 15 x 23 cm card with logo and good art of Eagle & Moon.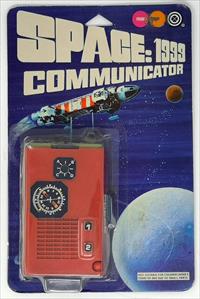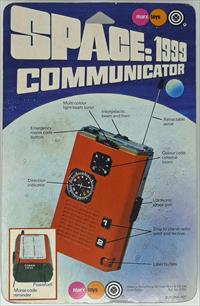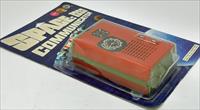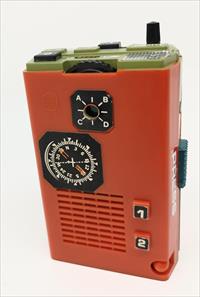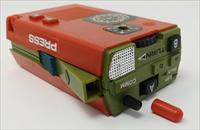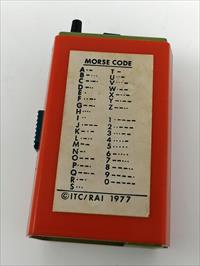 ---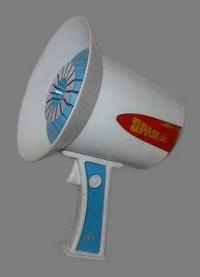 USA 1976 VF-2115
A megaphone. Requires 1 9-volt battery (not included). Two trigger action - voice amplifier/emergency siren. 7.5 inches x 5 inches (19cm x 13cm). Box shows an astronaut using it (spot the scientific flaw!).
Dual trigger action
Voice amplification
Sonic space alert emergency siren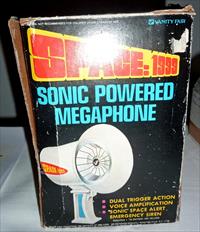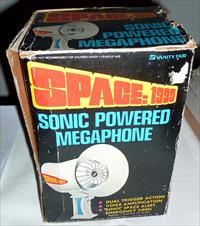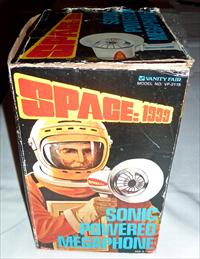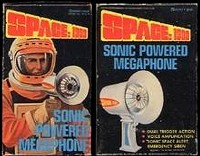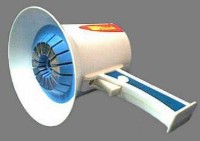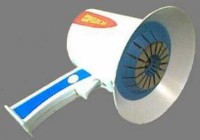 ---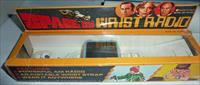 USA Model No. VF-2003
AM wrist radio. Large white leather strap, with a square white plastic radio and black speaker on the face. On one side are three silver metal dials (frequency, volume and on and off). On opposite sides are "Space: 1999" stickers (yellow logo on red background).
The box lists these "Features"
Powerful AM Radio
Adjustable wrist strap
Wear it anywhere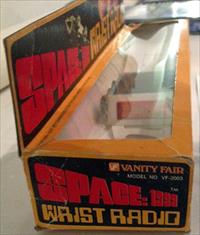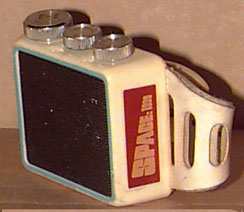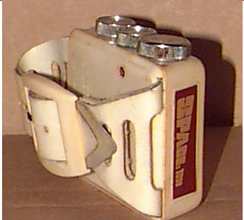 The 1976 Vanity Fair catalogue showing the Megaphone and Wrist Radio (note the MASH wrist radio is identical apart from the logo stickers!). Another Vanity Fair catalogue shows the 007 and Flash Gordon wrist radios are also identical.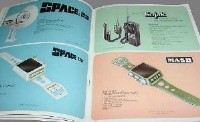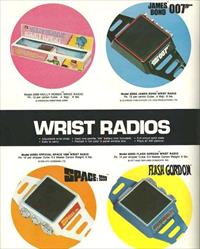 ---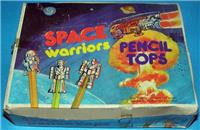 These "pencil tops" are small rubber ornaments put on the ends of pencils. Judging by the R2D2 robot, they are 1977 or later. The box art is an adaptation of the second (1976) UK annual cover art, featuring a rescue Eagle flying over a nuclear mushroom cloud. It was probably not licensed.
---

US, 1975
Give A Show was a simple projector, introduced in 1959 and continually reissued with different slides until the end of the 1970s. The slides were in stiff card strips of 7 different 35mm colour cartoon art. Projectors were generally sold with 16 card strips (so 112 slides), often a mix of different TV series.
The subject series were almost always TV cartoons, although there were a few live action shows and even movies, like Star Trek, Six Million Dollar Man and Star Wars.Space: 1999 was one of the 16 slides in a 1975 set. In the UK Chad Valley issued the toy (with Dr Who and several Gerry Anderson series as subjects), but the set with Space: 1999 did not get issued (probably because many of the cartoons were not shown in the UK).
This 1975 set had a picture of Land of the Lost on the cover, and included filmstrips of: Land of the Lost, Fat Albert, Hong Kong Phooey, Far Out Space-Nuts, Bugs Bunny, Josie and the Pussycats, Scooby Doo, Harlem Globetrotters, Pebbles and Bamm-Bamm, Great Grape Ape, Shazam, and Speed Buggy
The Space: 1999 story is named "Operation Asteroid" and has the serial number 686-048-12. The sixth frame shows the Moon with a big chunk missing, probably due to the artist reading misleading ITC publicity.
The asteroid is headed straight for us!
The scanner shows a possible fault in the asteroid.
Our only hope is laser surgery!
Fire! Mmm. Ssszzzt
Zzzst
Baroom
The operation was a success, Doctor!

Images thanks to Gordon Moriguchi
---
Contents copyright Martin Willey. Thanks to Gordon Moriguchi and Allen Barnella.