(11 paperback titles; first 6 with 16 page b/w photo section; based on Yr 1)
(10 x 17.5 cm; upper section of cover features Eagle over yellow logo: black background for "Breakaway", red for "Phoenix Of Megaron", blue for rest. Lower section features colour photograph).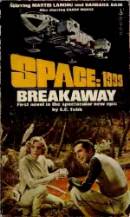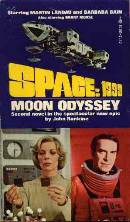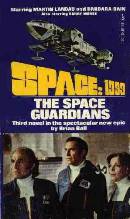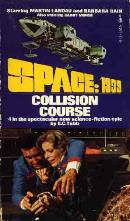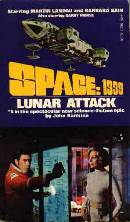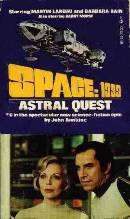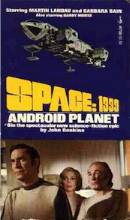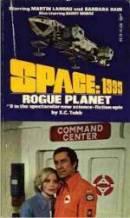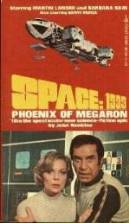 Title
Cover
1
"Breakaway" by E.C. Tubb
Koenig & Helena by Terra Nova pond; black cover
2
"Moon Odyssey" by John Rankine
Helena before communications post; Koenig in spacesuit in red light
3
"The Space Guardians" by Brian Ball
Victor, Koenig & Helena in Ultima Thule caves
4
"Collision Course" by E.C. Tubb
Koenig removes corpse hand from Helena in Eagle
5
"Lunar Attack" by John Rankine
Spacesuited Koenig, Helena both in War Games control room
6
"Astral Quest" by John Rankine
Helena & Koenig in Main Mission
7
"Alien Seed" by E.C. Tubb
Koenig shelters Helena in wrecked War Games room
8
"Android Planet" by John Rankine
Koenig, Helena & Victor in Command Office
9
"Rogue Planet" by E.C. Tubb
Koenig & Helena before Command Centre doors
10
"Phoenix Of Megaron" by John Rankine
Koenig holds Helena in front of computer; red cover
---
6 paperback titles based on Yr 2; with 8 page b/w photo section;
Cover features logo with banner "Escape Into Worlds Beyond Belief" & "Year 2" symbol, over 2 photos. Under author's name is credit "Based on the dialogue & ideas of" and names of those "who wrote the original ATV scripts for Gerry Anderson Productions Ltd, Pinewood Studios"; back cover features description over logo.
Title
Cover
1
"Planets Of Peril" by Michael Butterworth
Eagle leaves small Moon, Koenig holds Helena in Eagle
2
"Mind-Breaks Of Space" by Michael Butterworth & J. Jeff Jones
Metamorph Eagle; Metamorph Eagle crew in cockpit
3
"The Space-Jackers" by Michael Butterworth
Astronauts in NDA 2, Eagle flies over Psychon surface
4
"The Psychomorph" by Michael Butterworth
Pasc and Etrec; Two Eagles in volcanic crater
5
"The Time Fighters" by Michael Butterworth
Underside of Eagle firing boosters over planet, The Exiles
6
"The Edge Of The Infinite" by Michael Butterworth
Psychon ship over volcanoes, Reilly holds rock on planet surface
---
Reader's Digest Science Fiction Top-Picks

ed. Judith Hatch (Reader's Digest Educational Services 0-88300-328-7, 1977, 96pp); School textbook, all stories abridged.

A book of short science fiction stories, including (pages 64-75) an abridged version of the script of Infernal Machine by Anthony Terpiloff & Elizabeth Barrows (although "reprinted by permission of Simon and Schuster, Pocket Books Division", this is not the John Rankine novelisation). The script is presented as an audio play (a narrator speaks stage direction) and is illustrated with black and white photos from the episode. On pages 76 and 77 is a student test, on sentence analysis and ideas.