---
Click images for larger view. See also Continuity Guide for screenshots.
The 12 foot diameter Moonbase Alpha model was largely built in plywood covered in plasticard. There are some perspex sections, and the crude launch pads are vacuum formed. The 1 inch thick buildings are detailed with pieces from the Revell 1/24th scale Gemini kit and thousands of "Butterfly Brand" paper sticky labels. The lunar surface around the buildings was created in Plaster of Paris, poured after the buildings were stuck in position. Craters were made by flicking water into the plaster as it dried. A fork was used to draw tracks around some buildings, as if vehicles had driven around them. When not in use in the studio it would be hauled on chains to the roof, out of the way.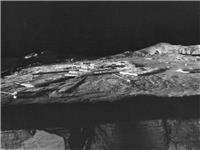 The edge of the model. Thanks to David Hirsch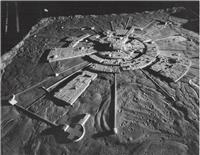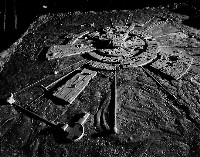 The full model, showing the edges of the square board. Two versions of the same images thanks to David Hirsch (l) and Mark Shaw (r).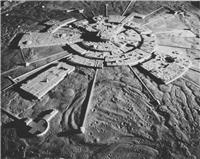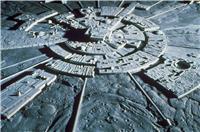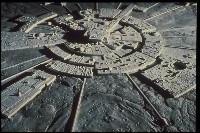 Different versions of the same publicity shot of Moonbase Alpha. This image was used as a large photo cut-out in the series: in Alpha Child and Dorzak.
| | |
| --- | --- |
| Composite image from three 1975 publicity photos, created and corrected by Dean A Scott | The lunar mountains around the base were large black and white photographs, 4-8 foot wide, mounted on hardboard. The fixed camera position would not reveal the 2 dimensional image, although one shot of the base in the Year One title sequence as it drops from the Earth reveals the trick. |
---
Contents copyright Martin Willey