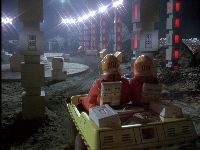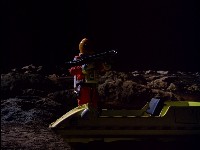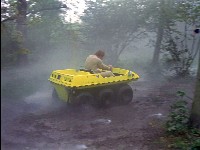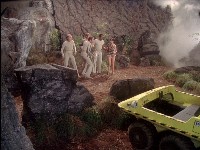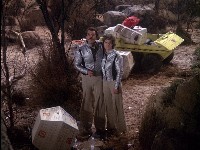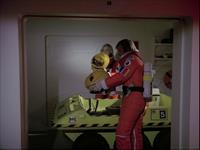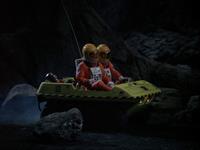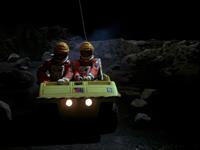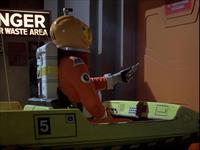 The Moonbuggy is actually an amphibious vehicle called the Amphicat. It is also well known for its appearance in the American children's show Banana Splits (1968-1970).
The vehicle is constructed from a two-piece ABS plastic moulded body shell. It was made in the late 1960s and early 1970s by two companies- Behoo Industries in Ontario, Canada, and Mobility Unlimited in Michigan, USA. The Space 1999 model is the Canadian version, with the exhaust on the right hand side.
In Year 1, there is a small number "8" on either side. In Year 2, a large number "5" is added to the sides and the front. The white side mirrors are also removed.
These rare photos show the vehicle shortly before filming Breakaway. Black and yellow striped edging would be added, and black panel lines to the sides and front. Thanks to Mark Shaw.

Larger versions of the same pictures.

A slightly different version of one of the above pictures, in black and white with better definition, alongside the buggy as it finally appeared in Breakaway, with panel lines and striped edging.

For many years the original Space 1999 moonbuggy was on display at Blackpool and later at Alton Towers in the UK. These pictures were taken shortly after Alton Towers. It was owned by the Cars Of The Stars museum in Cumbria, although it was not on display. It was later sold to an Italian fan.

For Year 2, additional black panel lines were added to the front.

The vehicle is actually red (see the engine photo below for the original colour). For Space 1999 the vehicle was painted yellow. The detailing changed several times during the series; the number "5" was aquired for Space Warp and The Bringers Of Wonder part 2.
The only real controls are the three yellow knobs left, and the two control sticks. The control sticks control each side of the vehicle (you turn by moving one stick forward and the other back). The coloured controls here are all fake. At the start of the series, there are no fake controls, but by Space Warp and The Bringers Of Wonder part 2 various labels were added.
The labels in Space Warp are different from those on the vehicle now.

Compare the space crest on the back of the moonbuggy with the woven badge used on the spacesuits.
The petrol engine. The 16hp Sachs air-cooled engine drives all six wheels through live axles. Top speed is 15.6 km/h (35 mph). It has a water speed of up to 3 km/h (1-2 mph), or 2.24km/h (5 mph) if an outboard motor is fitted. The Amphicat can carry up to 217.7 kg / 480 lb. It can turn within its own length (2.06m; 6 feet 9 inches) and negotiate gradients of 45 degrees.
---
Images copyright Martin Willey except for Space 1999 images (copyright ITV Studios Global Entertainment)
Page copyright Martin Willey