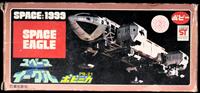 This feature-packed toy has some features similar to the much larger Mattel Eagle. It's not much like the real Eagle on the front of the box, but the activity features are fun for kids. The model is 16cm long, 7cm wide and 3cm tall.
The command module is cream-coloured, the body and passenger module white, the frame and leg pods are grey, and the rear engines are chrome. Inside the top spine are several chrome areas of detailing.
The command module (3.5cm long) separates from the main body when you press the black trigger on top of the spine. Underneath is a roller-wheel under the Eagle command module, with a spike foot allowing it to stand upright when separated from the main body.
The top of the command module has an orange perspex section. This can be opened to reveal two small (non-removable) pilots inside.
Each of the legs pods has small metal wheels. The front leg pods have black triggers on the side- press them to fire the yellow missiles in the front of the leg pods.
The passenger module has a winch compartment underneath. Open this to for a small metal winch hook.
On the right side of the passenger module is a rotary dial, to operate the winch hook.
On the left side of the passenger module is a flap which opens to reveal the interior.
The rear engines separate from the main body. They can be attached to the command module (like the Mattel Eagle)
There's a black box with a hook, which can be lifted by the winch. The rear engines and command module can be attached either side.
There are two small individual astronaut figures which fit in the passenger module; one is seated, one stands (with a base). In the packaging, these are in a bag with six yellow missiles, which fit into the Eagle leg pods.
Popy was founded in 1971 as a subsidiary of the Bandai company, specialising in character toys licensed from TV, filled with play features such as firing rockets. Some of the toys were repackaged in the US by Mattel (notably the Shogun Warrior toy line). The company was absorbed back into Bandai in the mid-1980s.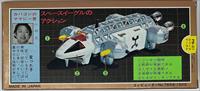 The back of the box shows the features. The box is 18.5 x 8.5 x 4.8 cm. The model is held in polystyrene within the card box. The person on the left is "Chika Abe" ("A word to Kabagong's space mum", the text praises the interest and creativity of children)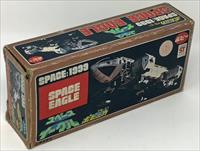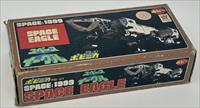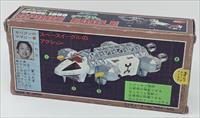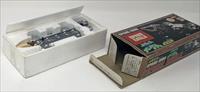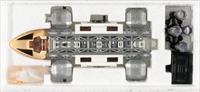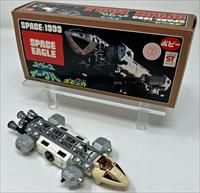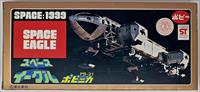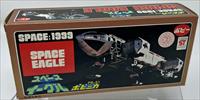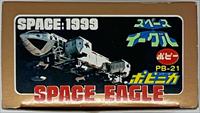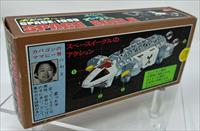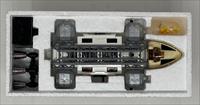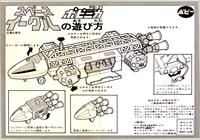 Instructions. The bottom right part has a token which you can send to Popy in case of lost parts.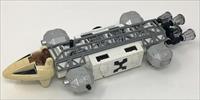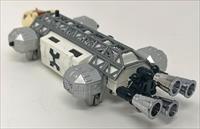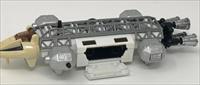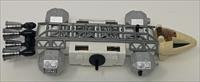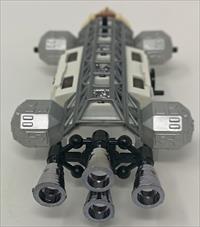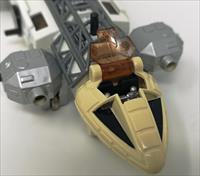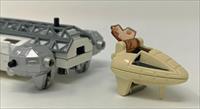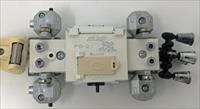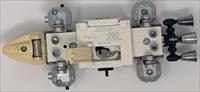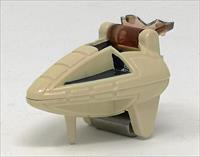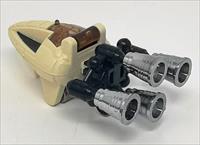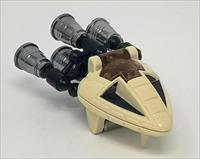 Below:Pictures thanks to Gordon Moriguchi