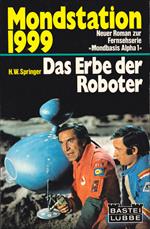 Original Novel: "The Inheritance Of The Robots"
| | | |
| --- | --- | --- |
| Bastei: (nbr 25 008) | ISBN 3 404 00914 2 | 1978 ; DM 3,80 |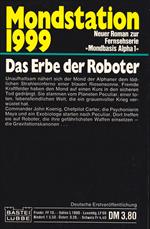 Unaufhaltsam nähert Sich der Mond der Alphaner dem tödlichen Strahleninferno einer blauen Riesensonne. Fremde Kraftfelder haben den Mond auf einen Kurs in den sicheren Tod gedrängt. Sie stammen vom Planeten Peculiar, einer toten, lebensfeindlichen Welt, die ein grauenvoller Krieg verwüstet hat. Commander John Koenig, Chefpilot Carter, die Psychonierin Maya und ein Exobiologe starten nach Peculiar. Dort treffen sie auf Roboter, die ihre gefährlichsten Waffen einsetzen - die Gravitationskanonen ...
The Alphans' moon is inexorably approaching the deadly radiation inferno of a giant blue sun. Foreign force fields have pushed the moon towards certain death on a course. They come from the planet Peculiar, a dead, hostile world that has been devastated by a gruesome war. Commander John Koenig, chief pilot Carter, the Psychon Maya and an exobiologist start for Peculiar. There they meet robots who use their most dangerous weapons - the gravitational cannons ...