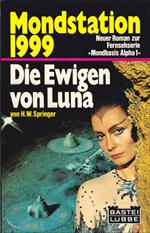 Original Novel: "The Immortals Of The Moon"
Bastei: (nbr 25 009)

ISBN 3 404 00928 2

1978 ; DM 3,80

Apex
Compilation: "Mondstation 1999, Band 1" ("Space:1999 Volume 1")
ISBN 978-3-7487-2049-2 (and other editions)
November 2019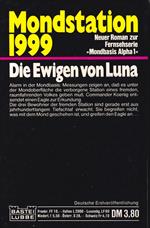 Alarm in der Mondbasis: Messungen zeigen an, daß es unter der Mondoberfläche die verborgene Station eines fremden, raumfahrenden Volkes geben muß. Commander Koenig entsendet einen Eagle zur Erkundung. Die drei Bewohner derfremden Station Sind gerade erst aus jahrhundertlangem Tiefschlaf etwacht. Sie begreifen nicht, was mit dem Mond geschehen ist, und greifen den Eagle an ...
Alarm in the moon base: Measurements indicate that there must be a hidden station of an alien, space-traveling people under the surface of the moon. Commander Koenig sends an eagle to explore. The three residents of the foreign station have just awakened from centuries of deep sleep. They don't understand what happened to the moon and they attack the Eagle ...