Click for larger views. Thanks to Amanda.



This is the second 11" (27cm) Eagle model, built by Terry Reed. It is a fairly crude model. The solid resin command module and pods only have hand-drawn panelling. The decals are blue triangles, with no insignia. The command module is a little oversized in proportion, and the viewport slots are more angular. The corridors are unusually thin, the girderwork being represented by ladders on the top only. The vertical rockets on the underside are pushed to the far ends of the corridors. The feet are from the Airfix model (repaired in these shots, with the front clearly higher than the back). There are no manoeuvring rockets on the leg pods.

It was built for Dragon's Domain, for the shots of the two pursuit Eagles (it was quicker to film both 11 inch Eagles together, rather than film the same Eagle twice, repositioning them between rewinding the film). Of the three shots, it is only clearly seen in one shot (unfortunately an underside shot, possibly the least convincing view, especially in comparison with the other 11 inch Eagle).

The angular command module is seen docked to the Ultra Probe, and again in Seed Of Destruction (this shot shows manoeuvring rockets, so it is probably the other 11 inch Eagle). Probably because it was so crude, it does not seem to have been used in other episodes.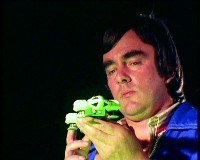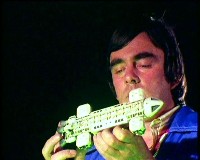 During the filming of Seed Of Destruction, an interview with Brian Johnson was filmed which shows him holding this particular Eagle.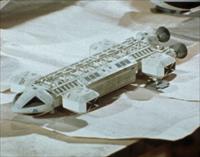 A close up of the model at Bray Studios in May 1976, missing one foot pad. From the Warwick student documentary.
---
Page copyright Martin Willey