---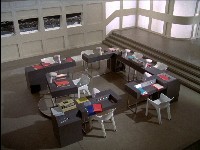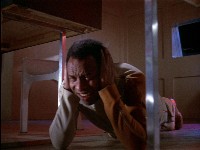 All the year 2 desks are modified from the year 1 Main Mission desks, adding a screen and a substantial base, instead of thin metal legs.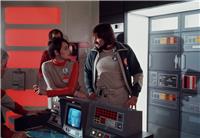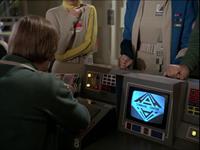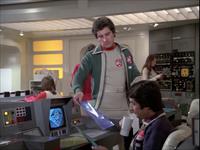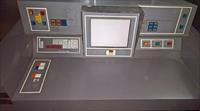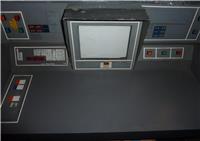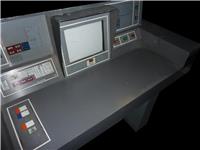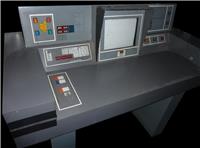 Maya's desk. This has not been restored- many of the "buttons" and lettering have come off. The white outlining has been repositioned. The light switches have been replaced; in the original there were a mixture of round and square switches, but here they have been replaced with rectangular switches. The blue rectangle on the right is also been replaced since the studio filming (the sticker itself is original).
The desk top is 4 foot / 1.22m long by 2 foot / 61cm wide by 8 inches / 20cm high
The "writing area" of the top is 5"/13cm deep. The base area is 3 foot / 91 cm by 1 foot / 30cm. The sloping panel at the back is another 3"/8cm.
The top unit on the back of the desk is 6" /15cm high at back, 7.3"/18.5cm at the front. The depth is 8" /20cm deep; 7" / 18cm at the top.
The screen housing itself is 1 foot /30cm high square.
The base is 3'2" / 96cm wide by 1'4" / 41cm deep and 2'2" inches / 66cm high.
Total height is about 3'5" / 1.05m.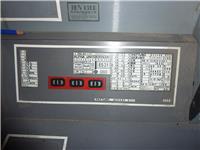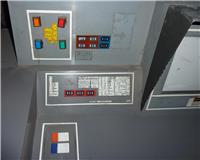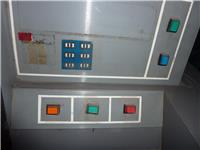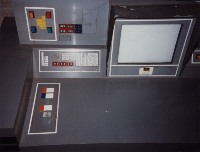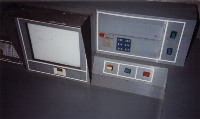 ---
Copyright Martin Willey