Script To Screen
---
---
George Bellak's script for the first episode was called The Void Ahead. The structure of the episode that will become Breakaway is intact; the story opens with Bergman and Helena watching astronauts in the nuclear disposal area. We then cut to Commander Koenig in an Eagle, travelling to Moonbase Alpha to take up his command and watching a news broadcast.
This is one of several undated drafts, including a "First Draft Copy" and "Temporary Final". This is an early version, with several different names. The Eagle is the MTU, Morrow is Vorkonen, Carter is Catani and Gorski is Grodno. This version opens with a narration by Bergman. Here are the first two pages.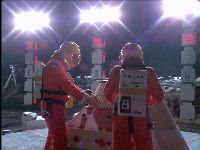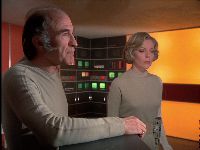 "THE VOID AHEAD"
1 EXT. NUCLEAR DISPOSAL AREA 2. SFX 1
This eerie site is on the dark side of the Moon. The
area is enclosed by a laser barrier projected between
a ring of tall columns, each of which is topped by a
bank of floodlights casting harsh illumination over
the sinister scene, and over glaring warning notices -
"DANGER - STAY AWAY - RADIATION. NUCLEAR DISPOSAL
AUTHORITY BOARD, 1999." and "BEWARE - LASER BARRIER".
Inside the floodlit area we see an operation in
progress.
In the background of the shot a Modular Transportation
Unit (MTU) rests horizontally on the Moon surface.
The MTU is Moonbase Alpha's multiple purpose short
range spacecraft. Here it is a cargo unit, and from
its cargo container a conveyor runs some distance over
the surface. The conveyor ends above a hole in the
ground. A massive container moves along the conveyor
from the MTU to the hole where it is lifted down into
the ground by mechanical handling gear. All about we
can see there are ominous mounds rising up - mounds
of concrete-like material covering holes in the Moon
surface. This is a burial ground for waste earth-
used atomic fuel.
2 EXT. NUCLEAR DISPOSAL AREA 2. STUDIO 2
At some distance from the laser barrier which surrounds
this radiation-dangerous area, our camera shows us two
Nuclear Disposal Area technicians, both wearing space-
suits. They are working on one of the many radiation
sensor units that are dotted about between the mounds,
making repairs.
Over this, we hear the voice, for the first time, of
Professor Bergman. The voice is a combination of
science and humanity, of logic and controlled emotion -
but now it is very shocked.
BERGMAN (O.S.)
September 9, 1999. It has been only
thirty days since I arrived here on
Moon Base Alpha ... thirty days of
events almost impossible for the
mind to encompass...
2
3. INT. BERGMAN'S QUARTERS 3
We see this man now - intellectual, somewhat austere -
with a face which has seen some time. He is writing
in his notebook.
BERGMAN
...incredible events ...proving,
once again, that immutable law of
nature...
4 EXT. NUCLEAR DISPOSAL AREA 2. STUDIO 4
Tight on one of the technicians who has just finished
checking a sensor unit. He closes a panel.
5 INT. N.D.A. DEPOT
We cannot tell where we are just yet because camera is
holding Dr. Helena Russell in the F.G. She is a cool
good looking woman in her early thirties and she is
chief of the Medical Section of Base Alpha. She is
looking at a monitor screen on which we can see the
repair operation in the Nuclear Disposal Area. As she
looks up from the screen and out of the Depot window we
can see this area in the far distance. Helena Russell's
face is tense. Over this...
BERGMAN (O.S.)
...every advance in our technology
brings us closer to some new
threshold of danger......
Now we can hear the technician speak.
TECHNICIAN NORDSTROM (O.S.)
This unit's operating now and.....
There is silence - a rather sudden and unexpected
silence.
C.U. HELENA
Tense - apprehensive. She peers forward at the monitors
6 EXT. NUCLEAR DISPOSAL AREA 2. 6
ON NORDSTROM
Even through his bubble helmet, we can see a puzzled
and confused look come over him. He turns away from the
panel.