Script To Screen
---
On 5th January 1976, a second revised draft of The Biological Computer was published, with various minor changes to the scenes and dialogue. On 19th January the final shooting script was produced, retitled The Metamorph.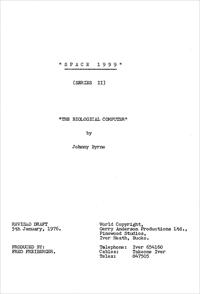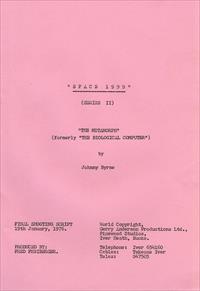 There were relatively few changes from the first revised draft of December; most scenes and dialogue were identical. One character, Fraser's wife, had been renamed from Antonia to Annette. Macinlock and Hays remain; there is still no mention of Bergman. A few scenes were marked as "DELETED"; these were mostly due to restructuring actions sequences (such as when Mentor's ship drags the Eagle down to the planet). Below is the final page of the script, printed on pink paper.
71
192 CONTD.
HELENA
(shivers)
I was thinking of Torens and
Picard.
KOENIG
I know.
MAYA moans softly in b.g. They look towards her.
KOENIG
Maya...
She looks at him.
KOENIG (contd.)
Thank you for saving our lives.
MAYA
And losing mine.
HELENA
(gently)
You have a new life ... with us.
MAYA shrugs hopelessly.
KOENIG
Your science is so far ahead of
our's. There's a place for you
on Alpha.
MAYA stares at them for a moment, then:
MAYA
Anywhere but on Psychon, I
will be an Alien.
KOENIG
We are all aliens ... in the
beginning.
MAYA looks from KOENIG to HELENA, who regard her with
steady friendly gazes.
FREEZE FRAME:
FADE OUT:
THE END
* * * * * *
Further changes were printed on blue and yellow paper, so it would be immediately obvious on set which script version was in use. This is an amendment to scene 146 (immediately after Sandra queries Simon about directive four, and he orders her back to her station). It was the first time Bergman's loss was mentioned. The scene was filmed on Tuesday 27th January, but cut during editing.
51A
146 CONTD.
SIMON
(almost to himself)
I wish Bergman was here.
SANDRA
(nods)
But he isn't.
SIMON
One lousy spacesuit with a
faulty helmet and Victor had
to be in it.
SANDRA
(gently)
We can't bring him back,
Simon.
---
Copyright Martin Willey