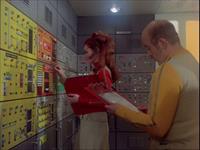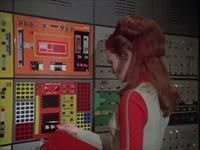 During the in-show credits, we track through Command Center, following Jackson with his checklist. We end on Maya hitting controls on the computer. We then cut to a closer shot of Maya, and her hands are in very different positions. Thanks to Simon.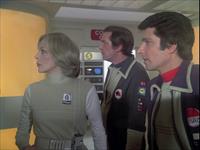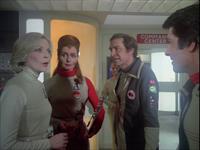 After the above sequence, we cut to a three shot of Helena, Tony and Koenig. We quickly cut back to Maya, then track her walking back to Koenig and the others. In seconds, Jackson has made it across the set, unseen, and is now behind Helena in the doorway. Thanks to Simon.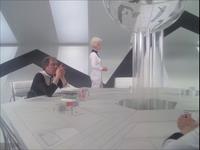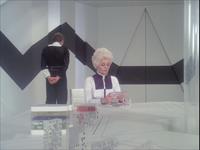 Between these two shots (when Carla does the "indoctrination"), the desk decorations, including Logan's box of pills, have moved round one place (as has Logan's seat).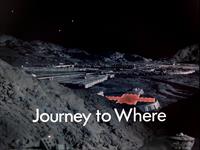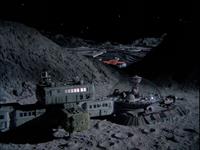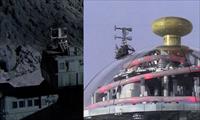 The domed building outside of Moonbase Alpha is presumably what is referred to in dialogue as the "transference dome". However, you can see it before they built the dome- it can just be seen in the episode title shot. The revolving antenna on the adjacent moonbase building is the exact same antenna revolving on top of Texas City.
Despite the distant location, Helena and Vincent get back to Command Center very quickly after setting up the test package.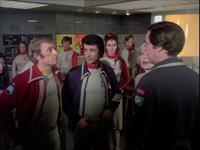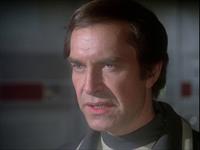 When Koenig is asking for volunteers to transport, he is in front of the missing wall of Command Center. Normally they shoot reverse angles against the opposite wall, but here they use the same computer wall as is in the transference section of Alpha. Koenig's reverse was filmed on the technical/life support set, not in Command Center. Thanks to Simon.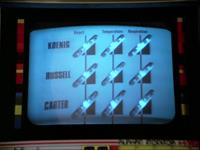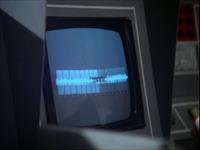 The "computer graphics" seen in the episode are live TV camera shooting real props. The horizontal scale is from a computer panel normally seen in Medical. In both you can the lights are simply bulbs.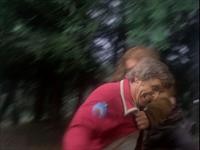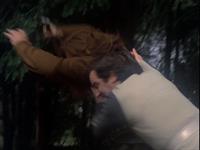 Alan's stunt double has his face to camera when the swordsman jumps on him. Koenig's stunt double can just be glimpsed when he joins the fight.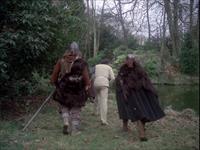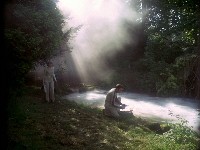 The pond also appeared in The Full Circle, where Koenig and Helena found the dinosaur footprint and fired at the cave. Journey To Where was filmed in April, while Full Circle was filmed in September, which explains some of the difference in vegetation.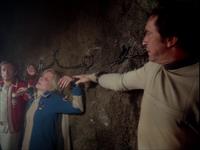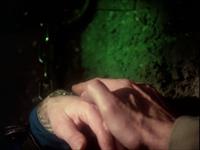 Koenig sends his Morse message from Helena's wrist monitor. In close up there is a nice green cast from it on the cave wall, in the wide he's pressing away and no green light. Thanks to Simon Rhodes.