The Bringers Of Wonder blooper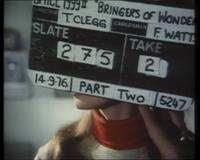 This clip from Bringers Of Wonder part 2 was first shown on the UK "blooper" (out-take) special "It'll Be Alright On The Night" on September 28, 1979. It later appeared in the US on "Dick Clark's TV Censored Bloopers 3" on NBC in 1982 (where it was identified as coming from "Buck Rogers"). It was an extra feature on Network's Complete Second Series DVD and Blu-ray set (2015).
In the story, Koenig has been captured trying to take an Eagle and returned to Medical. Tony tells the guard "make sure he's properly taken care of". In the episode Tony leaves, apparently with Shaw. The shot starts as Maya looks round, then extracts a stun gun from a drawer. She turns and stuns the guard, who falls to the ground. Obviously there are no "laser" effects in the clip. The camera (and Maya's stun gun) swings right to show Shaw, who moves hurried to the door. As he steps over the guard, he trips, falls to the ground, and his feet go flying in the air. It didn't make sense to have Shaw in Medical Centre, because at this point they have shown their hand to the aliens.
In the episode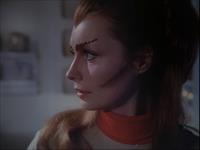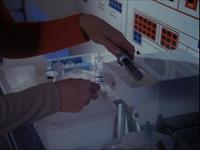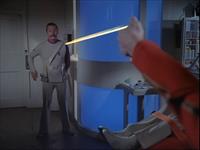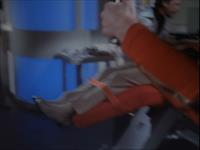 In the Blu-ray version of the episode, we can see Shaw looking over Koenig. In previous versions, including DVD, only a glimpse of the silver jacket is visible.
The blooper