---
Operation Alpha
By Carole Abbs with sections by Pat Jenkins
This account was written for the Nick Tate newsletter 2 in 1977.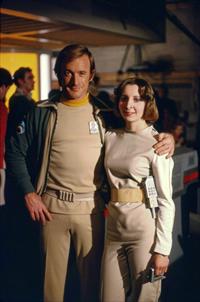 At approximately 1:00 p.m. on October 20 1976, a very dazed Carole L. Abbs was standing in front of an enormous noticeboard in the lobby adjoining Soundstage L at Pinewood Studios. Robin was more composed, the Vice President was even less composed than Carole and was munching energy pills at a fantastic rate.
The dazed expression could be attributed to several things. That I had just survived (it is the correct word) a train journey in the company of Dot Owens, Robin Hill and a demoniacal metre long Eagle. That I was standing staring at the most beautiful set of colour stills I had ever seen; large and block mounted; and fighting with a tremendous urge to abscond with the lot. Or that I was struggling with the mind-shattering realisation that only a few metres away, behind a heavy metal door, was Alpha, and that here we were, honoured guests at our much loved Moonbase.
We had arrived at lunchtime, neatly deposited at King's Cross Station almost an hour behind schedule (perhaps the train driver had been hoping to have lunch at Pinewood too) and met the other members of our party - Pat Jenkins, Jerome Perkins and Cathy Owens - to be driven in a black limousine twice the size of Fab 1, but not as reliable, to Iver Heath. I remember very little about that journey, except that every time I opened my mouth to a butterfly flew out, and that Pat was sitting next to me whimpering at a photo of Martin Landau.
PJ: Our first few minutes at Pinewood were shattering for me. Carole, Cathy and I went to the powder room to refresh ourselves and I remember with horror that during our absence Martin Landau and Barbara Bain walked through reception and went upstairs to their dressing rooms. To have missed seeing Martin after coming so far ...
Eventually we were directed to the restaurant by Nick and Chris Nixon (the publicity feller for 1999). Nick was in costume - ever had lunch with Alan Carter? It's certainly an experience; Nick ate heartily - steak and kidney pie which seems to be his staple diet. I ate very little. Pat had some glucose tablets with her, and she gave me some so I could keep up with Nick. But she also gave some to Nick, which I thought defeated the purpose. After some time eating, chatting, being teased (RH again - he makes life embarrassing at times ). Mick excused himself, as he was due back on set, and we followed him over after we had finished our lunch.
A note of interest; Pinewood has appeared in some of the movies made there. It turns up in Goldfinger, in the scene of the car chase which ends in the destruction of that beautiful Aston Martin. And the factory in Carry On At Your Convenience is Pinewood too; ill disguised, with a false brick wall built across a road we walked up past the Special Effects and Stills studios (which we nearly took a diversion into!).
Back in the foyer with the beautiful stills, we waited impatiently for admittance to the stage.
PJ: As we stood waiting, quite suddenly Barbara Bain walked through ... or rather she nearly did but she suddenly saw me standing there with my shirt with a photo of Martin Landau (her husband!) boldly printed on it - Barbara was quite fascinated and came over to ask who I was and how I came to have this T shirt. I then introduced our group, and Robin Hill introduced her to his superb model which was much admired by Barbara. Sorrowfully after a few minutes she had to leave.
Eventually, the red light went out, the green light came on, and Chris ushered us through the time/ space barrier - the door. We came face to face with a huge notice in bold red lettering; SMOKERS: EXPENSIVE FLOOR WHICH MUST LAST THE SERIES. DO NOT PUT YOUR CIGARETTES ON IT. TINS ARE PROVIDED. That apart my first impression was of a Do it Yourself store - hardboard, timber strips, plastic, paper, cables, nails and odds and ends. Or perhaps it was like behind the scenes in a film studio. Any-way, I had little time to dwell on this, for a few steps later, we rounded a corner, stepped up a ramp and ...boggle ...
We were there!
All around was the creamy white of perspex corridor panelling. A communications post stood in the distance, at an intersection. And as we walked along we passed an Eagle Interior, Medicentre and Weapons Area, before we arrived at the big doors over which was lettered Command Centre - in American reading "Command Center"
Silence was called for as the unit went for a take. We stood furtively in the corridor making faces at each other. Suddenly a loud bell rang. I looked round for fire engines until someone reminded me that this was Alpha, not Los Angeles Fire Station 51. The take over, utter confusion reigned as the crew set up again. We were deafened by the extremely noisy PA system as Chris showed us through onto the set.
A magic moment. I could almost hear the orchestra - though the Command Center could never mean the same to me as Main Mission. I was disappointed to see it only had three sides. But the TV screens, especially those below the main viewscreen, were fascinating. They really worked. The pictures weren't matted on later; what the actors looked at they really saw. And the flashing lights on all the wall panels worked too. Pretty.
PJ: As we waited while the rehearsed a scene, your Vice President glumly noted that Martin Landau was not on set ... and after missing him on the last 'appearance' began to feel that all the wishing on white horses and touching of wood was to no avail... However, she reckoned without Nick Tate, dashing Knight on White Horse extraordinaire, who went off post haste even at the earliest opportunity to find Commander Koenig for one depressed person to view.
We were introduced to Zienia Merton and Tony Anholt. A little self conscious among the technicians on the sidelines, we spent some time watching them filming.
PJ: Then Martin Landau appeared with Nick Tate and walked over to say hallo ... and I shamelessly dissolved, lost the ability to speak think or maintain normal life functions for at least a minute. This was the first time that I had ever met Martin and for that minute I was floored. I recovered quickly (at least I hope it was quickly) and managed to speak a words. I was most impressed with Martin as a person. In appearance he was taller than he seemed on television and immensely more handsome. I think our own ghastly TV reception was the cause for me not realising how good looking he was ... as those of you who have seen my worst telepics would understand. But - he was not only superbly good looking he was also very friendly and not at all the big star meeting the dust of the earth. We had already found Nick Tate to have this marvellous quality of friendliness towards the fans, and Martin and indeed all the other 1999 stars proved to have the same very nice attitude.
All the stars gave autographs but to my delight Martin produced some superb prints of the pic that appears in the 2nd season intro sequence (Koenig with laser) and autographed a pic to each of our party.
PJ: Later Martin was called to a special studio. When a series is made the soundtrack can be faulty, because of the floor squeaking or maybe a plane flies over or someone talks. If this happens a section of the track has to be re-recorded completely. Everything from the actors voices to the sound of say a fight being dubbed in again. The actors have a difficult task if this happens because they have to ensure that the soundtrack they record is in time with the film. To help them a large screen in the special studio is used to show the relevant section of the film. Martin invited me to come and watch him re-record a section and it was a fascinating experience. He viewed the film several times first, then tried a couple of run-throughs and then "went for real". He's a most professional actor and in a very short time the job was done and we walked back to the main studios.
While we were gone, much was happening.
Pat and Martin had disappeared. The rest of us trooped on set and arranged ourselves in front of the Commander's desk. I ended up between Nick and Tony, which probably accounts for my strange expression in the resulting photos!
Later in the afternoon we were taken over to nearby Bray studios and met the special effects genius, Brian Johnson, and his team. This is really Robin's department and it's best left to him to describe. Suffice to say, it was extremely interesting, because I love models, being surrounded by Eagles, Moon Buggies, bits of Alpha, the Ultra Probe and even the Altares from the film Into Infinity. I'm still wondering why there was half a flying sub (from Voyage [To The Bottom of the Sea]) among the bits of plastic in a large barrel.
Back at Pinewood, we met Gerry Anderson in his office before watching a showing of Seed Of Destruction.
PJ: I had asked Martin if it be possible for us to have some kind of a discussion with the cast about the first and the second series and general subjects relating to Space: 1999. Barbara had said that they would have to go early, that night, but as they stayed for the showing of Seed Of Destruction at the end of this they came over to us sat down. Then with Tony Anholt, Nick Tate, Zienia Merton, Gerry Anderson, and Martin and Barbara there ensued quite the most incredible discussion. Earlier in the day I had felt very tongue tied with Martin, but my tongue grew wings and with Carole in superb voice we presented a most passionate appeal for our views on Space: 1999 to receive consideration.
PJ: The first series had not pleased everyone but ironically it was the Star Trek fans who were consulted for their views on how Space should be developed. At our first meeting with Nick Tate and Chris Nixon at the Leeds Star Trek Convention we had really put over our outrage at this and we expanded that theme in our discussion.
PJ: There are many views about the first and second series but for me Carole put the views of many of us when she said that the second series had lost the sense of wonder.
PJ: Martin, Barbara and the other stars were quite fascinated by our views and demonstrated a wonderful and moving involvement with the series. Space: 1999 was made by people who loved it, actors and backstage people alike; they all cared and even in the second scales that showed through beautifully.
After our discussion we regretfully said goodbye to Tony, Martin, Barbara and Zienia and went with Nick, Gerry and Chris Nixon back to Gerry Anderson's office for a long discussion. Both Carole and I were overwhelmed at how our thoughts about life, science fiction and fact were understood and shared by Gerry Anderson.
All too soon it was time to leave and return to the real world again!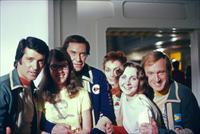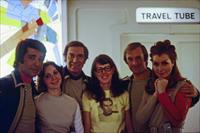 On December 9 three of us, Pat, Robin and myself returned. This time we were earlier and we watched part of the morning's filming, plus some rushes, before lunch again in the restaurant. This time, I had steak and kidney pie, Nick didn't! We met Catherine Schell, who had not been there last time. Like a fool, I agreed to take first season Alpha uniform, so Robin could take some photos, and I spent the afternoon wondering amid people in second season uniforms. I even had a commlock, made by Robin and both Nick and Martin put it on their belts with the real ones. I can't look at that commlock now without seeing Martin holding it up as if he's going to contact someone.
This second visit was a sad occasion for us, because we knew then that Space had been cancelled, and they were working on the last episode of season two. It had appeared to be a happy and friendly set, and we were choked to think that we may never see most of those lovely people again.
PJ: I spent time interviewing Martin and Barbara on my cassette recorder. [Martin Landau interview is here; unfortunately we don't have the Barbara interview, or Carole's Nick Tate interview] It was utterly chaotic on set and I must express my most sincere thanks again to Martin and Barbara for being so helpful and kind and to my cassette recorder for not munching up that particular tape.
Meanwhile - I did an interview with Nick, punctuated by that bell; "All good atmospheric stuff", commented Nick, as it drowned out what he had just said and my cassette recorder reverberated violently.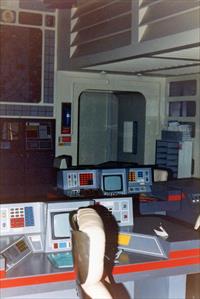 We saw the same set, the Command Center in use and Robin took a number of photos. The lead players kept coming over to talk to us. I was overwhelmed by their interest in people who were technically strangers. The greeting we received when we arrived proved that we had not been forgotten since our last visit to the set.
But it wasn't just the players; the Prop Man offered to make me an ID card to wear on my uniform. He took a Polaroid photo, and lettered my name under it on the card, so I had a genuine Alpha ID tag. I was so overwhelmed, I could only mutter a dazed "Thank you" and stagger out to the lobby to say goodbye to everyone.
This was a tearful occasion. Such a shame that all good things must end, and this wasn't just our visit, this was the TV series we had all grown so fond of. I cannot deny, though, that we had been very lucky to have seen part of Space being made, and to have met all the people responsible for making it. I can only say a very sincere thank you to them for allowing us to invade their world and see the other side of Moonbase Alpha.
I wish everyone, Martin, Barbara, Tony, Catherine, Zienia, all the production team, and Gerry Anderson, and most specially or all, Nick, the very best for the future.