Five Star Five was a Gerry Anderson movie project. Gerry Anderson was to executive produce with music producer Sydney Rose (1939-2007, imdb). In 1977, immediately after Space: 1999, they began fund raising while long-term collaborator Tony Barwick worked on the script. The story was described as The Magnificent Seven in space. Five characters- including a talking chimp and a robot - must destroy an alien asteroid fortress that threatens a planet.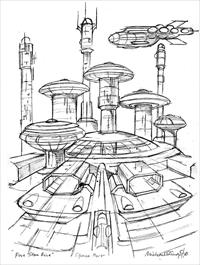 In 1978 preproduction work began, and the director was to be John Guillermin, director of The Towering Inferno (1974), King Kong (1976) and Death on the Nile (1978). Associate producer was David Lane (Space: 1999's supervising editor). The main production designer was Michael Stringer (Fiddler on the Roof (1971), Robin and Marian (1976)). Some storyboards were prepared by comics artist Kevin O'Neill (who had helped launch the comic 2000 A.D.). Designer Keith Wilson did some early work on the film (he was mentioned in the 1979 Starlog article below, but had left and been replaced by Stringer in 1978). Lighting cameraman was Alan Hume (Star Maidens (1976), For Your Eyes Only (1981), Star Wars Return of the Jedi (1983) and much later Gerry Anderson's Space Precinct (1994)). Martin Bower did some spaceship designs.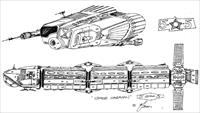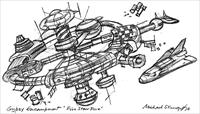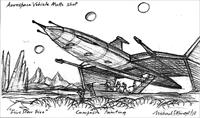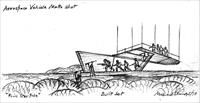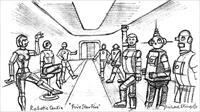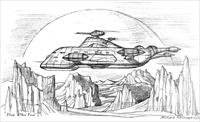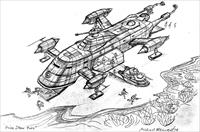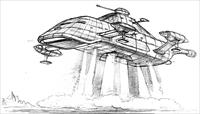 Studios were booked, with special effects due to start on 22 October 1979, and live action in Pinewood on 19 November 1979. A few weeks before production began, the project abruptly lost funding and was abandoned.

Model maker Jon Sorensen (Alien, 1979) made this small model spaceship. A prop gun was also made. None of the major ships had been built before the production was cancelled.
Gerry Anderson's son, Jamie Anderson, has a script from the film. While most Anderson productions are owned by ITV, Jamie has the rights to Five Star Five, and it could be developed in the future.
Here is a announcement from Starlog magazine, with a promotional painting.