---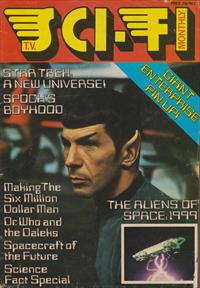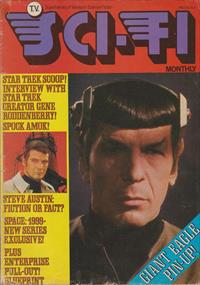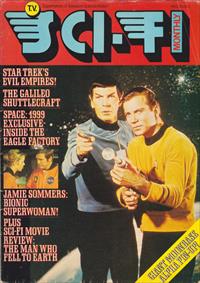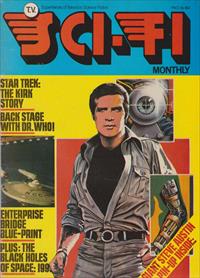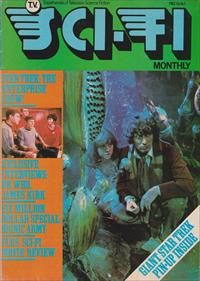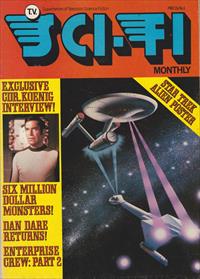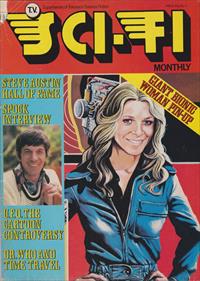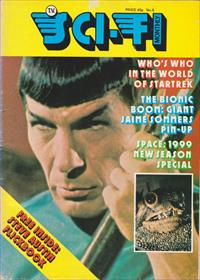 In February 1976, as viewers watched the first series of Space: 1999 on TV, a new science fiction poster magazine appeared in the UK with news of the second series then being filmed. The interviews with Gerry Anderson, Martin Landau and Brian Johnson gave British readers their first insight into the new series, and the posters would decorate the walls of many fans.
TV Sci-Fi Monthly was a UK magazine published in 1976 by Sportscene Publishing. Sportscene started in 1974 with Kung Fu Monthly and also produced poster magazines for pop music bands. In the 1980s the publisher started various popular computer magazines, some of which still exist (Computer Shopper, PC Pro), and in the 1990s they launched Maxim. Now as Dennis Publishing, they are one of the biggest magazine publishers in the world.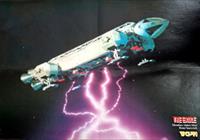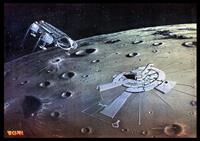 TV Sci-Fi Monthly on newspaper shop shelves was a regular magazine size of 20.5 cm x 29.5 cm /A4, but inside pages folded out to A3 format with a height of 41 cm; the centre of the magazine was an A2 sized poster. There were 16 pages, all glossy and mostly with colour photos; many pages were devoted to large photos or art, ideal for sticking to a kids' bedroom wall.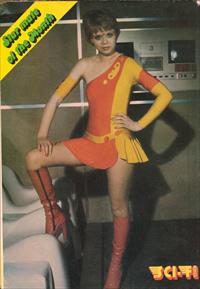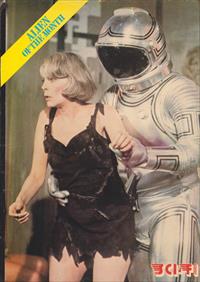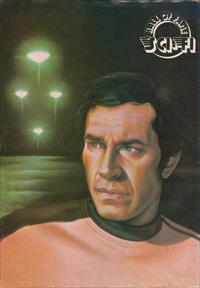 The articles in TV Sci-Fi Monthly were mostly about current television science fiction, which in 1976 was Star Trek (heavily featured in all issues), Space: 1999, Dr Who, Six Million Dollar Man and Bionic Woman. There was short news about upcoming films and reviews of current films. Only one issue, 7, contained no Space: 1999 (it had an article on UFO instead).
Several articles were factual science; Space: 1999 was the main or joint focus of several, including "If The Moon Should Go..." in issue 1, "Life In Space" and "The End Of the Universe" (black holes) in issue 4, and "Lasers, Phasers and Stun Guns" in issue 5.
The editors were Don Atyeo and Mick Farren. Interviewers and artists were credited, but most articles were not signed.
There were just 8 issues before it disappeared. It wasn't until after Star Wars that Starburst launched, and editions of the US magazine Starlog began to appear in the UK.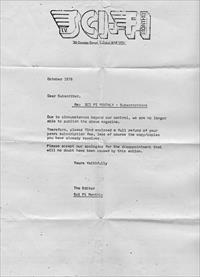 Subscribers got this letter when the magazine closed in October 1976.
Science Fiction Monthly
The format and title of TV Sci-Fi Monthly was similar to Science Fiction Monthly, a more serious science fiction magazine that was available at the same time (although much less common). It had run since 1974, based on short stories and articles, with similar poster pages of art (from science fiction novel covers).
The film critic was John Brosnan, later to join Starburst, and he covered the series in an article for Volume 3 number 1 (January 1976). The full article is here. There were some very impressive photo posters of the Hawk.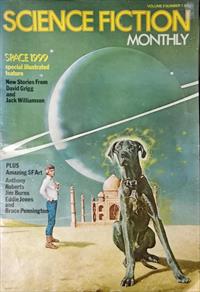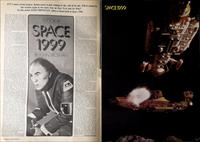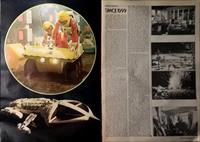 ---