CATHERINE SCHELL HERE TO PUBLICIZE SPACE: 1999
Starlog Number 3 (Jan 1977)- LOG ENTRIES p40
Scanned by Paulo Jorge Morgado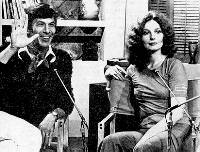 By 1999 it may not take all night to fly between Hollywood and New York, but in 1976 stars on whirlwind publicity tours are still subjected to such rigours. Nevertheless Catherine Schell, who joined Martin Landau and Barbara Bain this season as a star on Space: 1999, arrived recently in New York sleepless and jet-lagged, but gracious and lovely.
A blue-eyed redhead who confesses that "I laugh easily, especially when someone tells me not to," Catherine won worldwide acclaim last year for her performance in The Return of the Pink Panther, the highest-grossing comedy in movie history. Breaking into giggles whenever she played a scene opposite Peter Sellers, she managed to break up audiences, too, and when the producers of Space: 1999 wanted a character who would bring additional glamour and humour to Moonbase Alpha, Catherine seemed an ideal choice.
Though she plays an alien with a computer brain and the power of molecular transformation, Catherine says of her character: "I've tried to make Maya as human as possible. I felt that if I gave her an alien speech or movement pattern, the performance would get bogged down. I've given her a mischievous side, and the writers have made some of my molecular transformations funny.
"I have a sort of romance going with the character played by Tony Anholt, and once when he tries to kiss me I turn into a little old lady. In another episode, Tony makes me taste some awful beer he's brewed, and I say 'Oh, no, it doesn't affect me at all,' as I turn into Mr. Hyde. I don't get to play the transformations myself," Catherine discloses. The costumes and makeup are too different from Maya's, and in a television series there isn't time to make the changes.
Making quick changes seems to have been a feature of Catherine's personal life, however. Born in Hungary, the daughter of Baron and Baroness Schell von Bauschlott, she fled her native country with her parents, sister, and two brothers during the Communist take-over in the fifties. Settling in the United States, she spent many of her school years in Washington, D.C. and New York, completing her education at the American School in Munich when the family moved back to Europe.
"I really wanted to be a teacher, not an actress," Catherine states. "I wanted to come back to the U.S. and go to a university, but my father said that he was putting two boys through school and couldn't afford to send me, too. I felt very cheated, as if I were being told that I didn't need an education because I was a woman, so I said that I was going to become an actress. I thought my parents would be horrified, but they were very nice and sent me to acting school in Munich."
From acting school Catherine progressed to roles in German, American and British films, eventually settling in London after she married British actor William Marlowe, from whom she is now separated. Though she does not possess the power of molecular transformation, she seems to have led almost as many lives as Maya, and to feel herself something of an alien. "I've spent eight years in a country that I've come to understand, but I can't really call myself English," Catherine reflects. "I'm an American citizen, but I spend little time here. It's a little confusing wherever I go. I guess I'm pretty international."
With its international cast and fans all over the world, Space: 1999 may be just the right setting for Catherine Schell. A charming and talented "alien," she would surely be a welcome invader, on or off-camera, wherever she appears.
[Captioned Photos]
Catherine Schell and Leonard Nimoy discuss their respective alien roles on the Boston based talk show, "Good Day." Nimoy gives he Vulcan hand-sign: Live Long and Prosper.
Catherine Schell (Science Officer Maya) and Tony Anholt (First-Officer Tony Verdeschi).