Take Off Space 1999
The Sun, late 1976 or early 1977
Thanks to Kit Bevan.
The Sun is the largest circulation UK tabloid newspaper, famous for the controversial topless (or nude) photographs of girls on page 3. The spacesuit backpack is Alan's from Space Warp. The chest pack numbered 8 was last worn by Barbara Bain in The Immunity Syndrome. The spacesuit itself was usually worn by Barbara Bain.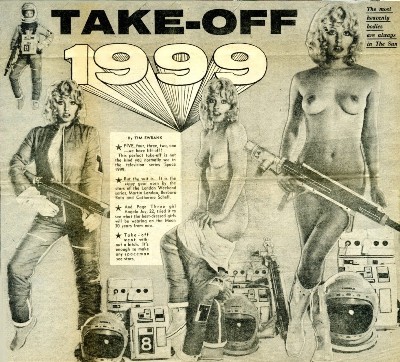 Five, four, three, two, one - we have lift-off!
This perfect take-off is not the kind you normally see in the television series Space:1999.

But the suit is. It is the zippy gear worn by the stars of the London Weekend series, Martin Landau, Barbara Bain and Catherine Schell.

And Page Three girl Angela Jay, 22, tried it to see what the best-dressed girls will be wearing on the Moon 30 years from now.

Take-off went without a hitch. It's enough to make any spaceman see stars.