Boarding Tube
The boarding tube is a short corridor, either 4 foot or 8 foot long, which connects the travel tube to an Eagle or other spaceship. The interior panels are identical to the airlock interior. The interior set does not resemble the extending boarding tube seen on the Launch Pad exterior.
Launch Area and Control Room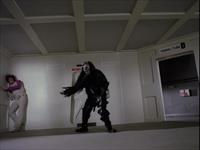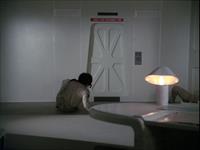 Space Warp: the angled door marked "Eagle Four Boarding Tube". It is the same design as the internal Eagle doors, and the exterior travel tube door.
---
Copyright Martin Willey