Collision Course

Year 1 - Episode 13

Denmark
Fare for kollision
Danger of Collision
France/Canada
Collision inévitable
Unavoidable Collision
Germany
Auf gefährlichem Kurs
On Dangerous Course
Italy
Rotta di collisione
Collision Course
Japan
Moon is about to Collide with a Big Planet!?
Portugal
Percurso para a Colisão
The Path For The Collision
South Africa
Botsingkoers
Crash Course
Spain
Ruta de colisión
Collision
Who is Arra? She is old - older than Earth itself - with a beauty that only age can bring. Commander Koenig's encounter with her is also an encounter with destiny. It all happens when the Moon is on a collision course with a planet many times its size...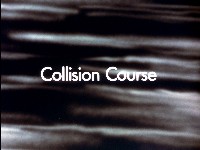 Final shooting script 9th August 1974, updated final shooting script 13th August 1974
Filmed 27th August- 6 September 1974
Edited into the 1982 compilation movie Journey Through The Black Sun
This was Margaret Leighton's final screen performance. Keith Wilson: She was wonderful, but she didn't understand a word she was saying. She had a lot of nonsense to say and hadn't a clue what it meant. She was really quite worried about it.. Ray Austin: Margaret's a friend of mine. She knew she was dying. I shot, I think, 15 pages in two days with her, which was unheard of. 'You'd better get this shot, because I'm not going to last long...' she said near the end of shooting. She couldn't move, we had to put her in a wheelchair.
The third episode Martin Bower worked on. He contributed the massive Arra shuttle (designed by Brian Johnson) and the Alphan mines in two scales, and a tiny 14cm Eagle. The shuttle is 1.8m long and was carved from solid wood in ten days. The wings are plywood. The mines were made from plastic picnic dishes bought from Woolworths. In the script the shuttle is described as a wingless vulture, like a Concorde with giant jet intakes.
The shuttle appears in the spaceship graveyard in Dragon's Domain. Both shuttle and mines reappear in the spaceship graveyard in The Metamorph.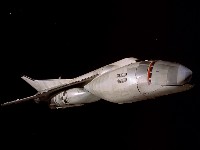 Library tracks:
track from Joe 90 "Arctic Adventure" by Barry Gray
track from Joe 90 "Operation McClaine" by Barry Gray
track from Thunderbird 6 by Barry Gray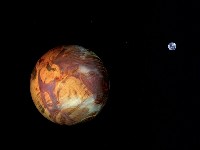 If the planet is 34 times lunar mass, it is less than half the mass of Earth (about the size of Mars); by diameter it would be a little less than Saturn. In the latter case much of the bulk would be gaseous and the air would not be breathable.
Shockwaves cannot travel through the vacuum of space. Debris and radiation can travel through a vacuum; the former could in turn alter the moon's course with sufficient energy and mass. But then it would make more sense to explode the mines on the Moon (or on the planet). The Moon's course is also altered in Seance Spectre.
0 fatalities.
Alpha Technology:
Orbital satellites are mentioned. This is the only time they are referred to, although a Command Centre panel is Year Two is labelled "Satellites" (shown here). Unlike Alpha, they are not damaged by the explosion (they may have been shielded by the moon itself).
"Interstellar communications" are referred to. It is not affected by intense radiation. Not all Eagles are equipped with it. "Interstellar strength" communication is also referred to in Space Brain and Death's Other Dominion
The multi-function hatch is shown; here it arms and detonates the nuclear charges.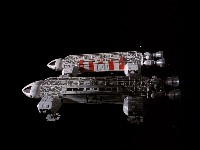 Eagle 1 (Alan); 4 (Rescue); 10 (bomb, no pod); 11,12,29 (named)
Although the Eagles dock, we do not see a docking tube as in Earthbound and Guardian Of Piri. When they land, there seems to be no physical connection between the two ships.
We see the Rescue pod. Unlike previous appearances, the 44 inch Eagle has stripes that don't reach the base of the pod (they do in shots of the 22 inch Eagle).
Eagle 1 is badly damaged.
It is not clear how the mine cable is connected to the Eagle. We see it attached to both a podless Eagle and a normal transporter pod. It is likely Carter's Eagle has a pod because the story required it would dock to Koenig's rescue Eagle later - it would not be possible without a pod.
Atheria. Note ITC publicity often named it Aestheria. This is wrong.
Aliens: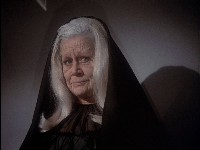 Queen Arra. Humanoid.
Props: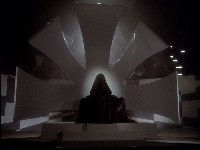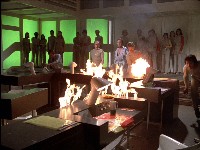 The fires in Main Mission are actually beyond the edge of the desks.
"This Episode" contains several scenes not in the episode. Among the unused footage is a shot of Sandra knocking over her coffee mug.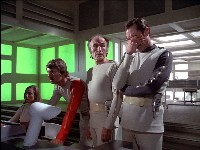 A suspenseful story; the themes of faith and destiny are strongly made. Like Black Sun a "mysterious unknown force" saves the Alphans.
The early scenes of Koenig's loyalty to Alan are heavy-handed and overacted. In no other episode is Koenig so committed to Alan.
Helena does not appear until 15 minutes into the episode. The story features the supporting cast (Alan, Paul, Sandra, Kano) more than usual.
In 1979 the TV series Tomorrow People used footage of Arra's shuttle representing a Nasa shuttle (episode War Of The Empires).
The A&E Bonus Disc contains an alternate edited version of one scene, the final section of Arra and Koenig in the Spaceship Chamber. The sequence is almost identical apart from the omission of one line of dialogue. Koenig asks what she is going to do. In this version, she disappears without the line "I go to shape the future of eternity. And I need your help." (it is heard in voice over after Koenig walks away).
External Links