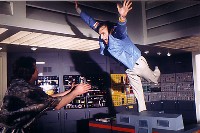 ---
Nick Tate was 33 in 1974, so presumably Carter is the same age in 1999, putting his birthdate as 1966. He was born in Australia (The Mark Of Archanon, Dorzak). According to Dorzak script, his family had a cattle ranch on the Eastern Seaboard, near a beach where he would go surfing.
Carter holds the Houston Base Championship for boxing. Other sports include badminton (The Last Sunset) and rugby league (The Mark Of Archanon; he owns the ball used in the Australia-Great Britain game, Swinton, 1963, with Harrison's signature, as Alan's grandfather used to play in Harrison's team). Assigned to Alpha, overseeing Meta Probe, about 1999. Rank of Captain (Breakaway, Matter Of Life And Death), although addressed as "astronaut" in Black Sun. Head of Reconnaissance Section, attends command conferences, assumes command in New Adam, New Eve & Space Warp. Also part of the Radioactive Monitoring Team (The Bringers Of Wonder part 1). Flies most Eagle missions, as copilot if Koenig is pilot.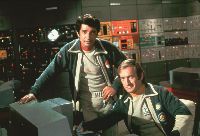 Featured in 42 episodes (not The Taybor, The Rules Of Luton, Brian The Brain, Catacombs Of The Moon, A Matter Of Balance, Devil's Planet).
"Hey, come on, Commander, you've got a problem you're not telling me about." (Breakaway)
"Well, I should be one of those six, Commander. Because if anyone could get them somewhere...I can." (Black Sun)
"Hey! All this concern. Paul's going to get jealous." (The Full Circle)
"Hey, Paul! Tomorrow we'll build a swimming pool!" (The Last Sunset)
"When the ship's sinking the rats are the first to leave." (The Testament Of Arkadia)
"On Earth I come from a country called Australia." (Dorzak)
"Well, now you can see why I got drummed out of the boy scouts." (Journey To Where)
"Can you kill me, cobber?" (The Mark Of Archanon)
"Words, huh? Well, they may be just words to you, but to me they add up to something else. Loyalty and duty and my duty is to John Koenig." (Seed Of Destruction)
"Where's the nearest john?" (The Bringers Of Wonder part 2)
"As you said, if you like nature, doctor." (The Seance Spectre)
"Compliments of computer. Two genuine, one hundred per cent imitation coffees." (The Dorcons)