---
The Complete Series (Blu-ray): SKU 826663202045 16 July 2019 $109.95
The Complete Series (DVD): SKU 826663199888 16 July 2019 $59.95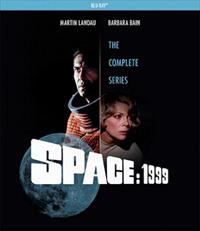 Shout! Factory is a Los Angeles based media company founded in 2002, known for re-releasing classic music, TV series and film on DVD and streaming platforms. In 2013 it agreed a deal with ITV to distribute ITC content to the US market, including Gerry Anderson series. In 2015 they released most of the puppet series on DVD, and Thunderbirds was available on Blu-ray. In March 2018 Shout! Factory and ITV agreed a new multi-year deal. On 30 September 2018 they ran a 34-hour marathon of Thunderbirds on the social video service Twitch. Space: 1999 has been available on their video-on-demand service (here) since 2018, using the 2005 high-definition masters released in the UK by Network (apparently geo-blocked in Europe).
In April 2019 Shout! Factory announced the release of Space: 1999 on blu-ray and DVD. This is a re-release of the A&E Complete Season One set from 2010, and the first US release of series 2.
There are 13 discs, the same number as the Network complete series (5 * year 1 episodes, 5 * year 2 episodes, 3 * extras). The episodes will be identical to Network. The extras are likely to be mostly the same. They may drop some extras (as the previous A&E release did, losing the BBC Horizon clip and the Lyons Maid advert, because they did not have US distribution rights). They may add the old commentaries from the A&E 2003 Bonus Disc, or even add new original content.
Packaging

There's a slipcase, showing Landau/Bain and the Moon on a black background
There are 3 Blu-ray cases: Year 1, Year 2 and Special Features.

Year One and Year Two feature Landau/Bain in a nice Moon design. Year Two is actually a first series picture
Special Features is a starry space image (not from the series) and negative image of an Eagle

There is a booklet. The cover shows an astronomical photo of the Moon (not from the series)
For the first 500 orders from their website, Shout! included an Eagle snow globe. It is 4 inches (10cm) in circumference (so diameter is 1.3 inches/ 3.2cm). The base is 2 inches (5 cm). The Eagle must be a quarter of the size of a Konami Eagle, half the size of the Comet Miniatures mini-metal Eagle.
Copyright Martin Willey.