US 1975-7

Fundimensions Plastic Construction Kit 1-901.

41 part kit, with water decals (4 Alpha insignia, plus chequer squares for nose cone and fuel pods). Completed length 30.5 cm. Side framework moulded. Pod detachable.

Box 28 x 17 x 6.5 cm. Art of rescue Eagle by Moon, hs photos of Koenig & Helena top right. "From The TV Hit Space 1999". "For Ages 8 to Adult". Photos on side of box, plus advertisement for fabric Alpha patch.

MPC also produced The Alien, Hawk and Moonbase Alpha.

From the collections of E. James Small , Robert Ruiz, and Julio Decoud
---
UK, Europe £2.50 1976

Kit is MPC kit reissued. Number 06174-8 (series 8)

Instruction sheet 52 x 19 cm in English, French & German, with initial short description of series & Eagle.

Box 28 x 17 x 6.5 cm. Art of rescue Eagle leaving Moon. Later boxes included title repeated in French.


The kit was promoted in children's comics with full-page advertisements, using the box artwork and a short story: "Will the Eagle Transporter escape the green monster?". It features Koenig and Bergman landing on a planet and realising its lush underground is an illusion created by a green monster that wants to inhabit their bodies. Read the full text

Airfix also produced the Hawk. A revised version of the kit was produced by Reshape in 1992 and 1994.

Kit parts from the Airfix Eagle were used by Martin Bower on two of his models, seen in Year 2 (although not visible as such on screen). The Ellna buildings in Devil's Planet had clusters of leg pods on them, while the pilot ship from Bringers Of Wonder had the top of a leg pod on the underside.



---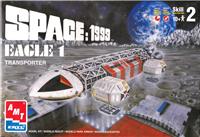 USA 1999 $16.75, although widely available for $13.75
Kit number 30066. Reissue of MPC/Fundimensions Eagle Transporter, identical but in gray plastic (the original was white). A smaller box- 9.25 by 6.5 by 4 inches- with dramatic art of an Eagle launching (by H Ed Cox). The instruction sheet includes a black and white version of the original MPC cover painting, and apart from the introductory page (English, French, Spanish and German, assembly instructions only) has notably sparse text.
Box sides: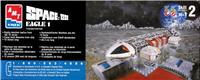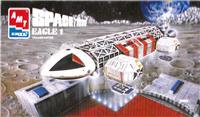 Instructions and decals: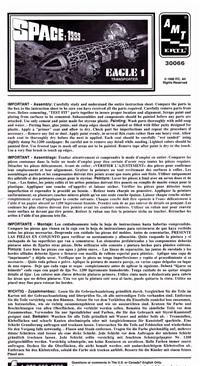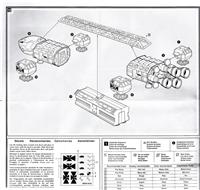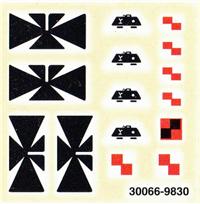 ---
Japan
Resin conversion intended for use with Airfix/MPC Eagle. Beak featuring better verniers and attachment points to the girder structure. See "Collecting Scale Models" May 1991.
---
Japan
Resin conversion intended for use with Airfix/MPC Eagle. See "Collecting Scale Models" May 1991.
---
UK 1992, reissued 1994. Sold in Comet Miniatures for £50.
30.5 cm long (1:72) modified version of Airfix kit, resin with white metal framework. The 21 x 30 cm instruction sheet is photocopied from the original Airfix instructions. The plain box features merely a photo of the completed model; there is no manufacturers name or text. Although the kit has real framework, it reproduces other inaccuracies of the Airfix kit, such as the solid legs, identical rather than symmetric pods, and engine detailing.