US 1976-7
Fundimensions Plastic Construction Kit no 1-1903.

Vacuum formed 30.5 x 46 cm styrene lunar surface with 1:3200 base (layout accurate except for travel tubes and launch pads, of which just 3 are seen). Six 3 cm long finely detailed Eagles (1/800)

A 1/115 scale "Control Room" is also provided, with figures (Main Mission layout accurate but incorrect detailing).

MPC also produced the Eagle Transporter, Hawk and The Alien.

Reissued with new packaging in 1999 by AMT/Ertl.

From the collections of E. James Small and Robert Ruiz.


Publicity sheet (thanks to Stefano Guizzardi)
---
US 1999 $13.75
Kit no 30067.

Reissue with new packaging of the MPC/Fundimensions kit. The box painting features an exterior view of the base with a view of Command Center (oddly, as the model has an enlarged section of Main Mission).
---
Japan. No. 11.
20 x 27cm resin diorama including two Eagles. Includes plans of base. Box features the model base from "Black Sun". See Century 21 £10 p33.
Teru Yamada also produced the boosterised Eagle and figures of an astronaut and Zantor.
---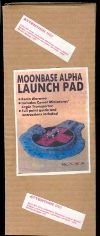 UK 1992 £29.99
"4-part resin model kit for enthusiast collectors (sic). Includes Comet Miniatures' 1/350 scale Eagle Transporter. Full painting instructions included."
Replica of the Year 1 smaller launch pad (from the Starlog Technical Notebook design p1002). Comprising the launch pad with a fringe of cratered lunar surface (27 x 23 cm), plus parts for the control block, boarding tube block, and detailing for the service platform. Also includes a small unassembled Eagle (the same scale and based on the Comet Miniatures Eagle). Unlike the original SMM13 Eagle, the pod is removable, but the casting is not as good. There is a sheet of plasticard for the lift platform, so it can be set at different levels. Pad itself is 15 cm diameter. Detailing good and generally accurate. It requires fairly skilled painting and weathering, but can produce an attractive display model. An A4 photocopied instruction sheet provides a template for the lift platform and painting diagram.
28 x 27 cm cardboard box with paper photocopy stuck on front showing title and a fairly basic drawing of an Eagle landing on the pad.
---
UK 2000 £29.99
A hanger set to the same scale as the Comet Miniatures' 1/350 scale Eagle Transporter and the Warp Launch Pad
---
US 1975. No 9256.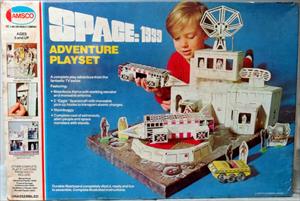 "Ages 5 and up"
"A complete play adventure from the fantastic TV series. Featuring:
Moonbase Alpha with working elevator and moveable antenna.
2 "Eagle" Spacecraft with moveable pick-up hooks to transport atomic charges.
Moonbuggy
Complete cast of astronauts, alien people and space monsters with stands."
"Durable fiberboard (sic) completely diecut, ready and fun to assemble. Complete illustrated instructions."
A diorama featuring a launch pad on the lunar surface and a two-storey moonbase building with radar dish. Two highly stylised Eagles (shortened and with pointed beaks), while the pad, base exterior and interior and moonbuggy are more in the style of the series. The Eagles have features directly copied from the Dinky version (compare the Whiting Eagle 1 Mammoth Model, also made of cardboard but much larger). The characters were very accurate artwork, including astronauts in poses from various episodes, Koenig, Helena and Bergman in uniform, Raan & Vana, the dragon (from Dragon's Domain), and transformed Zoref.
Sold in a large box with a photo of a child playing with the full play set. Box size 19.5" x 13.5" x 1" (49 x 34 x 2cm)
Amsco also produced the Put-Up Play-In Eagle. The parent company, Milton Bradley, produced a board game.
---
UK
A 24 inch (61 cm) diameter replica launch pad, approximately in scale with the 12 inch Product Enterprise Eagles. A limited edition of only 100. Unlike their other models (which were manufactured in China), it would be produced in the UK.
Original delivery date September 2009 and price £299. In July 2010 it was announced the new date would be end-October 2010, with a price of £465. As of early 2011, it is still not released.