UK 25th January 2004. Made in China.
Aoshima version: Japan February 2004.
Sixteen 12 version: TBC 2017.
Design Commander: Graham Humphreys. Eagle Model Maker: Dave Brian. The model was originally scheduled for release in July 2003, but was delayed several times before the January 2004 release. It was the first in a series of Gerry Anderson vehicles aimed at collectors. Subsequently other versions of the Eagle appeared. The model was based on the Warp garage kit.

| | | |
| --- | --- | --- |
| Eagle Transporter (Product Enterprise) Limited to 6000 units. | 25th January 2004 | £39.99 |
| Eagle Transporter (Aoshima) | February 2004 | 9880 Yen |
| Rescue Eagle. 3000 units. | May 2004 | £49.99 |
| Medical Eagle Transporter (Aoshima) | May 2004 | 9880 Yen |
| Chrome Eagle (limited edition of 500 for the San Diego Comic Convention, 2004, but also available elsewhere) | August 2004 | £69.99 |
| Gold Eagle (22ct gold plated, limited edition of 500 with letter of authenticity by Gerry Anderson) | 14th September 2004 | £99.99 |
| Freighter Eagle (cargo Eagle from Breakaway) | February 2005 | £39.99 |
| Laboratory Eagle (booster/lab Eagle from Metamorph) | February 2005 | £39.99 |
| Gift Set (booster/lab Eagle as above, top boosters from Metamorph, Infernal Machine laser tank, moonbuggy) | November 2006 | £59.99 |
| VIP Eagle | November 2006 | £39.99 |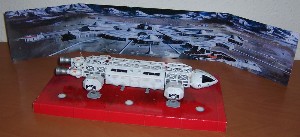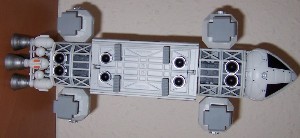 Die cast metal model, 30 x 12 x 6 cm, painted white. Passenger module is detachable (secured with two spring latches). Detailing is based closely on the first 44" Eagle model. Realistically detailed with framework, engine and leg piping and surface details. There are small red and orange markings on the framework, engines and side pods (similar to those seen at the end of Year 2).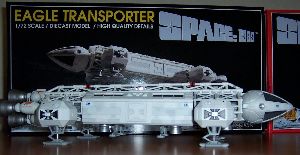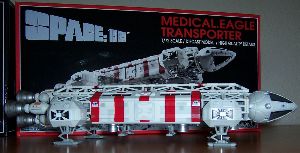 The models were also available from Aoshima, a Japanese model company. The Aoshima boxes are similar to the old Imai Eagle model kit art (although it is actually a photo of the model). Unlike the Product Enterprise boxes, the Transporter and Rescue Eagles have different boxes, although to the same design. The small photos on the side are the same as the Imai too. The English caption says 1/72 scale/ diecast model/ high quality details. The underside of the boxes have pictures of the model in plan and side profiles. Inside the contents (model, launch pad base and Moonbase card backdrop) are identical. It is a little more expensive than the UK version (US$93 vs US$73).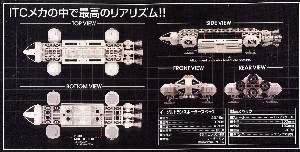 The most impressive Eagle model to date. The model is a third larger than the Dinky Eagle, but without the obvious plastic framework, green and blue paint, or the major simplifications to the design. It is similar in size to the Airfix/MPC Eagle plastic construction kit, but without the need to rebuild it with "accurising" kits (and no model-making expertise is required). The legs do not have spring suspension, but are authentically detailed. The pod release is practical but subtle.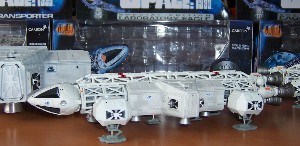 Variations
The chrome and gold plated Eagles were obviously aimed at collectors rather than fans. The gold Eagle came in a box with plush red lining, looking rather like a coffin.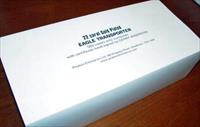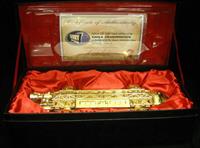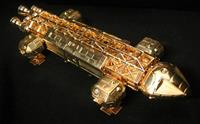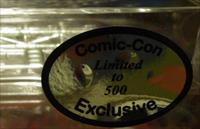 The Rescue/Medical Eagle red stripes are too thin. The stripes should be the same width as the space between them.
The Freighter pod has a slightly different mechanism, and is the only one with an instruction leaflet ungrammatically titled "Instructions Of Detach Or Attach The Freighter Pod". Oddly, the Freighter is painted inaccurately in two different shades of gray.
The Laboratory Eagle was released individually and as part of a Gift Set (announced for July 2006 but delayed until November 2006). It is very accurate apart from the placement of the Moonbase Alpha decals.
The VIP Eagle is a representation of Simmonds's Eagle from Breakaway, seen very briefly. This was a "limited edition of 4000", due August 2006, released November 2006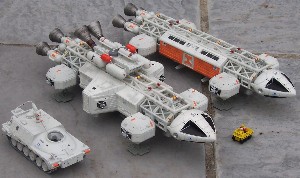 Below: Aoshima box covers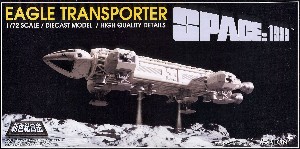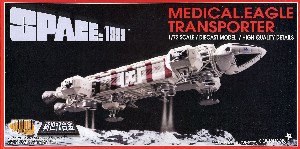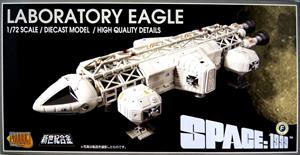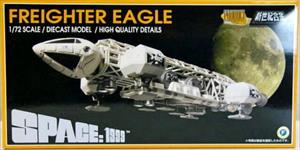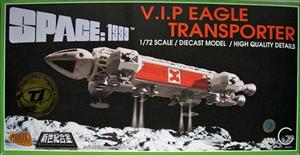 Box sides



Below: Gift Set box cover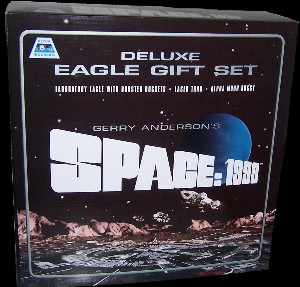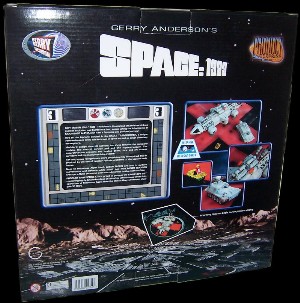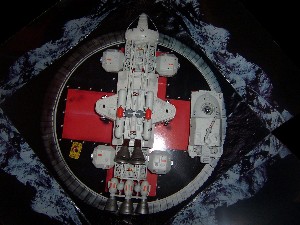 On 27 July 2017, Sixteen 12 (the successor company to Product Enterprise) announced a reissue of their die-cast Eagles as "special editions", similar to the 2006 "Gift Set" based on the Metamorph Eagle. Prices and release date were to be confirmed, but each of the 5 sets were to be individually numbered and limited to 1000.
Each Eagle has accessories appropriate to a specific episode, a rectangular landing platform and a moonbuggy. The Deluxe Hangar set was described as a "hanger dinorama", but was not illustrated and we suspect it has no dinosaurs or hanging. Pictures were added in August, and some spelling was corrected (they still use "hanger" instead of "hangar").
On 24 August 2017, Sixteen 12 updated their website with new models: two versions of the Hawk, the 3 laser tanks, and a "retro Eagle". Release dates were "3rd and 4th quarters of 2018". On 13 October 2017, release dates were given of May-June 2018, with a price of £124.99 each. Multiple sets could be pre-ordered and paid for (before 1 December 2017, later changed to 10 February 2018) with a discount, up to 12% for all 4 (£439.96 instead of £499.96). The hangar diorama was priced at £269.99 (with a discount of 15% to £229.49 before the same date).
On 7 February 2018, Sixteen 12 changed the release dates; the first set slipped from May to August, and the others were unspecified (they were May, June and July). The first set (only) was available for the 12% discount price (£109.99) if paid before 30 March 2018.
On 15 February 2018, the first set slipped from August to September, and opened for orders.
On 16 April 2018, the first set was "almost sold out" and shipping was projected to be July-August. The next set would be Immunity Syndrome, not Exiles, due for September-October.
On 25 April 2018, the Immunity Syndrome set was confirmed for September, the Eagle hangar set for November, Exiles set for December and New Adam set for January.
Set 1- This Episode: Breakaway: Eagle Freighter
6 nuclear waste canisters, nuclear waste silo cover, moonbuggy
Limited edition: 1000
July/August 2018 (was May, August, September)
£124.99
Set 2- This Episode: The Immunity Syndrome: Eagle Transporter


Until April 2018, this was set 3

glider with cradle, moonbuggy
Limited edition: 1000
September 2018 (was June)
£124.99
Set 3- This Episode: The Exiles: Eagle Transporter


Until April 2018, this was set 2

grab arm, Exiles capsule, moonbuggy
Limited edition: 1000
December 2018 (was May)
£124.99
Set 4- This Episode: New Adam, New Eve: Eagle Transporter
4 magnetic side boosters, moonbuggy
Limited edition: 1000
January 2019 (was June 2018)
£124.99
Deluxe Hangar Set: Laboratory Eagle and Rescue Eagle
spine boosters, rescue Eagle pod with boarding tube, hanger steps, scale figures
Limited edition: 1000
November 2018 (was July)
£269.99
Mark IX Hawk
"War Games" colour scheme, 10 inches/ 25cm long
Limited edition: 1000
TBC 2018
Special Edition Hawk
"War Games" colour scheme, 10 inches/ 25cm long
Limited edition: 500
TBC 2018
Laser Tank collection
1/72 with 3 designs, plus pilot figure (the "Eagle" one appeared in the 2006 gift set)
Limited edition: 1000
TBC 2018
Retrospective Eagle
In Dinky green colour scheme, with blister display packaging in the style of initial Dinky release
Limited edition: 500
TBC 2018
---
Copyright Martin Willey