Parent company Meccano had three hugely successful toy lines: the Meccano construction system (1901), Hornby Trains (1920), and Dinky Toys, which started in the 1930s making die-cast metal cars as accessories for Hornby Trains. Dinky was one of the pioneers of the die-cast process, in which a zinc-alloy is poured into a mould. The Dinky brand was known for quality and range, and competition was other manufacturers such as Corgi, Matchbox and Mattel forced increasing accuracy, including plastic windows, working suspension and opening doors. In the 1960s they agreed a licensing deal with Gerry Anderson, producing Theunderbird 2 from Thunderbirds in 1967, and, even more popular, three vehicles from Captain Scarlet in 1968. The interceptor and Shado Mobile from UFO were the top selling Dinky toys in the early 1970s. Airfix acquired the Meccano and Dinky companies in 1971. International competition, particularly from cheap countries such as Hong Kong, led to the closure of Dinky in 1979. The brand was sold to Matchbox, which itself was acquired by Mattel.
UK £2.99, later £4.99 US $14 1975-1980
No. 359. Die cast metal model, 22 cm long. Green metal nose cone & fuel pods, white metal pod (detachable using catch button) with opening red plastic doors (hinge open to form steps), red engine bottles and silver nozzles. Side jets yellow plastic, spine moulded white plastic over metal. Legs with spring suspension. Red strips for pod supplied as water decals. This model, and the Freighter, were still in production when Dinky-Meccano went into liquidation in 1980.
The plastic parts changed colour over the years:
Issue
Underside screws
Side jets
Engines: bottles
Engines: rockets
1
Slot pan-head
Yellow
Red
Chrome
2
Phillips (cross-head)
Later Pozidrive
Red
Chrome
Red
Other variations (NB: also applies to Freighter):
At the front and back of the top spine, an extra central bar appears in later models
On the underside, alongside the vertical motors, there is a raised rectangle on earlier models. It disappears during the 2nd version (it is only found with Pozidrive screws and red vertical motors, not chrome/slot screws).
The passenger module window plastic was initially red. Later orange and clear variations appeared as well as red.
The box also changed:
First edition was a card base with bubble top. The Eagle stands on a card base enclosed in a plastic bubble. The base is 25.5 x 11 cm.
Second edition changed the card base, from blue to red and yellow.
Third edition was the same box, with plain yellow card.
Fourth edition was a card box with plastic display window, 25.5 x 6 x 11 cm, with a 6cm tall top flap showed photos of Koenig & Helena (year 2). The Eagle sat in an expanded polystyrene diorama.
Various colour advertisements appeared in children's comics, featuring colour artwork of a launching Eagle and a panel illustrating the "action features". "EAGLE zooms into the year 2000!" and "EAGLE blasts into the future!" were the titles. A flash promised "From Gerry Anderson's New TV Series Space: 1999. On Your TV Screen Soon!".
Note: a white version of the Eagle Transporter never existed. There was a white Eagle Freighter, and you could swap the pods to make an all-white Eagle Transporter. In the 1970s kindly toy shop owners allowed children to open both boxes in shops to swap the Eagles and pods. Since then, collectors have done the same, and claimed it was a rare Dinky variation. Nevertheless, an all-white Eagle Transporter never left the Dinky factory.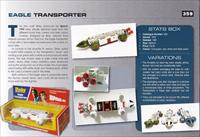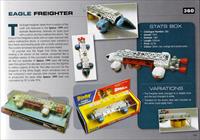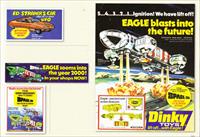 ---
UK £2.99, later £4.99 1975-1980
No. 360. Die cast metal model. The model appeared shortly after the Transporter. The Eagle main body was identical to the Transporter, though in different colours; pod is a metal platform with a revolving disc to store 4 yellow plastic cylinders (with metal top), and a winch line with magnet to carry cylinders. Initially wet transfers were supplied for the cylinders (showing the radioactivity symbol & words 'Danger Waste Material'), later being replaced by adhesive decals.
Eagle was at first white with red side jets, engine bottles & pod. Later it was painted blue with a white pod.
The plastic parts changed colour over the years:
| Issue | Main colour | Module colour | Underside screws | Side jets | Engines: bottles | Engines: rockets |
| --- | --- | --- | --- | --- | --- | --- |
| 1 | White | Red | Slot pan-head | Red | Red | Chrome |
| 2 | White | Red | Phillips (cross-head) | Red | Chrome | Red |
| 3 | Blue | White | Phillips, then Pozidrive | Red | Chrome | Red |
Boxes as Transporter.
Advertisements appeared in children's comics featuring artwork of the Eagle in exactly the same pose as the Transporter adverts. "The year: 2000... Identity: Eagle Freighter... Mission: Nuclear Waste Disposal".
There were variations of the decals.
Initially, these were simple self-adhesive stickers which wrapped round the barrels. With play, they became less sticky and fell off.
The second edition were wet transfers.
Later, they returned to self-adhesive stickers, which were easier to apply. The decal designs for all 3 were identical - they had the standard (scientifically correct) radiation trefoil symbol in black on red, with the words "Danger Waste Material"
In 1980, the words changed to "Fuel Waste Container" with a different symbol (a "Y" over a triangle)
In 1979 an 11 year old girl named Marianne Fleckery found some of the hollow cylinders in the garden of her home in Langley Crescent, St Albans, Herts. She persuaded firemen to visit in anti-contamination suits and take the cylinders to the then-government radiation centre in Amersham. After the incident Meccano, Dinky's parent company, promised to remove the radiation symbol and words.
---
UK 1975 (Never commercially released)
32 part die-cast metal model, to be sold unassembled and unpainted. A single Eagle, with both the Transporter "life support module" and the Freighter winch pods. The box was to be a rectangular carton, featuring artwork of the Eagle with both pods, and the text "Two Toys In One!". The serial number was to be 1035, although this was used later for another kit. The design of the box appears as an illustration (incorrectly identified) in "Dinky Toys and Modelled Miniatures" by Mike and Sue Richardson, in the Hornby Companion Series (1981), and is shown here (thanks to Gerry Forrester).