UK December 2005 (Eagle Transporter). Made in China.

Signature Collection Eagle

Product Enterprise's 23 inch Eagle is, as the odd size suggests, based on the Replica's Unlimited 23inch Eagle garage kit. It has been changed to resemble the first 44inch studio model, although it retains many of the inaccuracies of the kit. It features sprung legs and a detailed cockpit backdrop with two astronaut pilots (the front of the command module detaches for access to the figures). The model makers were Ian Crichton and ManKing Ng.

Originally due in July 2005, it was delayed several times (November 2005, then February 2006, finally arriving December 2005).

It comes with a numbered certificate signed by Gerry Anderson (the text isn't grammatical English):

This is to certify that this SUPERMARIONATION REPLICA of the EAGLE TRANSPORTER is Edition No. 0001 of not more than 1500 pieces Worldwide.
I hereby certify that this model of the EAGLE TRANSPORTER is of an exceptional standard and representation to that of the original model featured in the television show I created, SPACE 1999.

Space 1999 was not a supermarionation series (the term refers to the puppet series created by Gerry Anderson). Product Enterprise has named the series of model replicas from Anderson shows "Supermarionation Replicas". The model also contains a short instruction leaflet titled "Instructions Of Detach or Attach The Eagle Head" (sic).

A Medical Eagle version (with red stripes, otherwise identical) was released May 2006, using 200 of the 1500 models. One obvious inaccuracy is that the red stripes are too thin.

From March 2007, Product Enterprise was re-named "Iconic Replicas".

A Lab pod version and Freighter pod version appeared in 2008, with just 200 units of each. There were small changes to these models: the feet are a lighter grey colour, the markings on the spine are changed, the attitude thrusters on the leg pods are now straight rather than 45 degrees, and the rear rocket nozzles are chrome plated.

Some examples of the Lab pod version released in February 2008 had significant flaws including the spine being twisted (due to poorly fitted components) and bowing, due to the uneven weight of the model. Iconic Replicas issued a statement on their website:

It has been brought to our attention that there have been issues with the level of Quality Control on a proportion of our recent issue release - Laboratory Eagle. These defects include bowing of the main body and twisting of the main frame. These issues have been taken up with our agents in Hong Kong responsible for QC control and they are in the process of manufacturing replacements for these defective items. Any customers who have a problem can simply contact us and the item will either be replaced or they will receive a refund in full.

In September 2008, the Iconic Replicas website closed. In October 2008 the company assets were taken over by Sixteen 12 Collectibles Limited. Although the company address and staff are identical, this was not a company name change, as Iconic Replicas Limited was dissolved and the new company took over all it's assets. The reason was probably the poor quality issues of the 2008 23inch Eagle replicas and the bad publicity that resulted.

Replacements for the Laboratory Eagle became available in August.

Below: Eagle Transporter

Below: Laboratory Eagle (pictures thanks to Jorge Carmo)

Note the differences between the Laboratory and Transporter versions (picture thanks to Jorge Carmo).

Freighter Eagle (pictures thanks to EagleMagnet)
Signature Collection Eagle (23 inch). Limited edition of 1500 (800 for UK)
December 2005
£399


From 2007 reduced to £199

Medical Eagle (23 inch). Limited edition of 200 (100 for UK)
May 2006
£399
Laboratory Eagle (booster/lab Eagle from Metamorph) Limited edition of 200
Feb 2008/ Aug 2008
£399
Freighter Eagle (cargo Eagle from Breakaway) Limited edition of 200
August 2008
£399
Below: instructions and certificate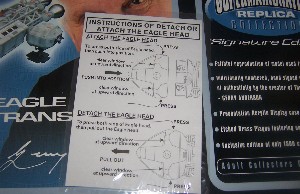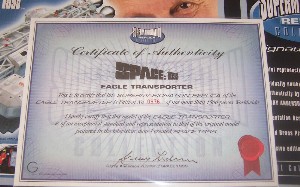 44 inch Eagle
The 44inch Eagle project was announced by Iconic Replicas in July 2008. At the time model builders Andrew Grimshaw and Bob Smith were attached to the project (by September they had dropped out). The projected price would be about £1000, with a run of just 100.
By June 2009, Sixteen 12 were promising to have photos of the early prototype in August, and had expanded the run with 100 standard Eagles and 50 rescue Eagles. Estimated price was £1200.
No photos emerged, but in October 2009 Sixteen 12 announced they were in discussion with Martin Bower (model builder on the original series) to create the tooling pattern. Estimated delivery date was May 2010.
In March 2010 Sixteen 12 announced that construction had begun on the tooling pattern in-house. Estimated delivery date was February 2011. Almost all the 100 Eagles and 50 Medical Eagles had been pre-ordered.
In July 2010 the project was cancelled due to lack of pre-orders.
In March 2016, Sixteen 12 reappeared and announced new details for a 44 inch Eagle "Studio Scale Masterpiece Collection". Mike Reccia (publisher of Sci Fi & Fantasy Modeller) was attached to the project as a "adviser".
Four variations were promised, each with a limited edition of 200. This seems ambitious for the models other than the standard Transporter (the 23 inch Eagle variations were also limited to 200, and while their resale value is high, they were originally slow to sell even at a fraction of the 44 inch Eagle prices).
| | | |
| --- | --- | --- |
| 44 inch Eagle Transporter | January 2017 | £2300 |
| 44 inch Laboratory Eagle | April 2017 | £2500 |
| 44 inch Rescue Eagle | August 2017 | £2300 |
| 44 inch Winch Eagle | November 2017 | £2300 |
The models are described as licensed by ITV. Oddly, ITV had previously licensed Rogue Studios to produce a 44 inch Eagle Transporter replica, although that license ended at the end of 2016. The Sixteen 12 version is considerably cheaper than the Rogue Studios model ($3300 equivalent against $8500), although the price is likely to change (the models are produced in China, and exchange rates will probably be highly volatile in mid 2016). The quality of Chinese made replicas is unproven, and Iconic Replicas/Sixteen 12 have a poor record, particularly with the 23 inch versions of these models. Rogue's Eagle is indisputably highly accurate.

In January 2017, Sixteen 12 launched a website with more concrete information. Prices have increased by £200; dates have been pushed back a year. The models would be accompanied by hand-signed certificates by Brian Johnson, Nick Tate, Prentis Hancock, Zienia Merton and Catherine Schell.
The Eagles have detachable pods, "fully working landing gear suspension", hand turned aluminium engine bells and attitude thrusters. The photos as of January 2017 are unpainted test models. A new original design by Brian Johnson is proposed, but there is nothing to show what it looks like.
44 inch Eagle Transporter
Aluminium display plaque signed by Brian Johnson and Nick Tate
Limited edition of 200.
November 2017
£2500
44 inch Rescue Eagle
Aluminium display plaque signed by Nick Tate
Limited edition of 100.
November 2017
£2500
44 inch VIP Eagle
No display plaque signature.
Limited edition of 100.
November 2017
£2500
44 inch Laboratory Eagle
Aluminium display plaque signed by Catherine Schell
Limited edition of 100.
December 2017
£2850
44 inch Freighter Eagle (winch)
Aluminium display plaque signed by Prentis Hancock
Limited edition of 50.
January 2018
£2500
44 inch Cargo Eagle (pallet)
Includes 6 nuclear waste containers. Aluminium display plaque signed by Zienia Merton
Limited edition of 50.
February 2018
£2500
Mark IX Hawk
31 inch model.
Limited edition of 50.
TBC
TBC
Spine Booster Rocket Set
Replica of Metamorph attachment- can be attached to any of the Eagles.
Limited edition of 200.
TBC
TBC
Heavy Weapon Combat Eagle
New Brian Johnson design, with detachable armoured gunner pod. Deluxe print of Johnson designs.
Limited edition of 50.
TBC
TBC
---
Copyright Martin Willey. Pictures thanks to Alice E, Jorge Carmo, EagleMagnet and Robert Ruiz