US 1977
Fundimensions Plastic Construction Kit no 1-1904
25 x 15 x 5.5 cm kit in 25 parts including stands. Accurate representation of "War Games" spaceship (probably made with reference to the original model, in contrast to the MPC/Airfix Eagle).
Box: art of Hawk with large logo. "Suitable ages 8 to adult"
MPC also produced the Eagle Transporter, The Alien and Moonbase Alpha.
Pictures thanks to Gordon Moriguchi: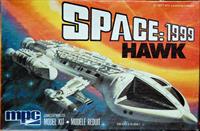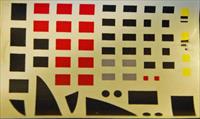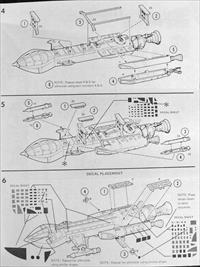 MPC catalog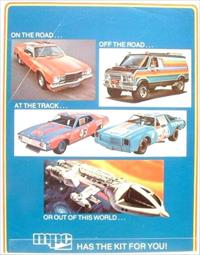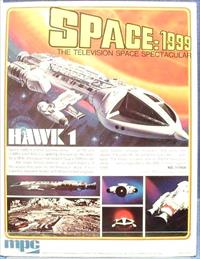 ---
UK 1977
No 05173-2, reissue of MPC kit.
Instruction sheet 51 x 18 cm, in English, French & German, outlining series & Hawk.
Box 25 x 15 x 5.5 cm. Art of Hawk; later titled both in English & French ("Vaisseau Spatial Hawk").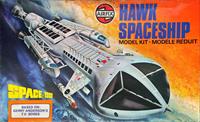 Full page advertisements appeared in children's comics, featuring the box artwork and a short story "Will the Hawk Spaceship destroy Eagle 3?". Koenig, Allen Carter (sic) and pilot Anderson encounter a Hawk Space Fighter by an asteroid. The spaceship chases them, but they realise it is a hallucination and the Hawk disappears. "It would probably remain one of the many insoluble mysteries they were to encounter on their voyage through the depths of space." The text continues: "Created as an escort and close support vessel to space fleets, the Hawk's major role is as an advanced attack-interceptor spaceship. The Hawk spaceship is a development from the Eagle space transporter." Read the full text
Airfix also produced the Eagle.
---
Unlicensed resin/ mixed-media kits.
HAWK FIGHTER (AB)

UK 2000

Garage kits produced by AB Models, who also produced Eagles in the same scales. Like the Eagles, they are mixed media. The 22" at least did not have turned aluminium engine bells like the Eagle.

22" Hawk (Sept 2000, limited to 50 copies, £249.50). This was advertised prior to release as a 17" model.
44" Hawk (Summer 2000).

HAWK (Replica's Unlimited)

UK 2006. £225

Garage kits produced by Replica's Unlimited, who also produced Eagles. 1:48 scale (about 19 inches/ 50cm long), 36 pieces. Originally the main body was solid resin; it was retooled so the nose and body are hollow.

Space Fighter Buteo

US/Canada 2005?. Sold online through StarShipModeller website.

Garage kit (clearly unlicensed, as shown by the name- Latin for Hawk), mastered by Alfred Wong. 1:48 scale, 25 pieces.

Warp Hawk Fighter

UK 2005?

1:72 scale, 43 pieces.

Hoto Hawk Spaceship

US 2004?

1:72 scale, 16 pieces. A recast of the Airfix kit, complete with original box art.

Scale Model Technologies (SMT)

Canada 1999

1:72 scale, 16 pieces. A recast of the Airfix kit.
---
UK 5 June 2010 £499
Sixteen 12 Collectibles Limited was formerly known as Iconic Replicas (2007-2008) and before that Product Enterprise (2004-2007). Announced in 2008 by Iconic Replicas, the Hawk was part of their "Gerry Anderson Prop Collection", in scale with the 23 inch Eagle "prop replicas". The 19 inch / 48cm long Hawk prototype was made by Ian Crichton, based on the 31 inch filming miniature.
Originally it was announced there would be 500 produced, due in spring 2008 at a price of £318. It was repeatedly delayed, while Sixteen 12 suffered production problems on the Eagles and adverse reaction to the command module inaccuracies. Additionally an economic recession suppressed collector spending power.
In April 2009, Sixteen 12 announced that because of "limited interest" (probably few pre-orders), it would be produced with a much lower number of 200, with a new price of £499 (due to reduced production run and "soaring manufacturing costs" in China). If enough pre-orders were received before the end of the month, it was intended to release September 9, 2009. The website disappeared during August and September 2009, and returned in October with a new release date of February 2010. The replica would have a certificate of authenticity signed by Martin Bower. The date drifted back to April 2010, then "end of May 2010". Finally it was released in early June 2010.
The promotional photos show white command module insets instead of black (as seen in the episode). The insets were changed to black at the suggestion of original modelmaker Martin Bower (like the Eagles; the original models were painted this way after filming). Although generally accurate, the command module is notably more rounded than the filming modules. According to Sixteen 12, the production models were altered to change the shape of the command module and increase the weathering.
In September 2010, it was announced that 20 (of the 200 total models) would be painted by Martin Bower in the original (pre-production) all-white colour scheme. Bower would sign the underside of the models himself. These were available for £599.
Promotional photographs from Sixteen 12 website.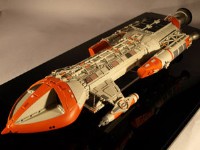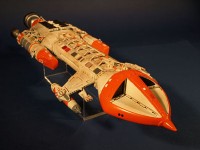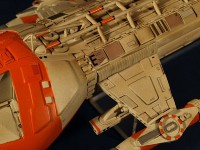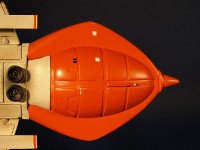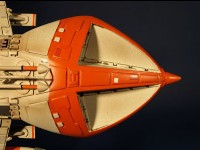 Photos of the production model by Jorge Carmo. More photos


Photos of the white Hawk by Donald Suttie. More photos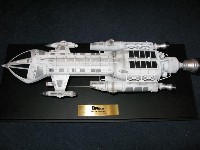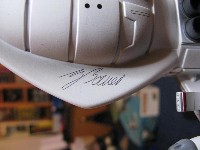 ---
UK, TBC 2018
Announced in August 2017, this is a 31 inches / 79 cm long replica, the same dimensions as the larger studio model. It may use the War Games decoration (orange bands, white windows). It is larger than the 19 inch / 48cm version produced in 2010, which was produced in 2 editions, with orange bands and black windows, and all-white. This is a limited edition of 100.
At the same time they announced two different 10 inch / 25cm die-cast models. The standard one is limited to 1000, and uses the War Games decoration; the "special edition" is limited to 500, and uses the all-white scheme.
No prices were announced.
---
USA 2016, not released
A companion model to the Rogue 44 inch Eagle, the Hawk is a studio quality replica of the large Hawk model. At the end of 2016, the license between ITV and Rogue Studios ended.
The prototype before it was painted.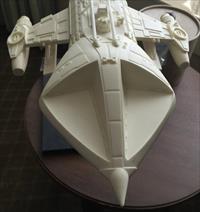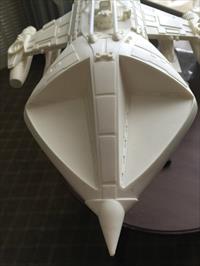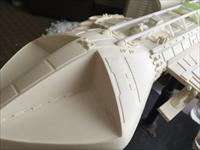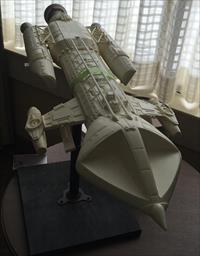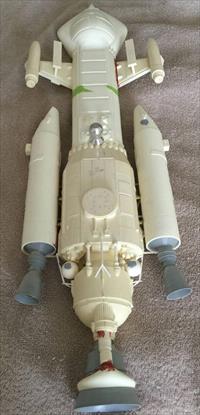 ---