---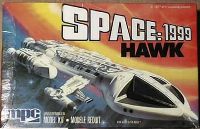 US 1977
Fundimensions Plastic Construction Kit no 1-1904
25 x 15 x 5.5 cm kit in 25 parts including stands. Accurate representation of "War Games" spaceship (probably made with reference to the original model, in contrast to the MPC/Airfix Eagle).
Box: art of Hawk with large logo. "Suitable ages 8 to adult"
MPC also produced the Eagle Transporter, The Alien and Moonbase Alpha.
Pictures thanks to Gordon Moriguchi: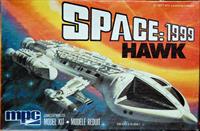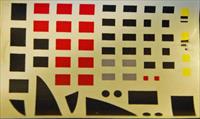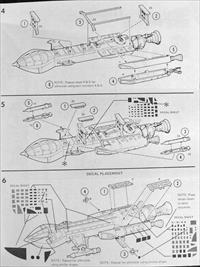 MPC catalog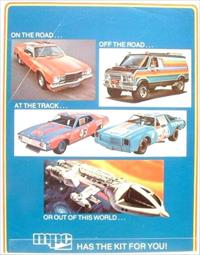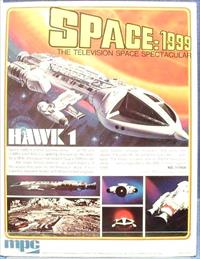 ---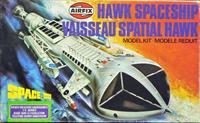 UK 1977
No 05173-2, reissue of MPC kit.
Instruction sheet 51 x 18 cm, in English, French & German, outlining series & Hawk.
Box 25 x 15 x 5.5 cm. Art of Hawk; later titled both in English & French ("Vaisseau Spatial Hawk").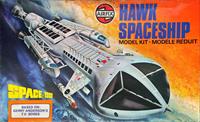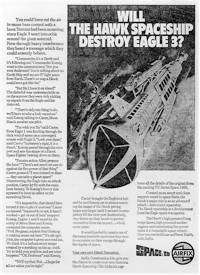 Full page advertisements appeared in children's comics, featuring the box artwork and a short story "Will the Hawk Spaceship destroy Eagle 3?". Koenig, Allen Carter (sic) and pilot Anderson encounter a Hawk Space Fighter by an asteroid. The spaceship chases them, but they realise it is a hallucination and the Hawk disappears. "It would probably remain one of the many insoluble mysteries they were to encounter on their voyage through the depths of space." The text continues: "Created as an escort and close support vessel to space fleets, the Hawk's major role is as an advanced attack-interceptor spaceship. The Hawk spaceship is a development from the Eagle space transporter." Read the full text
Airfix also produced the Eagle.
---
Unlicensed resin/ mixed-media kits.
HAWK FIGHTER (AB)

UK 2000

Garage kits produced by AB Models, who also produced Eagles in the same scales. Like the Eagles, they are mixed media. The 22" at least did not have turned aluminium engine bells like the Eagle.

22" Hawk (Sept 2000, limited to 50 copies, £249.50). This was advertised prior to release as a 17" model.
44" Hawk (Summer 2000).

HAWK (Replica's Unlimited)

UK 2006. £225

Garage kits produced by Replica's Unlimited, who also produced Eagles. 1:48 scale (about 19 inches/ 50cm long), 36 pieces. Originally the main body was solid resin; it was retooled so the nose and body are hollow.

Space Fighter Buteo

US/Canada 2005?. Sold online through StarShipModeller website.

Garage kit (clearly unlicensed, as shown by the name- Latin for Hawk), mastered by Alfred Wong. 1:48 scale, 25 pieces.

Warp Hawk Fighter

UK 2005?

1:72 scale, 43 pieces.

Hoto Hawk Spaceship

US 2004?

1:72 scale, 16 pieces. A recast of the Airfix kit, complete with original box art.

Scale Model Technologies (SMT)

Canada 1999

1:72 scale, 16 pieces. A recast of the Airfix kit.
---