---
Hawk Mark IX (MPC - Round 2)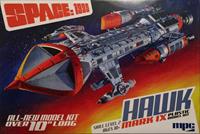 USA June 2018- MPC881/12 - $29.95
Round 2 reissues AMT and MPC kits including the Eagle. This model was a new kit, not a reissue of the Airfix/MPC Hawk from 1977, similar to their accurate 22 inch Eagle.
It seems to be based on the larger 31 inch Hawk studio model rather than the 16 inch model. It is quoted as 1:72 scale; although the studio models have no "true" scale, it is about 10 inches/ 25 cm long, so about a third the size of the large studio model.
The box promises:
61 parts
Dome base
Authentic detail water-slide decals
Full color deco guide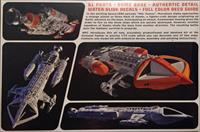 In the exciting Space:1999 episode "War Games", Moonbase Alpha approaches a strange planet as three Mark IX Hawks, a fighter-craft design originating on Earth, advance on the base. Anticipating an attack, Commander Koenig gives the order to fire on the three ships which are quickly destroyed. However, another squadron of Hawks strafe the base from another direction. The resulting battle puts the Alphans' survival in jeopardy. MPC introduces this all new, accurately proportioned and detailed kit of the fictional fighter in precise 1/72 scale which you can decorate one of two ways. Contains one model kit with extensive decals, assembly and painting instructions.
The side of the box also has an endorsement by Brian Johnson: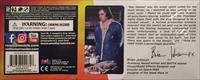 "War Games" was the script which called for the Hawk design, so, I sketched an idea directly on my script cover. I hoped we could add some dynamic all-guns/lasers-blazing addition to the Moonbase Alpha Eagle fleet with the ship designed to be a 'combat escort'. A hurried production schedule required that the sketch be sent out as the guide to have the filming miniature constructed right away. Unfortunately, a lack of further Hawk scripts meant that an anticipated uprated Ultra Hawk version was never to be built. Too bad. There was space in the hangar. I think the Hawk made a good Eagle guardian. Brian Johnson, Academy Award winner and BAFTA winner, Visual/Model Effects Designer and Director on Space:1999, Designer of the Hawk Mark IX
Box sides: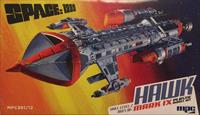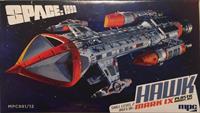 Instructions: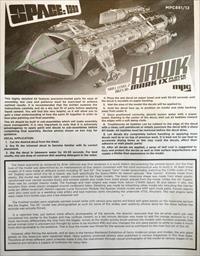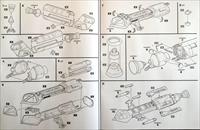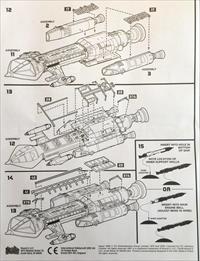 Paint guide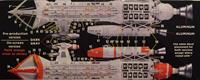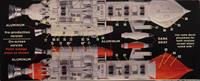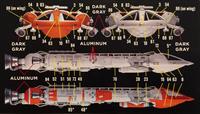 Decals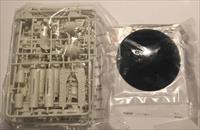 Kit and base
Copyright Martin Willey. Pictures thanks to Gordon.