---
USA, January 2016, MPC825, $129.95
Special Edition January 2017, MPC874/06, $200 (500 copies).
This is a more accurate version of the Eagle, based on the detailing of the first 44 inch studio model but 22 inches (55cm) in length (twice the size of the MPC Eagle). The model is made of styrene (the same plastic used for regular kits). The plastic is in two colours- white and grey - so an unpainted model will still be a fair representation. The landing gear is sprung, and the front windows are clear, showing two pilots with bulkhead wall (like the filming miniatures, not a studio cockpit replica).
Box text:
In this kit: over 300 parts
2 plastic colors and clear
Researched for accuracy
Cockpit wall detail and pilot figures
Removable pod
Extensive water-slide marking
Spring-action landing gear
Full color deco guide
Decorate 1 of 3 ways
This all-new model kit from MPC showcases years of research of the filming miniatures used in the show's production to provide the most accurate plastic model kit possible. It features authentic detail, like spring-loaded articulated landing gear. The central pod can be removed as well. Its detail is impressive as is its length, which nears 22 inches (59cm).
There are separate aluminium replacement parts. See box art
MKA014 Deluxe Accessory Pack. Replacement landing legs, vertical take-off bells and rear engine bells. $159.99
MKA016 Small Metal Parts Set. 16 rcs bells for shoulder pods. $29.95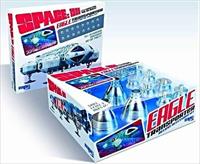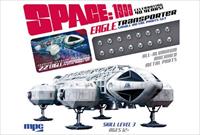 Special Edition
The Special Edition, release January 2017, is a limited edition of 500. More details
18" x 24"/46cm x 61cm poster of box art
Additional 9.5" x 13"/24cm x 33cm decal sheet produced by Cartograf of Italy, with specific panelling and weathering.
Mini-print card signed by Brian Johnson.
More details
Print: Sci.fi & Fantasy Modeller presents Modelling the Eagle (2016) has articles by Jim Small and Jamie Hood about the development of the kit, and a build article by Mike Reccia.
---
USA, July 2017, MPC838
A reworking of the 22 inch Eagle transporter kit with a winch/cargo pod. The pod can be built as either the flat-bed cargo pod, or with the winch drums. It includes 4 nuclear waste containers, and the winch is magnetic.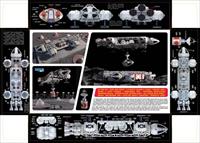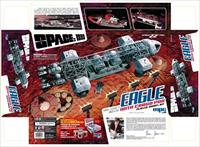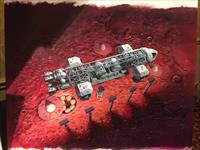 Box art, photos by James Small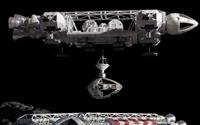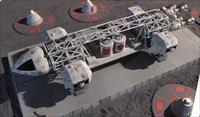 The model at Wonderfest 2017 (June 2017)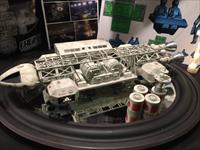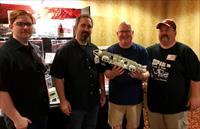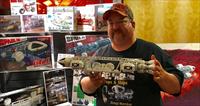 Nuclear waste canisters
USA, December 2017, MPC 860/06
A diorama set available separately to the Cargo Eagle. Mostly 1:48 scale, with some parts 1:24 scale. It is accurate to the studio set, rather than the model sets.
2 x nuclear waste cover cones
2 x waste cover platforms
8 x lamp posts, 4 lamp post bases (perimeter fence)
6 x hexagonal storage boxes (oddly, as the episode didn't have any; they were invented for later episodes)
1 x 1:48 scale moonbuggy
8 x 1:48 scale figures, with 4 poses
1 x 1:24 scale moonbuggy
2 x 1:24 scale figures, seated
Photos of the pre-production models from the Alpha 2017 convention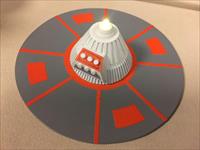 ---
Copyright Martin Willey. Thanks to Gordon Moriguchi, Todd Morton.