Dr. Bob Mathias (Medical Section)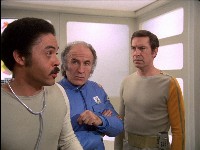 Character Name

Bob

Mathias

Played by
Anton Phillips
Sex
M
Approx. Age
32
Section
Medical
Episodes
23 episodes
23 end credits

---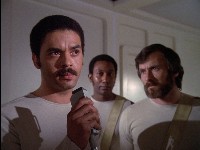 Age 32, born 1967.
An old friend of Koenig (Dragon's Domain). Koenig calls him as "Bob" in 1997 - yet he is addressed as "Mathias" in Breakaway & Matter Of Life And Death.
In 1997 he appears to be in charge of Medical (Dragon's Domain) but by 1999 he is Dr Helena Russell's deputy. Alternatively the more senior medical chief in 1997 may not have been present when the Ultra Probe was brought in; or the chief was a scientific appointment who would not be involved in treatment. In any case, Mathias does not seem to resent Helena. He is devoted to his job and his patients.
He is an Eagle co-pilot in The Last Sunset and Death's Other Dominion
Plays chess with Kano in Black Sun, performs magic in Guardian Of Piri. Argues with Paul over power for medical in Force Of Life & The Testament Of Arkadia.
He is featured in 21 episodes of Year 1 (not The Last Enemy, The Infernal Machine, Mission Of The Darians) and 2 episodes of Year 2 (The Metamorph and The Exiles, although he is mentioned in One Moment Of Humanity).
In the Powys novels, Mathias is dissected by Lucas in Resurrection, and Helena has to bargain with Balor to revive him. In Omega it is revealed he was an army medic in combat. Helena finds his dead body after the battle in Alpha
"Frank Warren died at thirteen twenty eight." (Breakaway)
"Something strange, Doctor. Could you come to the Care Unit straight away?" (Matter Of Life And Death)
"You'll never beat me, you know." (Black Sun)
"You have a lovely optic nerve, Dr Russell." (Ring Around The Moon)
"I can't control everything! I am not a computer!" (Guardian Of Piri)
"It's incredible he's alive at all." Koenig:"But he'll survive?" Mathias: "Oh yes. On courage." (Dragon's Domain)
"Morrow! What's happened to the power in here!" "But our patients are dying!" (Force Of Life)
"Morrow! What the hell's going on? If you don't give me more heat you might as well shoot my patients!" (The Testament Of Arkadia)
"Spacesuits, Commander. The atmosphere is thinning fast." (The Last Sunset)
"But, Professor, he had caps on his teeth." (The Full Circle)
"Hurry! It won't hold!" (War Games)
"Don't look so worried. He'll be alright. He'll regain consciousness in an hour." (The Exiles)
| | | |
| --- | --- | --- |
| Breakaway | Mathias is first seen on Koenig's screen when Koenig tries to talk to Helena. He appears in person checking Koenig after his crash, and is seen again after the breakaway tending to casualties. | |
| Matter Of Life And Death | Mathias looks after the pilots and Russell in Medical. Lee Russell knocks him over. He attends Lee's interrogation, and later when he tries to conduct an autopsy he is electrocuted. | |
| Black Sun | Mathias is in Main Mission to watch the forcefield test. He supervises loading the rescue Eagle. He plays chess with Kano. | |
| Ring Around The Moon | Mathias is in Medical checking the pilots, Koenig and Helena. | |
| Earthbound | Mathias monitors Helena when she is put in suspended animation. At the end of the episode he is in a meeting with Helena, Bergman and Koenig when Simmonds' call is picked up. | |
| Another Time, Another Place | Mathias is knocked unconscious by Regina in Medical, but is otherwise not seen in this episode. | |
| Missing Link | Mathias assists Helena in Medical. Alan and Mathias fight. | |
| Guardian Of Piri | Helena tells off Mathias when Graham dies in Medical. He prepares for Kano's link to computer. Later at the party in Medical, he is doing magic tricks. When Koenig wakes up, he offers him medicine, then drinks it himself. | |
| Force Of Life | Mathias helps Fujita pick up the bodies. When the power goes, Mathias calls Paul Morrow to protest. | |
| Alpha Child | Mathias doesn't seem to have been at the birth, but he does help diagnose Jackie's deafness. He witnesses the transformation to Jarak, and Helena is forced to strangle him. He gasps for breath in Medical. After Jarak and Rena seal themselves in Medical, he is seen with his head in his hands. | |
| The Last Sunset | Mathias is Koenig's co-pilot when searching for Eagle 24. | |
| Voyager's Return | Mathias monitors Linden after Haines attacks him. Mathias later finds Linden has disappeared from Medical. | |
| Collision Course | Mathias is first seen attending to Alan Carter. He and Helena arrive in Main Mission just after Koenig and Alan take control of it. | |
| Death's Other Dominion | Mathias is again an Eagle copilot, when Alan returns to Ultima Thule. He is backed against the wall when Rowland transforms. | |
| The Full Circle | Mathias tells Bergman the result of the Sandos autopsy while Koenig is recovering. At the end of the episode he is checking Alphans in Medical. | |
| End Of Eternity | Mathias assists Helena in medical. | |
| War Games | Mathias tries to seal the air leak before he is sucked into space. | |
| The Troubled Spirit | Mathias picks up bodies, assists at the autopsy of Warren and the exorcism. | |
| Space Brain | Mathias assists Helena with Kelly, and then follows him to the Computer room. | |
| Dragon's Domain | Mathias is on Moonbase Alpha in 1997 and in charge when Cellini returns. He is not seen in "present day" Alpha. | |
| The Testament Of Arkadia | Mathias asks for power twice; the second time in Main Mission is a confrontation with Morrow. | |
| The Metamorph | Mathias assists Helena looking after Annette Fraser in Medical | |
| The Exiles | Mathias is in charge of Cantar and Zova in Medical. | |