---
In The Last Enemy the Deltan battleship was created by modifying the Battlecruiser from Alpha Child and War Games, adding a new command module (which had appeared with in previously in the graveyard with the battlecruiser in Dragon's Domain).
The revamp in The Last Enemy was required because the two opposing battleships (the Bethan "Satazius" and the Deltan ship) had been originally filmed using the same model in different colours (the original footage still exists). As most people in Britain still had black and white TVs, this was judged to be confusing. Therefore, at the end of series 1, the new model was created and new scenes shot showing the battleship landing, explosions landing nearby, and the ship finally exploding.
The battlecruiser is extensively revamped. It had previously appeared in three episodes, so major modifications were performed. At the front, the command module ball and the entire front tube is exchanged with another Martin Bower spaceship, that had previously been used in Dragon's Domain (itself extended with a third Bower model, a satellite made of ping pong balls). On the central section, the big radar dish (USS Enterprise) is removed. The remaining neck tube has a smaller pipe placed along the top.
On the main body, two cylinders are placed on the top in front of the pyramid-like conning tower section. These two cylinders are actually spaceships that were used as support tugs when the Satazius leaves orbit, seen in the same episode (they are too small to be visible). Battleships can carry one or more smaller boats on their decks, a pinnace or launch, or modern MOB boats and ship's tenders.
The conning tower has side cantilever sections, which have been extended all round the back. Detailing at the back includes two very obvious Apollo lunar modules from the 1:144 Saturn V rocket kit. A large round landing pad is placed on the top (the base buttressed by 1:72 Airfix Lunar Modules). This pad previously existed on the starboard side platform.
We only see the port side of the ship on screen. Despite not being used, the starboard platform was lengthened and redecorated. It may have been intended to evoke an aircraft carrier flight deck.
The Deltan battleship as it appears in the episode.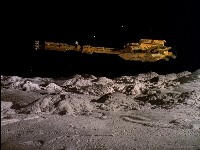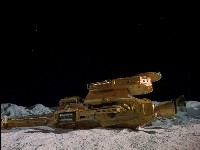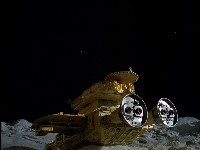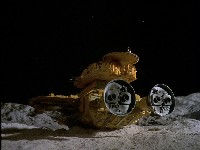 Model shots taken for The Making of Space: 1999 book.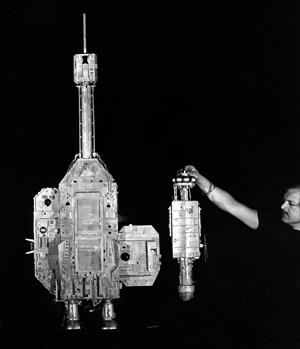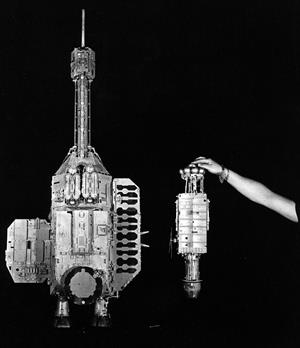 ---
Copyright Martin Willey