Reviews from TV Zone, "the monthly magazine of cult television", an early 1990s UK genre magazine
---
Fantasy Flashback: Space 1999- Breakaway
by Richard Houldsworth
TV ZONE Number 1 (Sep 1989); p31-33 (10 bw)
Reprinted in TV ZONE SPECIAL Number 1 (1990); p31-33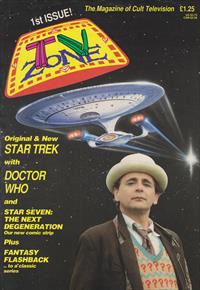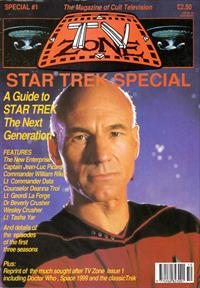 Background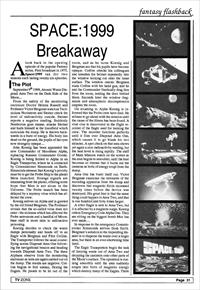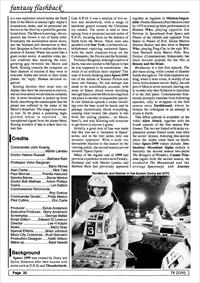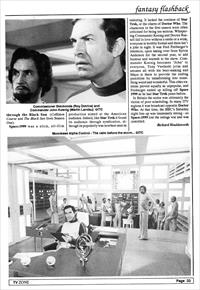 Space: 1999 was created by Gerry and Sylvia Anderson after their success with series such as U.F.O. and Thunderbirds. Like U.F.O. it was a mixture of live action and modelwork, with a range of hardware geared towards the Christmas toy market. The series is said to have sprung from a proposed second series of U.F.O., focusing more on the defence of Earth from the Moon. There were also parallels with Star Trek: a militaristic establishment exploring uncharted Space, with the main character-focus on the Commander, the Doctor and the Scientist. Professor Bergman, although a native of Earth, was also similar to Mr Spock in that he was supposed to be emotionless - the result of an artificial heart implant! This type of woolly thinking takes Space: 1999 out of the realms of Science Fiction and more into fantasy. No real attempt was made to be scientifically accurate, with noise in space, shock waves travelling through space and the Moon moving from one place to another at impossible speeds. In one hilarious episode a rocket travelling over the base could be heard, and its passage mysteriously shook everything, causing what looked like plaster to fall from the ceiling (plaster... on Moonbase!!), and why Koenig told everyone to get down is anyone's guess.
It's unclear what the hilarious episode was. The only rockets were in The Last Enemy. As they were hitting the nearby lunar surface and exploding, it's not surprising they were heard and felt. The ceilings could be made from a variety of materials, but none would be impervious to violent shock-waves transmitted through the lunar regolith. Not standing up during the explosions seems sensible.
Initially, a great deal of fuss was made that this was not a 'monsters in space' series, and in the first series only one monster appeared. With a none too favourable reaction to this season by the viewing public, the second season moved towards 'Space Opera'.
Many of the regular cast of 1999 had previous experience in television fantasy. Husband and wife Martin Landau and Barbara Bain had previously appeared together as regulars in Mission: Impossible. Prentis Hancock (Paul Morrow) had by 1975 notched up three performances in Doctor Who; playing opposite Jon Pertwee in Spearhead from Space and Planet of the Daleks and opposite Tom Baker in Planet of Evil. Zienia Merton (Sandra Benes) had also been in Doctor Who, playing Ping-Cho in the epic William Hartnell story Marco Polo. Roy Dotrice (Commissioner Simmonds) has since become popular for his role in Beauty and the Beast.
Breakaway is a fine first episode. The plot races along, while a sense of disaster builds throughout. The final explosive ending, when it does come, is worthy of an Irwin Allen disaster movie. Sadly, the sub-plot of Meta is never pursued, leaving one to wonder why they bothered to introduce it in the first place. Commissioner Simmonds promptly vanishes from following episodes, only to re-appear in the first season story Earthbound, where he betrays his colleagues in an attempt to return to Earth.
This debut episode is available on the video Alien Attack, together with the fourth episode of the first season War Games. The two are linked with tacky explanation scenes filmed some time after the series' demise, featuring discussions about the Alpha crisis back on Earth. Other Space: 1999 videos include: Destination: Moonbase Alpha (which is basically the second season two-parter The Bringers of Wonder), Cosmic Princess (again from the second season, the wonderful The Metamorph and the average Spacewarp) and Journey through the Black Sun (Collision Course and The Black Sun from Season One).
Space: 1999 was a slick, all-film production aimed at the American audience. Indeed, like Star Trek it found its audience through syndication, although its popularity was nowhere near as enduring. It lacked the cosiness of Star Trek, or the charm of Doctor Who. The characters in the first season were often criticised for being too serious. Whispering Commander Koenig and Doctor Russell fall in love without a smile or a wink, everyone is terribly formal and there isn't a joke in sight. It was Fred Freiberger's intention, upon taking over from Sylvia Anderson for the second year, to add humour and warmth to the show. Commander Koenig becomes 'John' to everyone, Tony Verdeshi joins and amuses all with his beer-making and Maya is there to provide the ending punchline by transforming into something weird and wonderful. This other extreme proved equally as unpopular, and Freiberger ended up killing off Space: 1999 as he had Star Trek years before.
In Britain the series was ultimately the victim of poor scheduling. In many ITV regions it was broadcast opposite Doctor Who. At that time, the BBC's Saturday night line-up was immensely strong - so Space: 1999 lost the war and was cancelled.
"In many ITV regions" means LWT (London) and Anglia (East England). Most regions had a Thursday evening slot.
---