Welcome to the Space: 1999 Cyber Exposition II at Sci-Fi Con 2.0!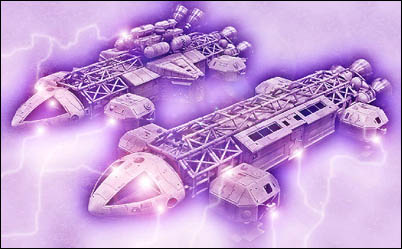 The Eagle is one of the best-remembered aspects of
Space: 1999
.
Image: Robert Ashley Ruiz
Until recently it was difficult to obtain good quality, uncut episodes of Space: 1999 if you live in North America and don't have a laser disc player. Now this has changed, as Columbia House just released the Space: 1999 series on NTSC video! Currently they are only selling the series in the United States, but Canadian releases tend to follow the US ones a few months later.

Space: 1999 has been available in Europe, as PAL-format videos, for some time. More details are available in the collectibles section.

Space: 1999 fans have grouped together to try for further releases of material from the show, including soundtracks and episodes on DVD.
Every page at the Exposition will have a site navigation bar at the bottom, just above the Sci-Fi con one. This bar will help you travel around the Exposition and view all the different sights easily. Each word will take you to a different area of the Exposition:


| | |
| --- | --- |
| Main | Brings you to this page |
| Overview | Comprehensive overview of the series |
| Worlds | Visit some of the alien worlds the Alphans encountered |
| Characters | In-depth analyses of some of the aliens the Alphans met |
| Collectibles | Collectibles exhibit |
| Novel | The online debut of The Transfer, a Year 3 novel |
| Internet | Space: 1999 resources on the internet |
This Exposition brought to you by:
| | |
| --- | --- |
| | |
| Cyber Museum Curator | Cybrarian: Robert Ruiz |
Find out about the people who helped make this Exposition happen.