Medical Centre (War Games)
The Medical Centre in War Games is basically similar to the 20 x 24ft medical units seen in Dragon's Domain and The Troubled Spirit, but the observation room is replaced by a window to the lunar surface.
Filmed on 30th-31st October 1974.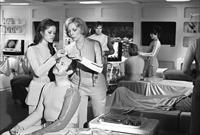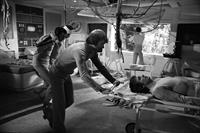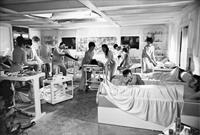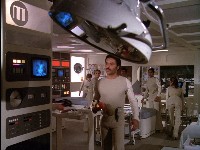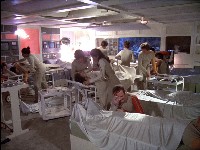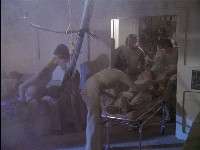 The long wall opposite the camera has one large window to the lunar surface. Either side are single-unit windows which have been blacked off, and are used as shelving. A couple of trolleys appear which we don't see in other episodes. The short white trolley centre left is a trolley designed by Alberto Rosselli for Kartell (he also designed the Jarama desk). It is ABS plastic, 61cm high on casters, and 57cm length and depth. The curved corner columns have slots inside to fit an inner shelf, which is missing here.
---
Copyright Martin Willey. Partially written by Marcus Lindroos