Jackson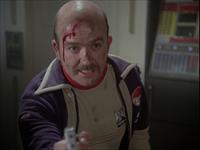 ---
Both roles are similar, a rebellious Command Center operative. Jackson in Journey To Where wears an orange reconnaissance sleeve (he is not named on-screen, but the name appears on his name badge); Stewart in The Dorcons wears a red Main Mission uniform (with green jacket). As Jackson, he mentions he was an astronaut cadet; as a Reconnaissance member in Command Center he is presumably responsible for monitoring spaceship and lunar trajectories.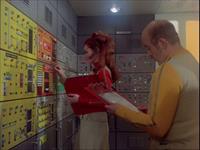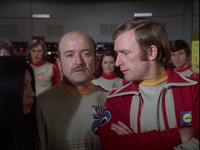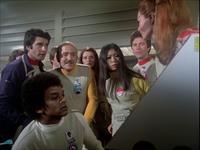 "Why should they go first?" "Wait a minute. It's the old Morse code." "An old form of signal. We used to learn it as astronaut cadets."
"Commander, we've got to give in! Commander, we can't take any more!" "Do it, Commander. Give her to the Dorcons." Despite drawing a stun gun on them, Stewart is forgiven and is back on duty at the end of the episode (the nasty cut on his forehead has disappeared completely too).