DER STAHLPLANET by M. F. Thomas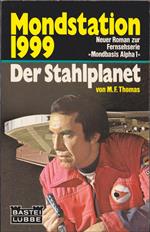 Original Novel: "The Steel Planet"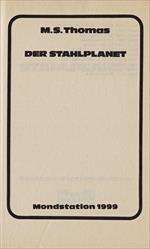 The interior title page lists the author as "M.S.Thomas" (instead of M.F.). The previous book, Aktion Exodus, also advertises this book as by M.S.Thomas. Like H. W. Springer, and many other German authors of the period, it is almost certainly a pseudonym. No other titles by either form of the name are known.
Bastei: (nbr 25 012)

ISBN 3 404 01054 X

1978 ; DM 3,80

Apex
Compilation: "Mondstation 1999, Band 2" ("Space:1999 Volume 2")
ISBN 978-3-7487-2357-8 (and other editions)
December 2019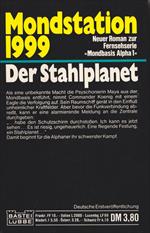 Als eine unbekannte Macht die Psyschonierin Maya aus der Mondbasis entführt, nimmt Commander Koenig mit einem Eagle die Verfolgung auf. Sein Raumschiff gerät in den EinfluB unheimlicher Kraftfelder. Aber bevor die Funkverbindung abreißt, kann er eine alarmierende Meldung an die Zentrale durchgeben: "...habe den Schutzschirm durchstoßen. Ich kann es jetzt sehen ... Es ist riesig, ungeheuerlich. Eine fliegende Festung, ein Stahlplanet ..." Damit beginnt für die Alphaner ihr schwerster Kampf.
When an unknown force kidnaps the Psychon Maya from the moon base, Commander Koenig takes up the chase with an Eagle. His spaceship comes under the influence of uncanny force fields. But before the radio connection breaks off, he sends an alarming message to the command center: "... have broke the protective shield. I can see it now ... It's huge, outrageous. A flying fortress, a steel planet ..." This marks the beginning of their toughest battle for the Alphans.
The story ends with Alpha resuming contact with Texas City (from Edge of The Infinite/ Journey To Where), and at last being able to return to Earth. Text below:
---
Es zeigte gläserne Türme, Kuppelbauten, überdachte Fahrstraßen und wüstenhafte Ebenen.
»Texas City« flüsterte sie unwillkürlich. Und dann schrie sie auf. »Texas City! Die Erde! John, Commander, Kommen Sie! Das müssen Sie sehen!«
Commander John Koenig sprang auf und trat neben sie. »Auf welcher Frequenz?« fragte er knapp.
»Scheinbar auf allen«, erwiderte die junge Frau atemlos. »lch vermute, es handelt Sich um einen permanenten Sender ähnlich unseren Notrufsignalen in den Eagles.«
Das Bild auf dem Monitor wechselte jetzt. Das Gesicht eines Mannes tauchte auf. Es wirkte irgendwie deformiert, aber trotzdem\ansprechend und interessant. Große Augen schauten die Alphaner an, und der Mund des Mannes öffnete sich.
»Hier ist Texas City! Texas City ruft Mondbasis Alpha. Sie nähern Sich unserer Milchstraße! Bitte melden Sie sich, sobald Sie uns mpfangen. Funken Sie auf Frequenz drei sieben x!«
Das Gesicht verschwand, und die gläsernen Kuppeln traten wieder an seine Stelle. Fünf Sekunden lang blieb dieses Bild, und der männliche Kopf tauchte wieder auf.
Der Mann wiederholte den gleichen Text, bis er verblaßte und den gläsernen Kuppeln Platz machte.
John Koenig wandte Sich zu seinen Leuten um. Helena Russell strahlte ihn an. »Die Erde, John. Wir haben sie wiedergefunden.«
John Koenig dachte nach.
»Unsere Berechnungen haben ergeben, daß wir durch die Begegnung mit dem Stahlplaneten von unserem ursprünglichen Kurs abgelenkt wurden. Aber wir konnten nicht ahnen, daß wir uns auf dem neuen Kurs unserer Heimat nähern.«
Kopfschüttelnd gab er Sandra ein Zeichen.
»Dann leg mal los, Kleines, und ruf die alte Mutter Erde. Vielleicht haben wir diesmal mehr Glück mit dem Materietransmitter. Irgendwann haben ja auch wir einmal eine Belohnung für unseren langen Überlebenskampf verdient.«
Er legte einen Arm um Helenas Schultern und betrachtete gedankenverloren die wechselnden Bilder auf dem Hauptmonitor.
Ein untrügliches Gefühl sagte ihrn, daß die lange Irrfahrt der Mondbasis Alpha nun bald zu Ende war.
Aus Alphanern würden wieder Terraner. Es fragte Sich nur, 0b die Erde Sich nicht soweit verändert hatte, daß man Sich nicht doch am liebsten wieder auf den Mond flüchten würde
ENDE
It showed glass towers, domed buildings, covered driveways and desert-like plains.
"Texas City," she whispered involuntarily. And then she cried out. "Texas City! The Earth! John, Commander, come on! You have to see that!"
Commander John Koenig jumped up and stood next to her.
"On what frequency?" He asked curtly.
"Apparently on every one," the young woman replied breathlessly. "I guess it's a permanent transmitter similar to our emergency signals in the Eagles."
The picture on the monitor was changing now. A man's face appeared. It looked kind of deformed, but still appealing and interesting. Big eyes looked at the Alphans, and the man's mouth opened.
"This is Texas City! Texas City calling Moon Base Alpha. You are approaching our Milky Way! Please contact us as soon as you receive us. Call on frequency three seven x!"
The face disappeared and the glass domes replaced him. This image remained for five seconds and the male head reappeared. The man repeated the same text until it faded and made room for the glass domes.
John Koenig turned to his people. Helena Russell beamed at him.
"The Earth, John. We found her again."
John Koenig thought about it.
"Our calculations showed that the encounter with the steel planet distracted us from our original course. But we had no idea that we were approaching our home on the new course. "
Shaking his head, he gave Sandra a sign.
"Then go ahead, little one, and call old Mother Earth. Maybe this time we are more lucky with the material transmitter. At some point we deserved a reward for our long struggle to survive."
He put an arm around Helena's shoulders and looked thoughtfully at the changing images on the main monitor.
An unmistakable feeling told her that the long wandering of the lunar base Alpha was soon over.
Alphans became Terrans again. The only question was, whether the earth had not changed so much that one would not want to flee to the moon again
THE END
---