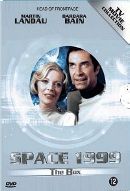 Netherlands 23 August 2006
movie box set € 19.90
Product code 90241CDS99, EAN 8715664027776
Two of the compilation movies (Destination Moonbase Alpha andCosmic Princess), under the title "Space:1999 - The box". Each DVD is in a separate case within a special "3D slipcase". The movies have the original English soundtrack and Dutch subtitles.
There are no extras, although you can send in for 4 "collectors cards". Thanks to Remco Admiraal.