Script To Screen
---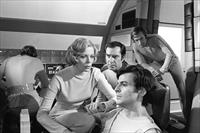 The second episode, Matter of Life and Death, started life as a script called Siren Planet by American writer Art Wallace. Wallace. Wallace had written two episodes of Star Trek (1967, 1968), as well as The Invaders (1967) and would later write for the TV series Planet of the Apes (1974). Script editors George Bellak and Christopher Penfold, based in the UK, had to talk to Wallace in the US by phone. This was challenging because the characters and concepts for Space: 1999 were still being developed. Wallace's script was delivered with names like Professor Penmarric (later renamed to Bergman), Grayson (Alan Carter) and Prober spaceships (Eagles).
Rather than continue revising the script by telephone, a new writer, Johnny Byrne, was brought in to update the script. He never met or talked with Wallace, although they would share the writing credit. Byrne kept the opening of the episode, with the spaceship returning from the alien planet with unconscious pilots (Crimmins and Parks), and an unexpected passenger- Helena's husband, Telford Russell, lost on the Astro 7 mission to Jupiter. Other elements of the script survive, including the infra red scans ("thermographic scans" in the episode), but mostly Byrne wrote a new script.
In Siren Planet, Helena and Telford Russell fly to the planet ("Homeland II") in Prober Two, pursued by Koenig and Grayson in Prober One. Telford is an alien illusion (this plot reappears in The Bringers Of Wonder). Penmarric tells Koenig to use a hand scanner, as the temperature reveals if he is looking at an illusion. Koenig enters a cave, looking for Helena. Here is the climatic scene.
60.
CLOSE KOENIG
As he stares at the lake of fire. He hears a whooshing
sound from behind him, whirls.
WHAT HE SEES
A wall of fire has sprung up behind him, covering the
mouth of the tunnel. He is caught between two fires.
KOENIG
Turns back, aware he is trapped
DAD'S VOICE
Hello, son...
Koenig whirls at the sound, is astounded at what he sees.
POV
A man of about seventy is standing nearby. He is a farmer,
dressed in work coveralls, face lined from years in the
sun. A shock of white hair, and a pleasant...almost
genial manner. He smiles.
DAD
Thought you'd never get here.
KOENIG
Staring at him, unbelieving.
KOENIG
... Dad...
TWO SHOT - KOENIG AND DAD
DAD
I've been waitin'. What took you
so long?
KOENIG
You're not real.
He raises the scanner. Dad raises his hand in
protest.
61.
DAD
Now don't try to get rid of me,
like you once did.
KOENIG
That's not true! I never...
DAD
Puttin' your own father in a nursing
home! You don't call that gettin'
rid of him?:
KOENIG
I had no choice: You were sick!
There was no one to take care of
you!
DAD
Then why's it been bothering you all
these years?
KOENIG
Because I...
He breaks off as he suddenly realizes what he's doing...
arguing with a figment of his own mind.
KOENIG
Where's Helena? Dr. Russell.
What have you done with her?
DAD
She's safe enough. For now.
Right out there.
He points towards the lake of fire. Koenig turns to look.
LAKE OF FIRE - POV
The flames in the center die down for a bit, and now we
can see a raised rock slab in the center of the lake. On
the slab lies Helena, unconscious.
KOENIG AND DAD
Koenig staring at Helena.
KOENIG
What do you want?
(turns to Dad)
Why are you doing this?
62.
DAD
How's your Captain, son? Think
he'll be all right?
KOENIG
(angry now)
I asked you why you're doing
this!!
DAD
Don't you talk to your father like
that! I never liked it, and I
never will!
KOENIG
(evenly)
What do you want?
DAD
That's better. -- We've been livin'
in peace here, son...couple of thou-
sand years or so. And then you peo-
ple come along, and start thinkin'
about settlin' down here. Well, we
don't want that. We like it the way
it is.
KOENIG
Who's "we"?
Give him
a vision
with some
kind of
mental
repellant..
DAD
Doesn't matter, son. We're here...
all around you. Just take my word
for it.
(with a touch of menace)
And we'll still be here when you're
dead an' gone. - Anyways, we had to
stop you, but we don't have as much
power up there on that base of yours
as we have down here. So we had to
find someone real vulnerable, know
what I mean?
KOENIG
Dr. Russell.
62A
DAD
Right, son. She was thinkin' about
her husband a lot, so she was the
one. At first, we figured maybe
we'd be able to shut off your oxygen
supply. But that didn't work, so
we figured next best thing was to
get rid of the leaders...get 'em down
here where we could really handle
'em. Doctor was first...knew you'd
come after her. And I wouldn't be
a bit surprised if that Professor
Penmarric don't come down here next...
lookin' for both of you.
KOENIG
What if I promise we won't settle
here?
DAD
I'm sorry. Can't take your word
for that.
KOENIG
You expect me to take your word,
don't you?!! Well, how do I know
Dr. Russell's out there?! How do
I know she's any more real than
you are?!
DAD
She's real, all right.