Script To Screen
---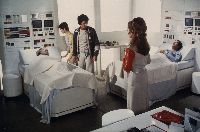 Producer Fred Freiberger wrote the script for The Beta Cloud using his penname of Charles Woodgrove. It was written to allow stars Martin Landau and Barbara Bain to go on holiday in late July 1976.
Landau and Bain were to be required for a single day's shooting, on their return on Monday, August 2nd 1976. Both would be seen only in Medical Centre, in a few brief scenes including Helena's opening narration, and some static shots of both comatose in bed.
In the original script (dated June 11th, shown below), Helena says the Moon passed through a space cloud and the crew, including Koenig, are already affected. New scenes were written later to show Koenig in Command Center as the cloud is first spotted, and the affects start to be felt by the Alphans.
1.
HOOK
FADE IN:
1 INT. MEDICAL CENTER
Medical Center is crammed with hospital beds in
which patients lie in various stages of torpor.
CAMERA SLOWLY MOVES THROUGH MEDICAL CENTER, over the
patients. They include KOENIG and ALAN CARTER.
HELENA (V.O.)
(narrating)
Moonbase Alpha, Status Report,
1503 days after leaving Earth's
orbit; Dr. Helena Russell
recording. Seven days ago we
passed through a cloud of space
dust.
FAVOR HELENA
at the Recorder, as she turns to look at the patients.
HELENA
(narrating)
Lassitude, depression and loss
of will suddenly incapacitated
most of the personnel.
FAVOR KOENIG
He lies in one of the beds, his eyes half-closed.
HELENA
(narrating)
Leaving only a skeleton crew...
2 INT. LIFE SUPPORT
Only ONE ALPHAN is on duty.
HELENA (V.O.) (narrating)
...to keep Alpha operational.
3 INT. WEAPONS SECTION
SECOND ALPHAN is the only one on duty.
CONTINUED:
---
Copyright Martin Willey