---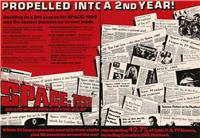 This is a 2 page advert (p40-41) in the industry journal Variety, published 28 January 1976. A 3 page version appeared in the 2 February 1976 edition of Broadcasting magazine. It was illustrated with press cuttings and the large logo subtitled "Escape into a world beyond belief".
Propelled Into A 2nd Year!
Deciding on a 2nd season for Space:1999
was the easiest decision we've ever made.
Sci-fi is hot, and audiences for both sci-fi and Space:1999 are growing bigger every day.
Hollywood knows it - The major motion picture studios are currently producing 16 major sci-fi films at a cost in excess of $100,000,000
Audiences know it - Space: 1999 proves it with winning ratings, not only in significant U.S. markets, but throughout the world.
Fans know it - To date we've received 256,607 fan letters. Space: 1999 fan clubs are springing up all over the world.
Merchandisers know it - We have so far licensed no less than 171 different items for merchandising.
The press knows it - Space: 1999 has captured more space in every conceivable media than any other series in television history.
The demographics prove it - Of all prime time access shows, Space: 1999 is #1 among men and women 18-49 per 100 households delivered.
Space: 1999 is the sci-fi series of the 1970's, the only new sci-fi series being telecast.
Our decision was easy.
Time:

Spacing out the networks

Cleveland Plain Dealer:

Success of space shows is not fiction

Philadephia Inquirer:

'Space: 1999' Offers A Needed Alternative To Cops 'n Robbers

EA Syndicate:

At last - a new saga for sci-fi fans

Chicago Tribune:

'Space: 1999' is a 1976 smash for Landau, Bain

The Oregonian:

Effects spectacular in sci-fi series

Chicago Sun Times:

An explosion of fine sci-fi

Cue (cover):

Can '1999' match 'Trek'

Los Angeles Times:

Von Braun Commends New Space: 1999 series

The Houston Post:

Space: 1999 satisfies a national need

by Lee Winfrey

Detroit News:

OK, 'Star Trek' fans - this time it's 'Space: 1999'

by Frank Judge

Columbus Evening Dispatch:

'Space: 1999' Far Out Television

San Antonio Light:

'Space: 1999' Already Unique in TV History

by Kay Gardella

Newsweek:

Spaced Out

Wall St. Journal:

Sailing Along on a Moon-Base Way

Fort Lauderdale News and Sun Sentinel:

Space: 1999 Bain, Landau Highlight Thrilling Space Series

by Bob Keaton

TV Guide:

New Faces of 1999

Tampa Tribune & Tampa Times:

'Space 1999' Leaves 'Star Trek' Behind

by Kathleen O'Brien

Rochester Democrat and Chronicle:

Space:'99 packed with excitement

by Betty Utterback

El Paso Times:

'Space 1999' May Be Best Ever

by Betty Utterback

The Detroit Free Press:

'Space: 1999' Is Slick Sci-Fi

Harrisburg Patriot News:

Science Fiction at Its Plushest

The New York Times:

So, Who Picked 'Bronk' Over 'Space 1999'?

by John Leonard

The Pittsburgh Press:

Floating Through Space In Style

Newsday:

Out of this world, but oh, so real

The Washington Post:

A Lavish Blast-Off Into 'Space:1999'
Within 24 hours renewals poured in from stations representing 42.7% of total U.S.TV homes,
plus 68 countries around the world including Canada's CBC Network.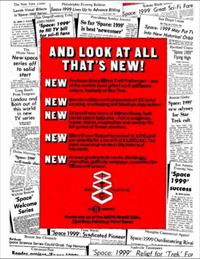 And look at all
that's new!
NEW!
Producer-Story Editor Fred Freiberger - one of the world's most gifted sci-fi producer-writers, formerly of Star Trek.
NEW!
New incredible sci-fi characters of the most exciting, enchanting and fabulous dimension!
NEW!
24 brand new hours of extraordinary, fast-paced space fantasies - rich in suspense, humor, action, imagination and running the full gamut of human emotion.
NEW!
Second year budget increased to $300,000 per episode for a record of $7,200,000. The most expensive series in the history of television.
NEW!
And even greater multi-media advertising, promotion, publicity campaign committed to the second season.
The New York Times:

Lavish Visual Effects in 'Space: 1999' Series

by John L. O'Connor

Philadelphia Evening Bulletin:

Space 1999 Lives Up to Advance Billing

San Diego Evening Trib.:

Joseph Thesken

'Space: 1999' to fill TV bill for sci-fi fans

Providence Sunday Journal:

So far 'Space: 1999' is the best 'newcomer'

Toledo Blade:

'Space: 1999' Great Sci-Fi Fare

San Diego Union:

But Trip Isn't Over Yet -

Space: 1999 May Put TV Into New Historical Orbit

The Miami News:

New space series off to solid start - Associated Press

Long Beach Press-Telegram:

Landau and Bain out of this world in new TV series

by Bob Martin, TV/Radio Editor

Dallas Morning News:

'Space: 1999' well-made show

by Joan Hameuer (UPI)

Wichita Eagle/ Wichita Beacon:

'Space' Welcome Series

Hartford Courant:

"Space 1999" Flying High -

Knight Newswire

Boston Globe:

'Space: 1999' new odyssey for Star Trek cult

San Antonio Evening News:

'Space 1999' success

by Dan Lewis

Tulsa World:

'Space 1999': Syndicated Pioneer

Boston Sun Chronicle:

Space Science Series Could Grab Top Honors

Cincinnati Post:

Reader praises 'Space 1999'

Memphis Commercial Appeal:

Space:1999 Outdistancing Rivals

by Larry Williams

Nashville Tennessean:

'Space: 1999' Relief for 'Trek' Fans
---
Space: 1999 copyright ITV Studios Global Entertainment