---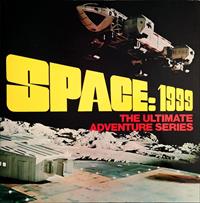 Used in American and Canadian markets. Subtitled The Ultimate Adventure Series. Strongly stresses the show is an American series ("To ensure that Space: 1999 would be an American series for American audiences, scripts were commissioned from leading science fiction writers and American pros").
48cm square, folding out to 1m93cm square. Features large colour photos with text on yellow background.
---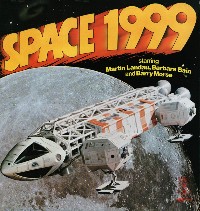 Believed to have been used in UK market. 31.5cm x 33.5cm 4 pages; Moon folds out inside to 62cm x 55.5cm spread.
Cover: large rescue Eagle in front of Moon, with "fiery" logo.
Interior spread features Moon with various photos.
---
A4 four page sheet, glossy photos. Design and slogans are similar to the large American brochure.
---
| | |
| --- | --- |
| Large 8 page brochure. Photos from The Metamorph, The Exiles, and a few from One Moment Of Humanity. | |
---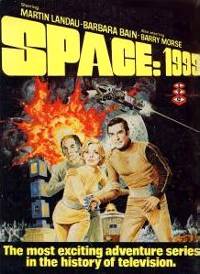 Gray Morrow artwork.
A photographer was on set for most days of shooting. At the start of the series a large number of photos were shot. A production Daily Report on a late episode shows just two shots on a specific day, one black and white and one colour. In addition to everyday filming, special photo sessions would be held, especially near the start of series 1 and 2. Among the famous photographers were Curt Gunther (Landau, Bain with moonbuggy on lunar surface; crew in Main Mission), and Michael Putland (Landau, Bain in front of Command Center doors).
Numerous publicity photos were issued to the press (mostly black and white; colour photos were rare as almost all newspapers were monochrome). Many were labeled were occasionally accurate captions; a few had printed signatures of the stars. Gray Morrow art for Charlton Comics also appeared as one of the main promotional images. See also ITC autograph cards.
Below: many publicity photos had 2 or 3 images shots (thanks to Shaqui, Mark Shaw). See more publicity photos
Above: Below: pictures that could be ordered from contact sheets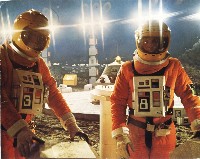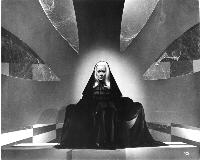 ---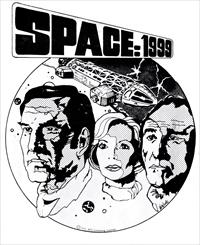 For Year 1, this comic-type art (signed "Newsome") was one of the promotional images used. ITC published a version on silver card.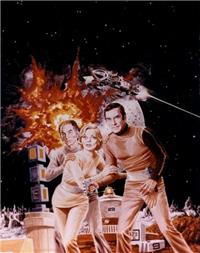 For Year 1, ITC used a painting by Gray Morrow that had originally been produced for the Charlton comics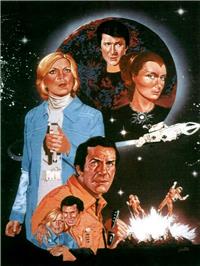 The artist of the Year 2 painting is unknown. There were two versions. The initial version had showed Maya in her Metamorph dress. It was then repainted to show her in a Alpha jacket.
Both paintings were used as the covers of the Image laserdiscs.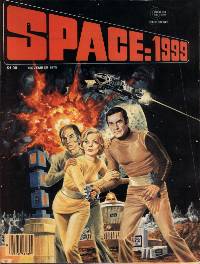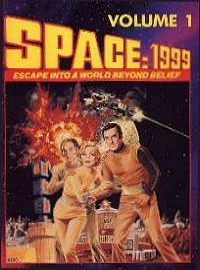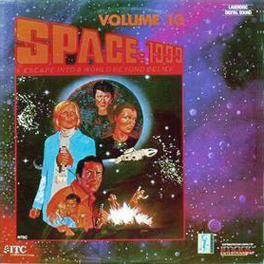 The year 2 painting was provided by ITC to TV stations as a template (left), which was then annotated with the correct dates (right, KRCG-TV, Jefferson City, MI using a Space:1999/Star Trek double-bill)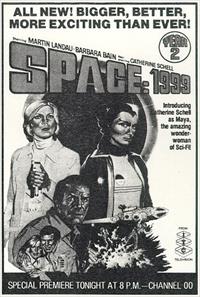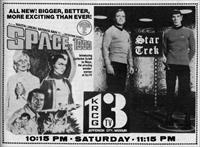 ---
Numerous text documents were released to the press, describing the series, the stars and episodes. Accuracy was variable. These are some of the principle press releases.
| | |
| --- | --- |
| Year 1 Brochure | 50 pp A4 booklet with series introduction, and biographies of cast and crew. |
| Year 2 Brochure | 7pp A4 booklet with series introduction, and biographies of cast and crew. |
| ATV Press Release | 23pp A4 booklet with series introduction and biographies, extracted from the year one text brochure. |
| Synopses/ Year 2 Episode Guides | A4 xeroxed guides containing synopses of the episodes. Each episode has a single page of synopses (2-3 line summary, then more detailed plot summary), then a page of credits. |
| Fan reply letter | Form letter sent in reply to fan letters. |
---
At least 5 "network news" newsletters were produced by ITC to promote Space: 1999 to American stations. The first was headlined: "Fast action is the keynote, human emotion the propelling force, life or death suspense the theme of 24 brand new hours". They included Abe Mandell's quotes ("In all my 27 years in the entertainment business, I have never been as enthusiastic as I am about the second year of Space 1999"), news on merchandising licenses and promotional events (a video of the series being buried in a Hawaii time capsule), and arrangements for arranging press interviews with cast members (promotional tours by Nick Tate, Brian Johnson and Catherine Schell in August 1976).
With the second came the preliminary press kit, with early synopses of the episodes and reprints of features on the show.
With number 3 came a 31 page Year Two Handbook", an A4 booklet with series introduction, and biographies of cast and crew. Includes a "question and answer" guide to the Year Two format ("What powers Moonbase Alpha?"). The covers of the first two Pocket books accompanied the fifth.
---
4 page A4 glossy brochure. Cover is video volume 3 cover; back has comments from Kathy & John Von Kamp and Robert Wood. Centre spread shows Alpha, with headlines including: "Critical Acclaim!", "Millions of Loyal Fans", "Star Power", "Priced to Move!".
---
1989 ITC publicity drive. Flyers were a single A4 glossy sheet, with large photo on one side, and black and white photos and text description on back ("Strong characters, electrifying storylines and a strong sense of reality make this a program of limitless potential"). Tag lines were "Bold explorers hurtle through the galaxy on a toxic moon" and "An adventure that knows no bounds."
Two were available:
24 x 60 minutes. Cover is Tony and Maya cowering in an Eagle doorway.
48 x 60 minutes. Cover is Year 2 publicity shot of Landau & Bain, with a spherical spaceship (?) beyond.