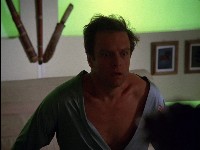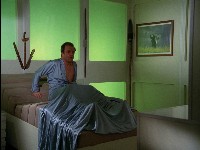 In the first shot when Cellini wakes, his hair is ruffled. In the next longer shot, he has combed his hair.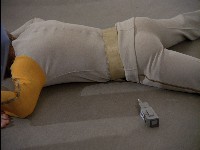 Note the position of Cellini's discarded commlock.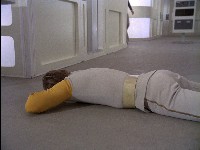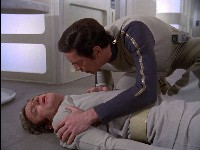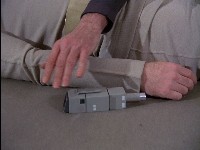 When Koenig arrives, the commlock has moved- Koenig turns over Alan, and only then is Cellini's commlock close by.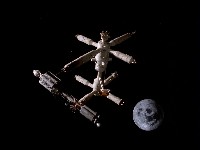 The Probe is docked with its starboard to the Space Dock. The crew board through the port side.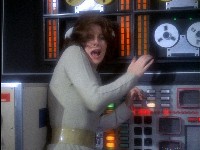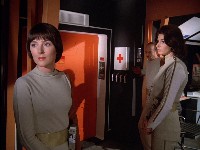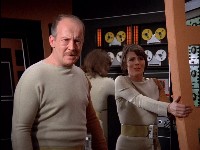 The commlock photos of the Ultra Probe crew may show other actors. Monique's commlock picture may be Kate. Juliet's picture shows someone with longer hair, although it may be Susan Jameson. Darwin's faded picture may be Warren. Thanks to Craig Rohloff.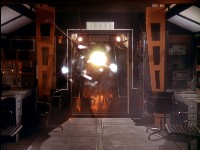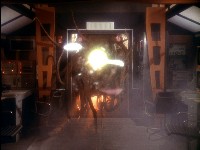 The dragon first appears, the image dissolves from the shot of the empty doorway to the dragon. During the dissolve, the chair on the right just in front of the pillar moves round.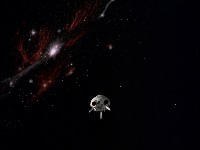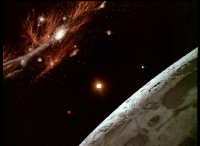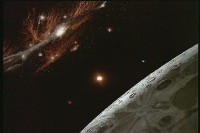 The nebula seen as Cellini's command module flies through space was originally created for an unused shot in The Last Enemy (later used in Message From Moonbase Alpha). Thanks to Craig Rohloff.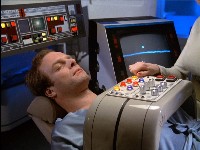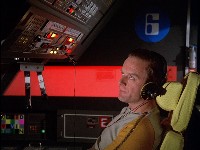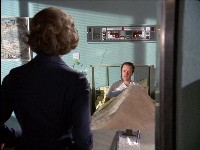 The "Laser Control Unit X5" panel is a long thin panel normally seen mounted over surgical beds in Medical (apparently being used to control anaesthesia). During this episode the word "Laser" is removed (the other captions "Re-pressurize" and "Medical M501" are still readable). Cellini is monitored using it after being stunned by Koenig. It is also seen over Cellini's 1996 bed on Earth. And it is part of the pilot controls of the Ultra Probe.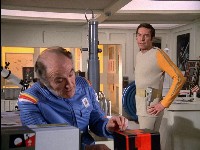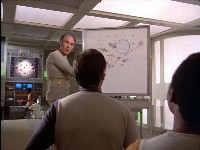 On the left in the background of the 1996 Alpha lab is a whiteboard. It shows Bergman's plan for operation shockwave from Collision Course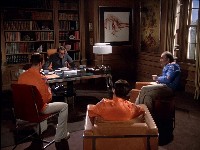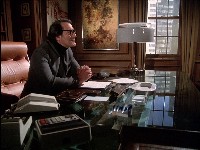 In Dixon's office, an intray at the front of his desk shifts from one side to the other as we change camera angle.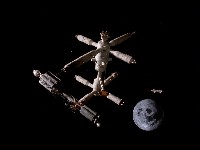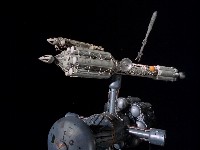 Eagles in scale with the Ultra Probe. In both shots, we see the 2.5 foot Ultra Probe. In the Space Dock shot, the 5.5 inch Eagle is used; in the dragon ship shot, the 11 inch Eagle is used.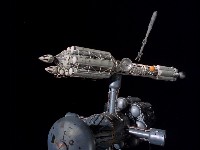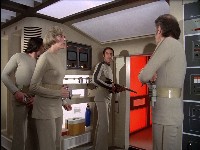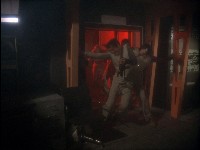 The Eagle docks the portside to the Ultra Probe. They leave the starboard side of the Eagle- and enter the Ultra Probe correctly on the starboard.
Copyright Martin Willey.